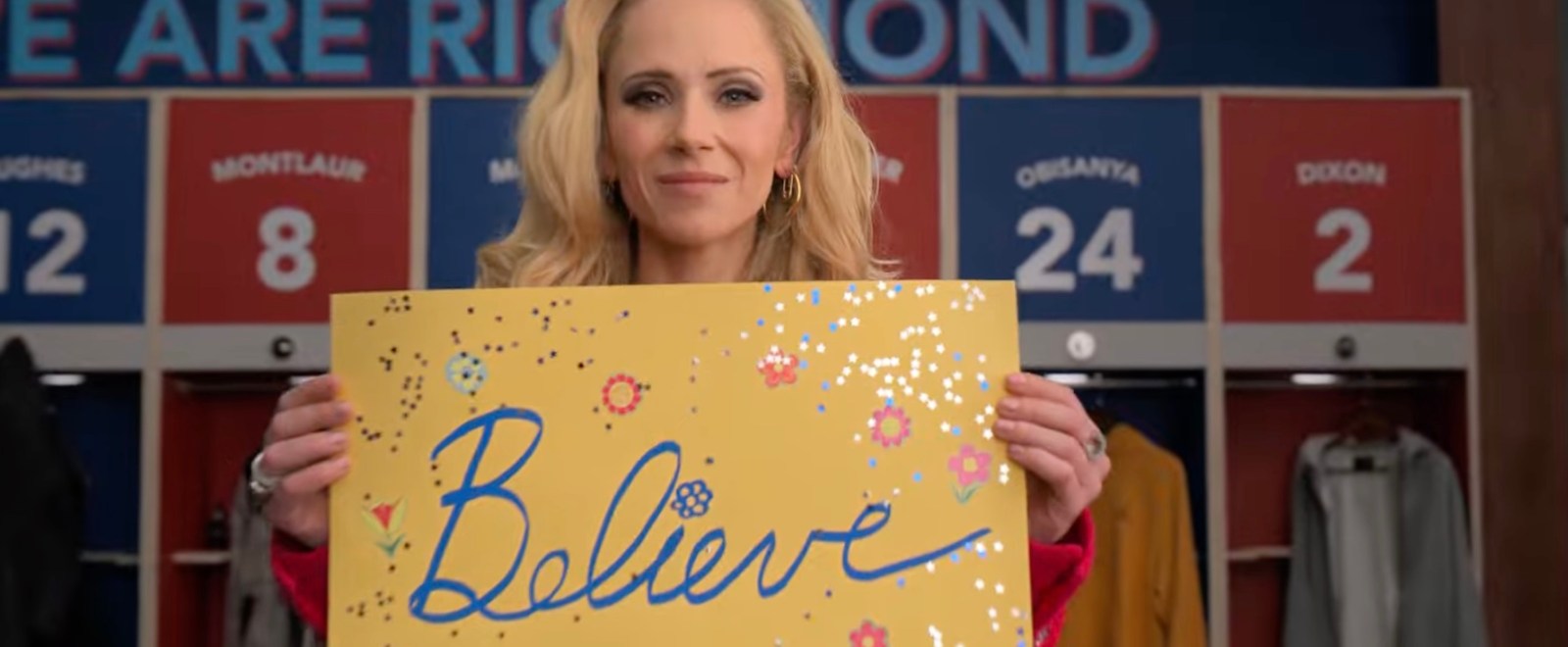 If you felt like February was light on TV show debuts, then you weren't wrong. The solid news, however, is that March is shaping up to be a much more eventful run. Several crowd favorites are on tap for returns, including the show starring the irresistible Baby Yoda. That Pedro Pascal dude is also onboard that Disney+ series, and he'll further be starring in the final episodes of the current The Last Of Us season. He's enjoying his moment, so to speak.
From there, three juggernauts — Succession, Yellowjackets, and Ted Lasso — will also come back while attempting to recover from varying degrees of betrayal. There's much more coming, too, as you'll see below. Here are the must see shows for March 2023.
The Mandalorian: Season 3 (Disney+ series streaming 3/1)
Amid the deluge of Marvel Cinematic shows (some truly amazing ones, but it's been a lot), it's sometimes nice to simply count upon the ever-reliable presence of Pedro Pascal and Baby Yoda. Make no mistake, Grogu is back, and he's stealing candy and (Force-fully) taking names, and you might wonder if it's a wise idea to also watch the Boba Fett show before you tuck into this third round of adventures. We've got you covered there, and some other good news has arrived: Jon Favreau believes that The Mandalorian can keep cranking out seasons for many years to come.
Chris Rock: Selective Outrage (Netflix standup special streaming 3/4)
Chris Rock has "got to play that Tamborine," and we ranked that special at the top of our Best Stand-Up Specials on Netflix list. Fortunately, Rock is not only back for another event, but this should be quite an experiment. Selective Outrage will stream as Netflix's first live-streamed event at 10:00pm EST on release day. Anything could happen, as Rock already knows from hosting the Oscars. This set takes place in Maryland, and of course, you'll be able to stream this puppy after the fact if you can't make it live.
Perry Mason: Season 2 (HBO/HBO Max series returning 3/6)
Man, it's good to have Matthew Rhys back as a terrifically sad-looking TV leading man again. He's glorious in this role, taking us back to Perry's hard-living, early-career days. This show doesn't aim to compare to the Raymond Burr-starring series of yesteryear, and in fact, it's an altogether different beast. This HBO projects manages to (like Peacock's Bel-Air but by different means) transcend all of the usual trappings of "gritty" as a reinvention, and this happens by way of Team Downey, which is also doing magical things with Netflix's Sweet Tooth. What I'm saying is this: we are living in a golden age of reinvention, and this season, Perry digs into the seedy underbelly of Hoovervilles while exploring the murder of an oil scion.
You: Season 4 Part 2 (Netflix series streaming 3/9)
Joe Goldberg has another new name, and largely a new personality, given that he's a fake professor in London. He's also fallen into a pit of relative despair, but the masses are still clicking, so tune in to see what the show has in store for him (he's the one being stalked these days) after all that stalking and killing. Don't expect too much sexy time from this season, however, because Penn Badgley has been there and done that, thank you very much.
Ted Lasso: Season 3 (Apple TV+ series streaming 3/15)
Look, Jason Sudekis and the gang have certainly heard about all of the kind-of mean backlash to Season 2, and they're fine with this. In fact and as the above teaser reveals, they "still believe." Not only that, but the eternally chipper AFC Richmond coach will arrive with his patented positivity brand a week ahead of darker juggernauts like Yellowjackets and Succession, but make no mistake, there are betrayals involved in all of these shows. How will Lasso follow up on Nate going full Joker? We'll soon find out, but apparently, glitter and glue are involved.
Extrapolations: Season 1 (Apple TV+ series streaming 3/17)
Well, it snowed in Southern California in late February, so we may soon be living in a reality that resembles this omnibus series. Eight loosely related stories will unfurl to show how climate change has wreaked chaos, which we'll need to combat while also working through our own daily concerns like work, love, family, and all the necessary stuff of being a human. This planet will keep reacting to us regardless, and this series comes from Contagion screenwriter Scott Z. Burns, who not only writes but also executive produces. Expect to see Kit Harington, Murray Bartlett, Eiza González, Tobey Maguire, Daveed Diggs, Matthew Rhys, Kerry Russell, Heather Graham, Sienna Miller, Meryl Streep, and many more appear within this tapestry.
Power Book II: Ghost: Season 3 (Stars series returning 3/17)
Not to be outdone by Taylor Sheridan's vast assembling of many Paramount shows (both of the Yellowstone variety and not so much), 50 Cent's Power universe continues past the original series with a whole lot of drama to clean up. That includes an accidental killing and a car accident, all with Tariq St. Patrick attempting to mop up life and leave the game. However, he will soon end up back in business, which will complete his plans to regain trust and his family. Betrayal and a R.I.C.O. investigation will do that, unfortunately.
Rabbit Hole: Season 1 (Paramount+ series streaming 3/26)
Finally, Kiefer Sutherland will be back on TV in action/intrigue mode. He stars as John Weir, a corporate espionage wizard who finds himself on the hook for a murder that he didn't commit. This project will be one of the first major swings by the fledgling streamer (although film blockbuster mainstay) to branch out beyond the Yellowstone/Taylor Sheridan shows that are their biggest streaming draw. Putting the 24 leading man into his most powerful mode seems like a good route for success because Dad Shows tend to bring eyeballs, and few people don't enjoy seeing Kiefer kick some ass.
Great Expectations: Season 1 (FX on Hulu series streaming 3/26)
At once, it's worth wondering if the world asked for another adaptation of this Charles Dickens classic, but it's also quite true that it took too long for Olivia Colman to be cast as Miss Havisham. Writer Steven Knight (Spencer, Peaky Blinders) does does the literary honors here while bringing us an updated take on Pip and how he navigates his messed up new world. In the end, we'll likely receive a class system critique like the original project but in an unconventional way, given that Ridley Freaking Scott and Jiu-Jitsu King Tom Hardy are in producing seats here, along with many other minds from FX's A Christmas Carol.
Succession: Season 4 (HBO series returning 3/26)
Succession's f-bomb dropping patriarch, Brian Cox, will only have to endure what he describes as Jeremy Strong's "f*cking annoying" method acting for one more season, but that's also bad news, given that people are quite emotional about this show coming to an end after one more round of betrayal-filled episodes. Will Shiv manage to be at all likable after this season, and will the di*k pic scandal carry aftereffects, considering that so much other fallout arose during the finale? We'll soon find out, but for now, Tom is somehow king. That's somehow fitting but also cannot last.
Yellowjackets: Season 2 (Showtime series returning 3/26 & streaming 3/24)
The show's initial slow-burn splatter art eventually shot into the sky with a disturbing-yet-compelling exploration of the natural food chain as embodied by the mean girls of a high school soccer team. It's very Lord Of The Flies but with Christina Ricci as the most horrifying, homicidal adult version of her character possible. She'll be flanked by the likes of Elijah Wood, also generally terrifying, for a Citizen Detective mystery mission while, at the scene of the plane crash, it's the dead of the winter. Things will grow grim, even more so than we've seen already, and we'll see how the Antler Queen and all that cult-y stuff further shakes out. Melanie Lynskey and Juliette Lewis also return as the adult manifestations of characters who saw too much sh*t in those woods.
White House Plumbers: Season 1 (HBO series debuting 3/TBA)
Woody Harrelson and Justin Theroux star as E. Howard Hunt and G. Gordon Liddy, respectively, and yes, those are the notorious Watergate masterminds. Veep showrunner David Mandel will guide this story into all the darkly comedic turns that one will hope for, as the leading duo inadvertently sends the Nixon presidency into a complete shambles. In other words, this story will feel right at home during the same month that Succession returns to HBO. The cast is pretty stacked, too, and includes Judy Greer, Lena Headey, Ike Barinholtz, Domhnall Gleeson, Kathleen Turner, and Kim Coates, who will hopefully bring some truly evil mustache flavor, even if we never see him on a Sons of Anarchy type ride. Anything is possible with TV magic, though.