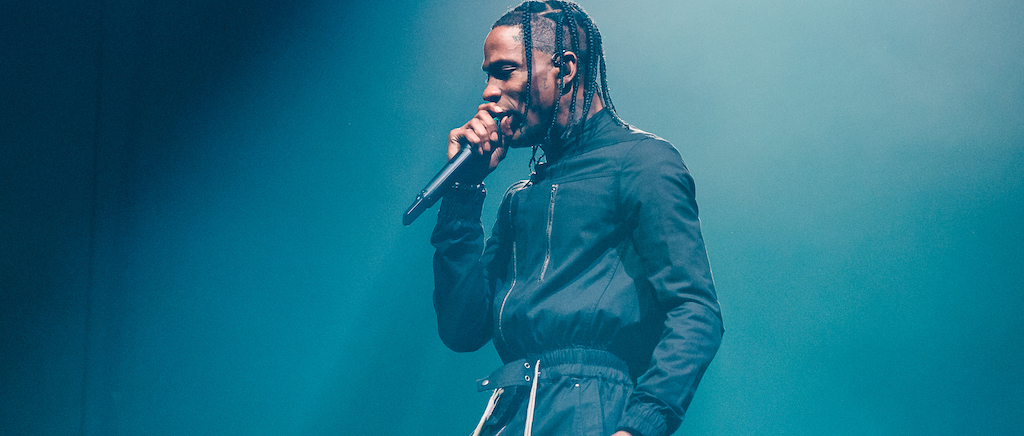 Travis Scott spent the past year laying low in the wake of the deaths at his most recent Astroworld Festival, but has been slowly edging his way back into the spotlight. He's booked a number of headlining festival sets — mainly at Rolling Loud's various world stops — but it looks like he's back in the headlines again in a negative way too.
According to TMZ, Travis has been accused of assault by the sound engineer of New York City nightclub Nebula, who says the Houston rapper punched him before trashing a bunch of equipment. The alleged victim says that after an initial disagreement, Scott punched him in the left side of his face and then damaged some speakers and video screens — about $12,000 worth of damage.
Even before the Astroworld disaster, Travis Scott has had a history of legal troubles from some of his over-the-top behavior. In 2015, he was arrested for disorderly conduct after telling fans at Lollapalooza to jump the barricades in front of the stage. Another arrest for inciting a riot came in 2017 after a show in Arkansas that got a little too rowdy. This was after a prior arrest for the same offense earlier that year for encouraging a fan at a New York show to jump from a balcony, injuring themselves in the process.
Travis was in New York Tuesday night (February 28) to support his Cactus Jack artist Don Toliver at a concert. His own next show will be this weekend at — where else? — Rolling Loud Los Angeles.