Hey ho, happy humans!
It's that wonderful time of the week again, when we round up 10 of the internet's most smile-worthy finds to share with you all. And this week's list does not disappoint.
We've got celebrations of friendship, the kindness of Martin Short and Disneyland's Evil Queen, Drew Barrymore and Pink talking candidly about motherhood, U.S. presidents with mullets, the cutest barista ever and more.
---
The more people find reasons to smile, the better our world will be, so don't forget to share the joy. Off we go!
1. This is much, much better than the 'dirty art' people usually leave on rear windshields…
u201cDirty art.. ud83dudc4cu201d

— Buitengebieden (@Buitengebieden)
1677420702
Can you imagine coming back to your car and finding this? I'd never be able to wash it. The rain would have to do it for me.
2. Woman shares the power of platonic love in a sweet celebration of friendship
There are many kinds of love, and we create unnecessary limitations if we view every close emotional bond through the lens of romance or sex. Yay for platonic love and genuine friendship.
3. Disneyland's Evil Queen shows she actually is fairest of them all, making an autistic boy feel welcome
@magicwiththomas

The not so Evil Queen offering him to feel her cape #autism #autismawareness #autismacceptance #asd #specialneeds #disney #disneyparks #disneyland #disneytiktok #disney100 #snowwhite #evilqueen #fyp #foryoupage
Autistic kids have different sensory needs and preferences, and this queen seems to know how to connect with Thomas by inviting him to feel her cape. Disney magic at its best. Read the full story here.
4. By chance, Chance the Rapper had a kindness run-in with the legendary Martin Short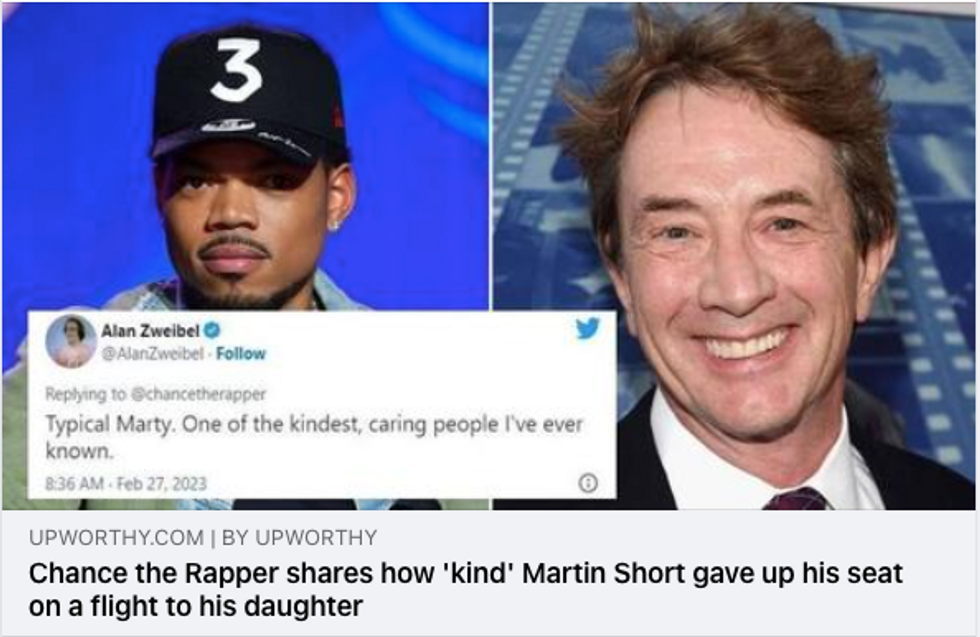 Chance the Rapper boarded a flight with his 7-year-old daughter, Kensli, when he realized their seats weren't together. A man immediately offered up his seat so they could sit together, and then Chance realized it was the legendary comedic actor Martin Short. Chance said he didn't think Short even knew who he was—he was just being kind. Read the full story here.
5. The music cut out in the middle of a cheerleading competition, and the crowd immediately stepped in to save the routine
The counting reaction from the cheerleaders in the crowd was immediate. Talk about awesome sportsmanship.
6. Drew Barrymore and Pink had a couch chat about motherhood that was refreshingly real
So open, so sincere and so wise. Love seeing moms being honest about their fears and struggles. Read the full story here.
7. Cutest barista ever makes coffee with her patient, loving dad
It's adorable, but also a masterclass in positive parenting. The family's videos demonstrate how letting kids try and letting them make mistakes and messes helps them learn. Read the full story here.
8. Kid's drawing of what 'safe' means to him is just pure 'Awwww'
Does anyone have tips for when a preschooler's drawing makes you cry all the good tears?
9. All 46 U.S. presidents looking 'cool' with a mullet is the greatest use of AI ever
As writer Tod Perry quipped, "Barack Obama looking like he played an informant on 'Starsky and Hutch' in 1976." And hello, Babe Lincoln. Check out more mulleted presidents here.
10. Third time's the charm for this adorable joey trying to climb into mama's pouch.
u201cBaby kangaroo entering its mother's pouchnhttps://t.co/KSNOpSTFEbu201d

— Fascinating (@Fascinating)
1677826645
"If at first, you don't succeed," am I right? We've all been there. Next time you fall flat on your face, just remember this baby kangaroo's undeterred perseverance and tell yourself to keep trying.
Hope that brought you some joy! Come back next week for more.
(If you'd like to be notified of these posts each week, sign up for our free newsletter, The Upworthiest, here.)