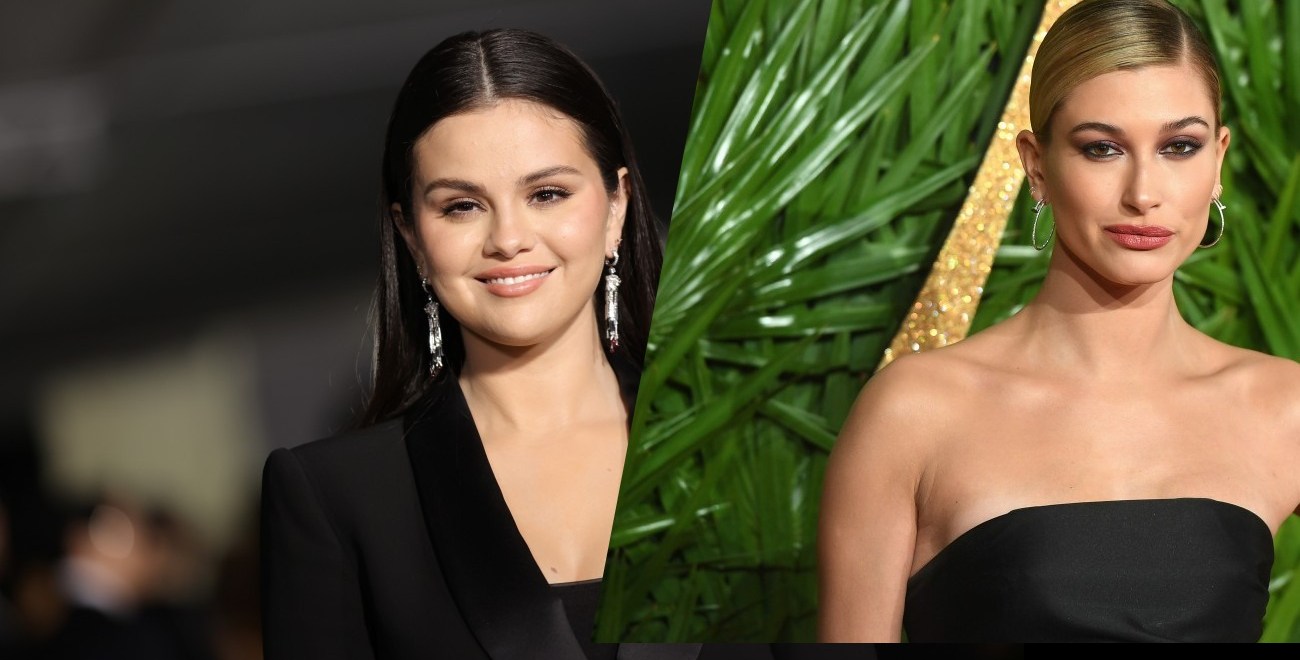 Every so often, a bit of Hollywood drama surfaces to whet our gossip-hungry appetites and remind us of why celebrities exist. In the past few months, there's been an abundance of ridiculousness happening in the tabloids and on the red carpet, the kind of blind item buffet better fit for early 2000s culture, when stars still existed and influencers had yet to be birthed from the pits of hell.
We've been gifted divorce debacles fueled by salad dressing recipes and NDA-defying nannies. Spitgates and Aperol spritzes have gone international. Princes have written memoirs about taking shrooms at Courtney Cox's house. Will Smith slapped someone on live television.
But few celeb feuds invoke the kind of early aughts nostalgia and Tiger Beat whimsy that comes from learning Selena Gomez and Justin Bieber's wife are arguing on Instagram. This kind of low-stakes drama brings back the good ol' days, when Mischa Barton and Paris Hilton were papped leaving Hollywood nightclubs like Les Deux and Guy's Bar at 4 am on a weeknight and Lindsay Lohan was fighting with Hilary Duff over Aaron Carter.
If you haven't been following the mess because you have things like "hobbies," or disassociating from reality is not something you feel the need to do on a daily basis, here's an explainer for what's going on with Gomez and one Hailey Bieber.
January 2023: Hailey Bieber Posts Then Deletes A TikTok Fans Claim Was Aimed At Selena Gomez
Though Gomez and Bieber publicly buried the hatchet some time ago, a TikTok Hailey posted featuring herself, Kendall Jenner, and Justine Sky is what's believed to have reignited the bad blood between the pair. The video features the trio mouthing the words to a popular voice-over saying, "And I'm not saying she deserved it, but God's timing is always right." The clip was posted soon after Gomez addressed the online trolls who body-shamed her recent vacation photos.
A couple of days after the video was taken down, Bieber doubled down on the post saying it was "a random TikTok sound for fun" and it was "not directed at anyone."
February 2023: Kylie Jenner Enters The Chat
In early February, Gomez shared a TikTok where she jokes with fans about over-laminating her eyebrows. Shortly after, Kylie Jenner snaps a pic of her own brows with the caption "Was this an accident?" that's shared to her Instagram story. She then posts a screengrab of her Facetime call with Bieber where the two focus the camera on their brows.
@devotedly.yours

I could be reaching, but it definitely feels like Kylie Jenner's IG stories were towards Selena Gomez. Especially the screenshot of her facetime call with Hailey Bieber. This feels very HS
Fans began labeling both Jenner and Bieber "mean girls" for the apparent dig but Jenner defended herself, commenting on a TikTok video rehashing the drama by writing, "This is reaching. No shade towards Selena ever, and I didn't see her eyebrow posts! u guys are making something out of nothing. this is silly."
Gomez backed up Jenner's comment saying, "Agreed @kyliejenner. It's all unnecessary. I'm a fan of Kylie."
February 2023: Selena Gomez Resurfaces An Old Video Of Hailey Bieber Dissing Taylor Swift
After the TikTok hype prompts fans to recover an old video of Hailey Bieber making a gagging motion when Taylor Swift's name is mentioned during an awards presentation, Gomez comments on it saying, "So sorry, my best friend is and continues to be one of the best in the game." She then hosts a TikTok Live where she confirms she'll be taking a break from social media.
"I'm gonna be taking a second from social media because this is a little silly," Gomez said. " And I'm 30, I'm too old for this, so…but I love you guys so much! And I will see you guys sooner than later, I just… I'm just gonna just take a break from everything."
Of course, before Gomez officially logged off she managed to comment on multiple TikToks slamming Bieber, thanking fans for supporting her.
March 2023: TikTok Conspiracy Theories Begin Circulating
After the back-and-forth between Gomez and Bieber, fans on social media began pulling old photos and videos they claim prove Bieber had been "obsessed" with Selena and Justin's relationship before she ever met the singer. A side-by-side clip of Gomez giving an interview and Bieber appearing on a late-night show depicts Bieber using similar language to Gomez when answering a question about her personal life. Fans also accused Bieber of copying Gomez when she launched her Youtube series "What's In My Kitchen?" two years after Gomez's HBO Max show Selena + Chef premiered.
The latest conspiracy theory though involves the go-to church of the Hollywood elite.
TikTok users pointed out that Gomez has a lower-case cursive "g" tattooed behind her ear. Gomez got the tattoo in 2015 in honor of her younger sister. Weirdly enough, Bieber also had a lower-case "g" inked behind her ear later that same year. According to Buzzfeed, Bieber said she got the tattoo as "a tribute to the daughter of Zoe Church pastor Chad Veach" whose name is Georgia. Still, fans found the placement and the style of the tattoo suspicious.
And thanks to all this drama, Gomez has now dethroned Kylie Jenner as the most-followed celebrity on Instagram, gaining nearly 15 million fans during this whole mess while Jenner reportedly lost 1 million followers and Bieber may have lost as many as 800,000.
And that's all we have … for now.
(Via Page Six)