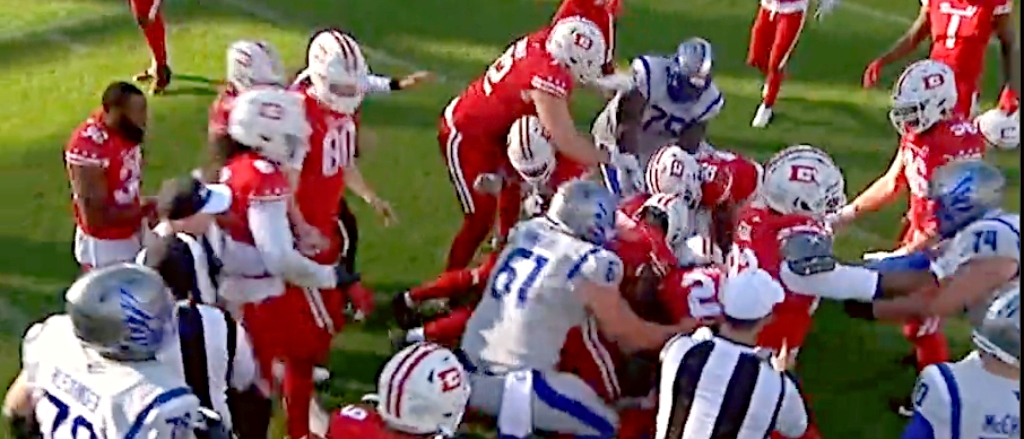 The XFL 3.0 has a very different vibe from the initial version, as the league is now a much friendlier and safer place than the early 2000s XFL that glorified the violence of football in a way leagues now try to mitigate.
The league's stated effort is to give guys a chance to put their game on film and show their talents, allowing them a chance to extend (or start) a career at a higher level in the fall somewhere. However, it's still football and as such tensions can run high in an inherently violent game, which we saw at the end of a thrilling back-and-forth game between the D.C. Defenders and St. Louis Battlehawks as things boiled over into an ugly brawl that took nearly a minute to get everyone separated and pulled apart.
A scuffle broke out towards the end of the Defenders vs. Battlehawks game pic.twitter.com/1dydLX18mE

— NFL on ESPN (@ESPNNFL) March 5, 2023
As Tom Luginbill noted from the sidelines, it had been a chippy game throughout and eventually, as D.C. wrapped up a win, that chippiness became a full-on fight as someone from St. Louis ended up at the bottom of a pile of Defenders players who clearly had taken offense at something and were giving him the business. Naturally that led to other Battlehawks players coming over to try and protect their guy and things only escalated from there.