Do you want the best crunchy taco you've ever had? Cool! Buy some hamburger meat, cut up a red potato into tiny pieces, and throw the two in a cast iron pan. Season with paprika, salt, black pepper, red pepper, cumin, and chili powder, drain the fat, put a lid on it under low heat, and wait until those potatoes soften. Then warm up some corn tortillas, spoon the meat inside, pin each end closed with a toothpick, and throw the whole thing in a hot pan with oil. Remove when it's sufficiently fried (lighter than you expect) top it with lettuce, and cheese, and dip it in whatever makes you happy (sour cream, guacamole, salsa, all three) and bing bang boom, you've got the best fried taco you've ever had in your life in 20 minutes.
Crunchy tacos are so easy to make at home that it's amazing to me that we even have a fast food version. But then again… so are burgers! Sometimes you just don't have time, and we respect that. So if you've got a craving for crunchy tacos and you don't want to do any work whatsoever, what's the play? The closest taqueria with fried tacos of course! But if you don't have one of those (we're really meeting you halfway here), it's going to have to be Jack in the Box, Taco Bell, or Del Taco.
Fast food crunchy tacos are weak. They're not nearly as good as what you can easily make at home and the meat inside is questionable. Having said all that… I still love them. Don't get me wrong, I fully recognize that fast food crunchy tacos are a sad imitation of the real thing but have you ever rolled up to a Jack in the Box or Taco Bell in the middle of the night, sufficiently buzzed (or high) and hungry? Few things in life are better than that first bite into a greasy flavor-packed taco that costs just above $1.
So who makes the best? We're about to find out. That's right, we're giving crunchy tacos the blind taste test treatment!
PART I — Methodology
Sadly, there aren't very many fast food chains with crunchy tacos anymore. You used to be able to get crunchy tacos at Burger King, Carl's Jr, Del Taco, Jack in the Box, and Taco Bell, and now BK and Carl's are out. You could, of course, go to Chipotle, but we're willing to bet if you have a craving for crunchy tacos, you want the cheap stuff, not a $10 customizable taco plate.
So for this blind taste test, we gathered up tacos from Del Taco, Jack in the Box, and Taco Bell and put them to a blind test. Because I know these tacos well, I had my girlfriend bring each on a plate one by one and donned my trusty blindfold for all four tacos. Here is our lineup:
Del Taco — Crunchy Taco
Jack in the Box — Crunchy Taco
Taco Bell — Crunchy Taco
Taco Bell — Doritos Loco Taco
Let's eat!
Part 1: The Tasting
Taste 1: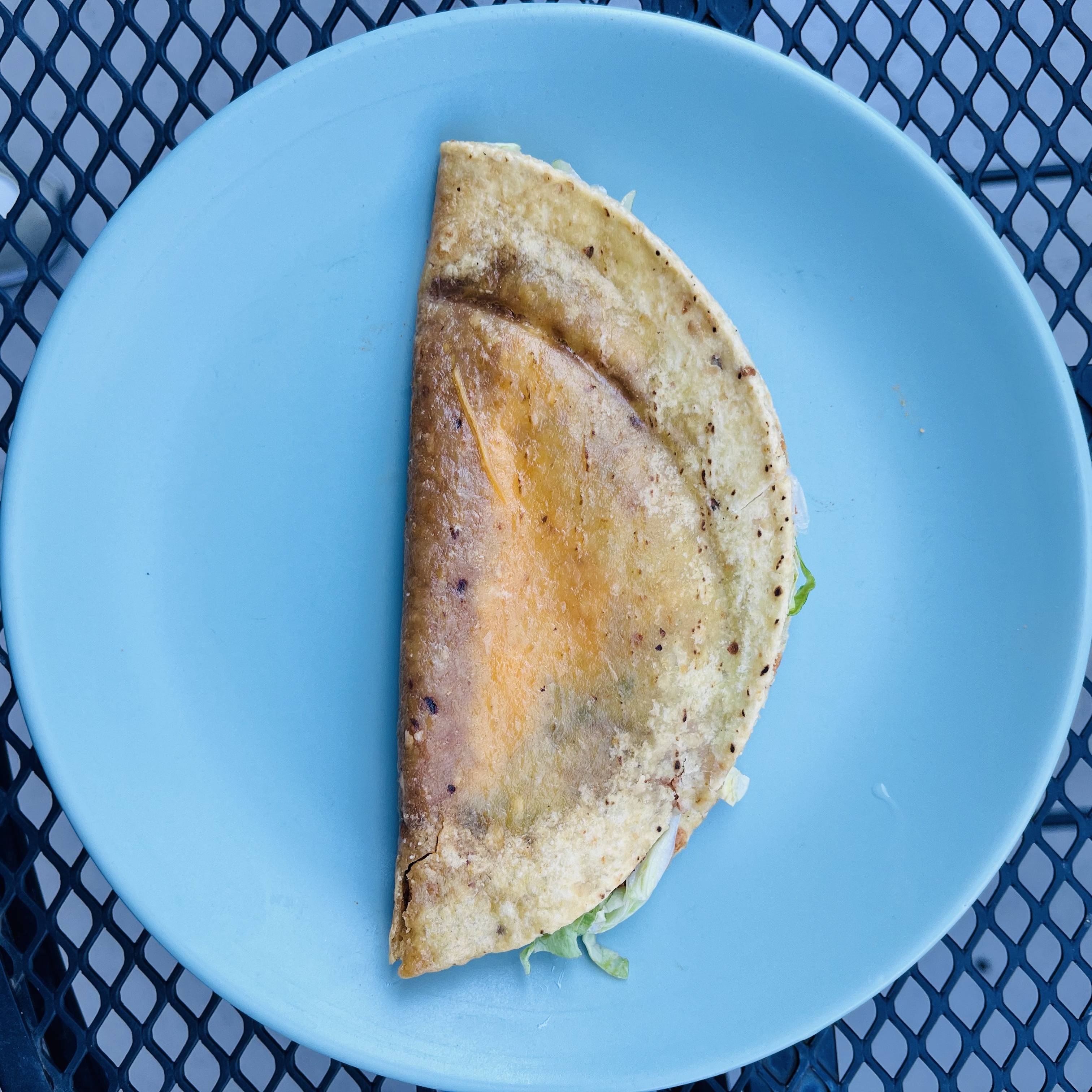 Greasy, intensely so, there is so much grease I can straight up taste it, but it's also… kind of interesting. The tortilla shell is very light and crispy, and I'm getting a hint of mild taco sauce in there.
This taco is incredibly wet. Is that grease, is that sauce, do I want to find out?! The cheese is gooey but a little too flavorless. It's more texture than anything else. I can't really get a sense of what the meat tastes like and the lettuce is awful and smells bad.
Taste 2:
What the hell am I eating?! Not enough crunch here and a whole lot of conflicting flavors. I'm getting an intense zesty cheese flavor, a whole lot of salt, with watery lettuce that muddies the beef. The mouthfeel is also awful, it tastes almost dusty. Not a fan.
Taste 3: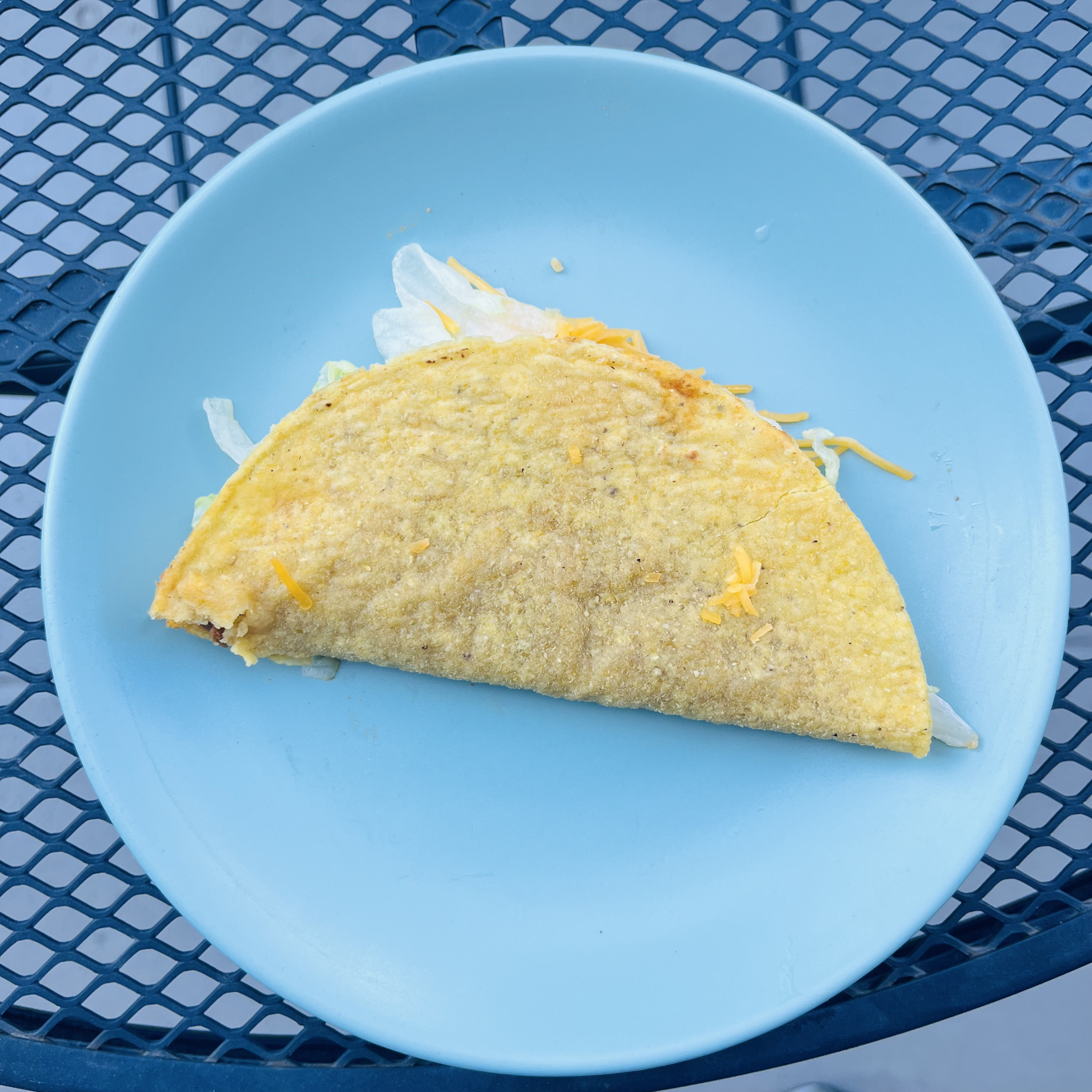 Pretty solid. The shell has a great crunchy texture and the meat is beefy and savory with a nice blend of spices. I'm getting salt, paprika, and a hint of garlic. I love the texture of this one, everything just comes together harmoniously. There is a strong grease flavor that stains the aftertaste, but that doesn't bother my tastebuds as much as it bothers me on a mental level.
Biting into it I thought "I know this is bad for me." But I also promptly took another bite.
Taste 4: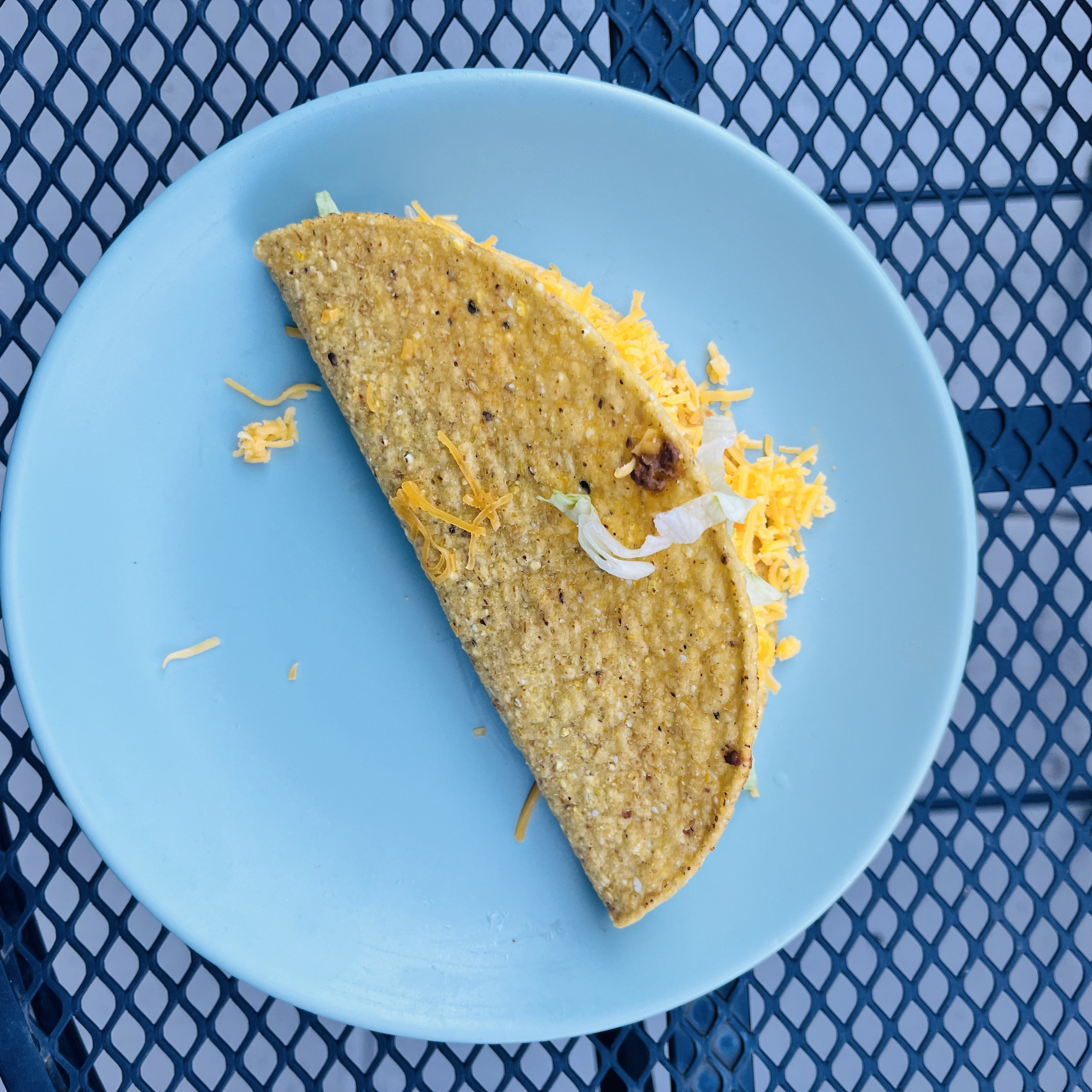 I was certain Taste 3 would win the top spot but Taste 4 is the winner. This has everything the last taco had but a significantly better cheese flavor and that really makes a difference in a three-ingredient taco. The cheddar here is rich, with a balance of sweet, sharp, and nutty notes that perfectly blend with the savory meat.
The beef here isn't quite as flavor-packed as Taste 3 but the rest of the ingredients, from the shell, which is sturdy and crunchier to the crispy lettuce, taste significantly better. Overall, the taco provides a better experience. As far as the meat goes, you wouldn't think it was under-seasoned, but side by side with Taste 3 the difference is apparent. Not enough to hurt it though.
Part 2: The Ranking
Taco Bell — Doritos Locos Taco (Taste 2)
I get that the Doritos Locos has fans but — why? Is it because it's just a cheap taco in a giant Dorito? It's okay if that's the reason, but this taco has nothing on Taco Bell's OG. As a novelty, it's a lot of fun but I honestly think the idea of this taco is its best seasoning. As it stands on its own, it's an assault on the taste buds in the worst possible way.
The Bottom Line:
I know I'm going to anger the Taco Bell fans with this one, but this taco is designed to be enjoyed solely by people who are stoned or drunk! Or people that really really really like Doritos.
Find your nearest Taco Bell here.
Jack in the Box — Crunchy Taco (Taste 1)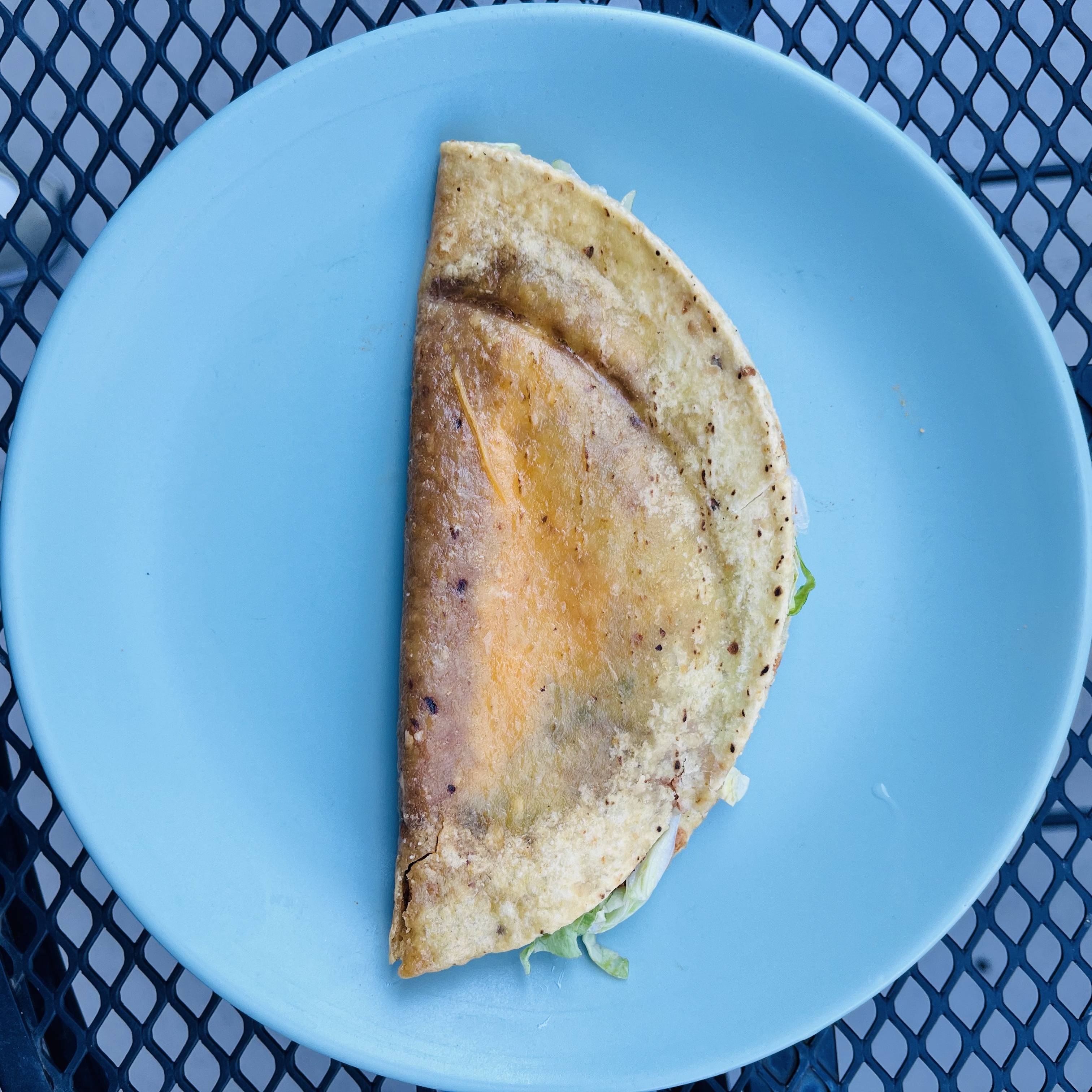 I'm actually surprised this one isn't at the bottom of the ranking. Like I said in the tasting portion, this taco's flavor is just grease. It's very crispy slightly mild grease. And I kind of like it. Does it offend me that there is American cheese in here? Absolutely. Is the lettuce legitimately some of the worst lettuce I've ever tasted? Absolutely. Would I order one of these again in a heartbeat? Abso-f*cking-lutely.
The Bottom Line:
I'm not proud of this one but what can I say? I kind of like it. It's greasy and tastes like it might kill you but it hits some sort of pleasure spot in my brain.
Find your nearest Jack in the Box here.
Taco Bell — Crunchy Taco (Taste 3)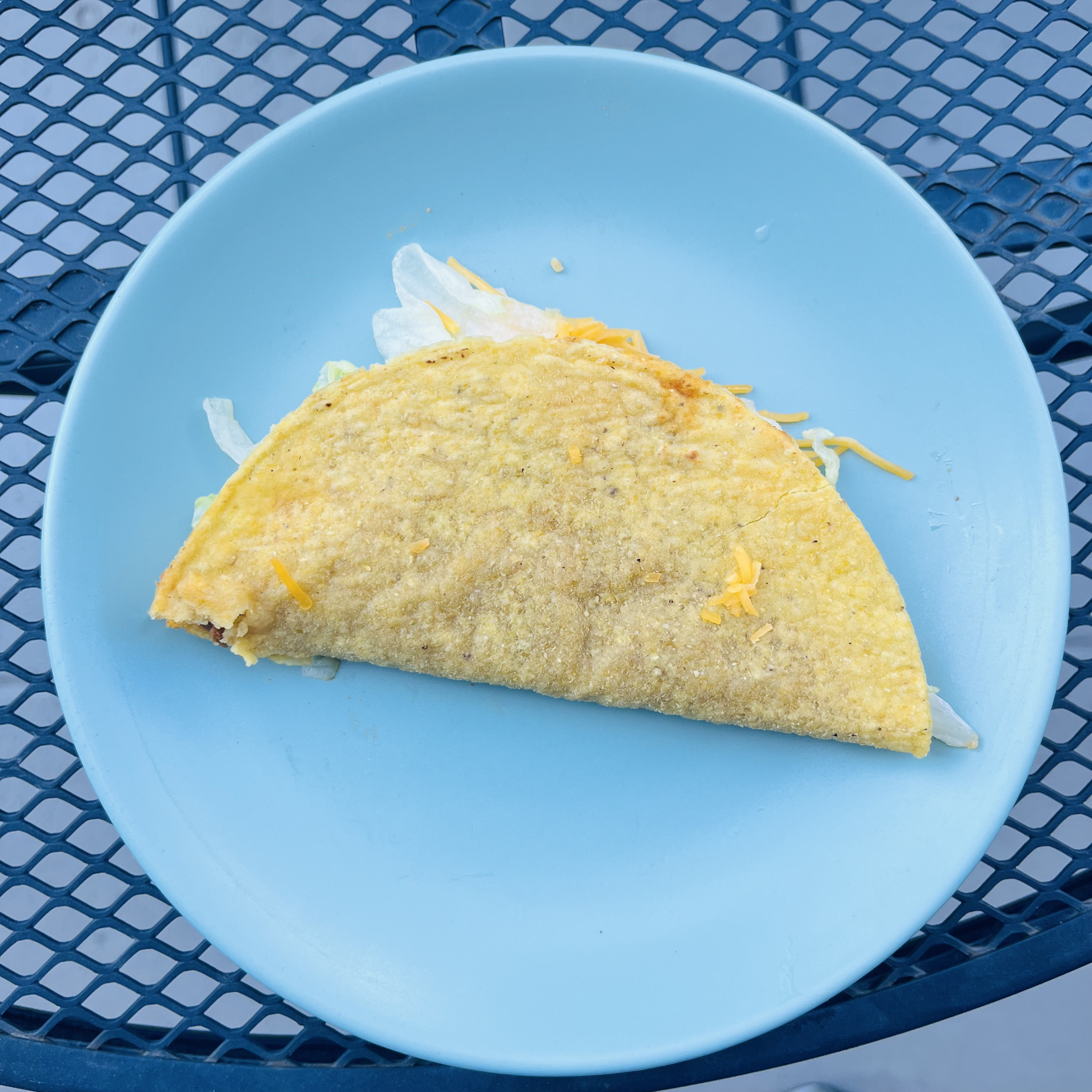 Although it didn't get the number one spot, I still think Taco Bell makes one of the best fast food crunchy tacos ever. Somedays, I'll take this over a Chipotle taco, and they used marinated meat over there! There is just something special about this taco, it's probably the reason fast food crunchy tacos are a thing in the first place.
With the right packet of hot sauce, you can easily take this taco from good to great. It won't beat what you can make at home, but it satisfies if you're too beat to cook and want a cheap and easy dinner.
The Bottom Line:
Taco Bell's greatest menu item, no cap.
Find your nearest Taco Bell here.
Del Taco — Crunchy Taco (Taste 4)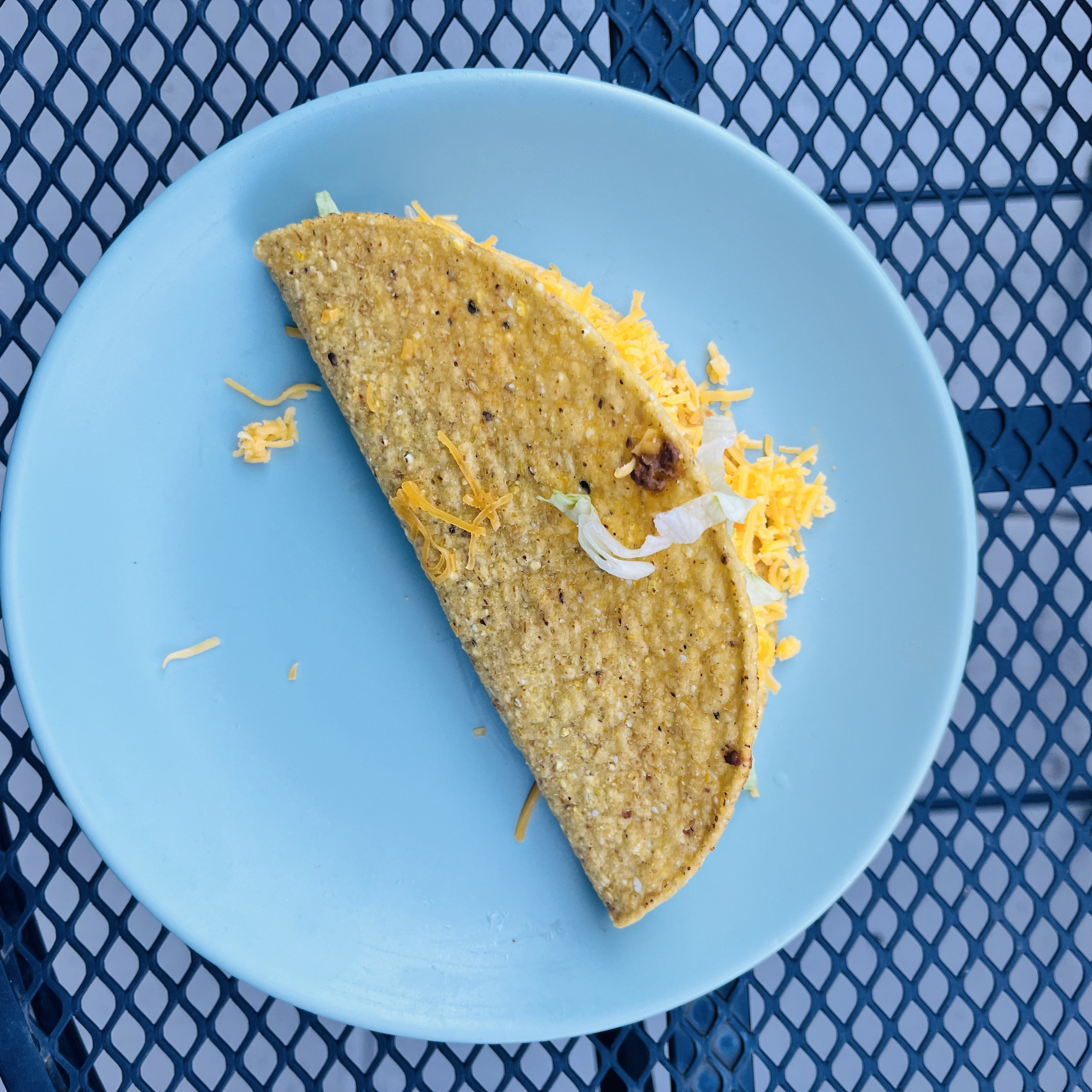 The Del Taco does everything that Taco Bell's taco does — but better. While the flavors are very similar, there is something about Taco Bell that comes across as incredibly cheap. It's the sort of taco that you eat and it constantly reminds you throughout the day that you've eaten it, whether that be from burping its flavors to hurting your stomach. That's not the case with Del Taco.
Both are cheap, but at Del Taco it actually tastes like you're getting quality. The meat is a little drier, but you know it's meat. The lettuce is crisp and tastes more like a leaf than water, but the real star of the show is the cheese. It's hand grated from an actual block, which means it doesn't have that weird powdery texture that cheap shredded cheese has and packs a whole of flavor.
It's sweet, nutty, savory, almost… floral, and I'm just talking about that cheese!
The Bottom Line:
The perfect fast food crunchy taco.
Find your nearest Del Taco here.