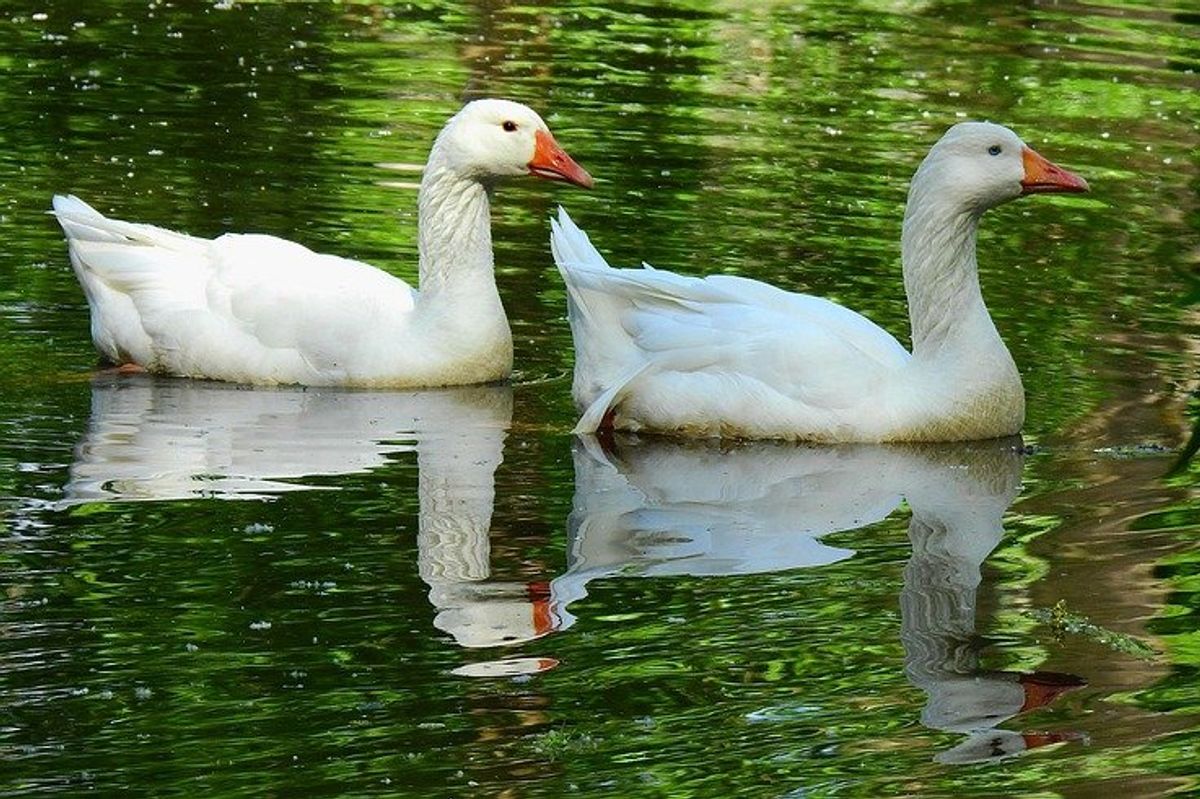 Employees at the Riverside Cemetery in Marshalltown, Iowa, noticed that Blossom, a goose who lived on the grounds and in the pond, wasn't doing well after her mate, Bud, passed away last August. CBS News reported that Blossom would often sit in front of shiny model tombstones and look at her reflection as if searching for a companion.
"We started to notice that she was really seeming lonely and isolating herself," general manager Dorie Tammen told the CBC. "It was clear that she was lonely and she needed a partner."
So Tammen created a personal ad for Blossom to find her a friend or a new mate. It's possibly the only singles ad in history where someone was looking for a partner to live with them in a cemetery. The ad read:
---
"Lonely, widowed domestic goose seeks life partner for companionship and occasional shenanigans. Come share life with me at Riverside Cemetery, where you'll enjoy swimming in the lovely lake, good food, numerous friends, and peeking in the door of the office building at the strange but kind humans there, who feed us lots of goodies. I'm youthful, adventurous and lively, and I've been told I'm beautiful."
The ad caught the attention of Deb and Randy Hoyt, who owned a gander named Frankie, who was also a widower. Frankie was initially known as Handsome and his mate, Gretel.
"He was sad. He was lonely," Deb Hoyt told the CBC. "He just hung out with us, you know, whenever we were outside. In the winters, it was especially hard because we're not outside very much."
Deb and Randy decided to take Frankie to the cemetery to meet Blossom on a Valentine's Day date and Blossom greeted him with open wings. The two immediately hit it off, and now they're inseparable.
"They started walking off together and they haven't really left each other's side since," Tammen told CBS News. "I don't think they've been more than a few feet away from each other," she told the CBC.
Deb Hoyt also told the CBC that when she visits Frankie at the cemetery, Blossom is wary of her new in-laws. "She hisses at us and so he gets in between, like, 'Uh, these are my people. Don't you be hissin' at them,'" Hoyt said with a laugh. "It's hilarious."
It may seem strange that geese mate for life like humans, but monogamy isn't rare in the avian world. According to How Stuff Works, geese are socially monogamous but are known to stray occasionally for sexual liaisons outside of the relationship. But the monogamous social relationship between the two birds is instrumental in assuring that their offspring, who are susceptible to harm, survive into adulthood.
Deb Hoyt is happy that Frankie and Blossom have found happiness after their losses. Their story shows that even in the avian world there are second chances at happiness. "I think he's happy there," she told the CBC. "That second chance at love was pretty awesome." Ultimately, the story proves the old cliche: "What is good for the goose is good for the gander."