The 2023 Academy Awards ceremony is finally upon us. Prestige films will be discussed, awards are going to be debated (where's Ralph Fiennes' nom for The Menu?!?), and parties will be thrown by film nerds and casual enthusiasts alike. Whether you love movies or just pageantry, we thought this was the perfect opportunity to pair some awesome whiskeys with the Best Picture nominees for this year's Oscar ceremony.
For this list, I tapped a good friend of mine who also happens to be a whiskey-loving cinephile like me, Bob Book of the Film And Whiskey Podcast. Bob and I each took five Best Picture Oscar nominees and paired them with some of our favorite whiskeys — bourbons, ryes, Irish whiskeys, scotch, and a wild card or two — according to how well they paired with those nominees.
So, if you're looking for a great whiskey to pour at your Oscars party this Sunday, check out our excellent whiskey pairings below, find the pairing that speaks to you and your favorite film that was nominated for an Oscar, and then click on that price link to get it delivered just in time for your party on Sunday.
Also, you can listen to Bob and I discuss our picks and the movies at length on a special episode of the Film And Whiskey Podcast right here!
Also Read: The Top 5 UPROXX Bourbon Posts Of The Last Six Months
Zach's Picks
All Quiet On The Western Front and The Westfalian — 2012 German Single Malt Whisky Peated Aged 6 Years
ABV: 54.8%
Average Price: $420
The Oscar Nominee:
This was one of my favorite movies of the year. The sheer cinematic beauty of this film is so all-encompassing. Yes, it's brutal and loud and viciously bloody. But it's also softly calm, quietly engaging, and truly a wonderful cinema-going experience. The scenes around stealing geese at a local farm in the snow where the sound meanders through a barnyard, the warming of hands, the falling of snow, and the soft winter wind are emblematic of the scope this war film has. It isn't afraid to be quiet (sorry) while also being brutally violent in a way that's so visceral that you almost feel like you're there. You can almost smell this movie it's so engaging, and that's just amazing movie-making.
The Whiskey:
I had to go with a German whiskey, it just feels right. Back in 2020, the Internation World Spirits Competition (IWSC) named this whiskey the best whiskey in the world. That's fantastically high praise, given the level of judges who award whiskeys from that competition. All of that aside, this is a German single malt made from lightly peated local malts by Northoff Feinbrennerei distillers — true whisky nerds. The whisky ages in new American oak for six years before cask-strength bottling 100% as-is.
Tasting Notes:
Nose: The whisky draws you in with a malted sense of vanilla and chocolate (kind of like bespoke fancy Whoppers) next to moist marzipan, floral vanilla, orange pekoe, and Saigon cinnamon bark, with the latter two elements just barely smoldering and spitting thin lines of smoke.
Palate: A pile of butter-grilled pancakes soaked in fresh floral spring honey, bitter marmalade, smoked plum jam with clove, and a hint of Earl Grey tea leaves all lead to an underlying sense of a kindling smoke with a whisper of duck fat.
Finish: More marzipan and smoldering orange pekoe drive the finish with a winter spice bark vibe that's all sending smoke toward prunes, dates, and plums inside of a smoker.
Why It's the Perfect Pairing:
This whisky sort of feels like it takes amazingly rich and nuanced flavor notes and just barely lights them on fire. It's kind of like smelling a smoking kitchen or larder from a mile away that just keeps drawing you nearer. And since finding and enjoying food like that is such an essential part of this film, it just feels right. Plus that smoldering note also feels like something that you'd experience in trench warfare where everything is either on fire or was just on fire. And it's a German whisky.
The Banshees of Inisherin and Writers' Tears — Red Head Irish Whiskey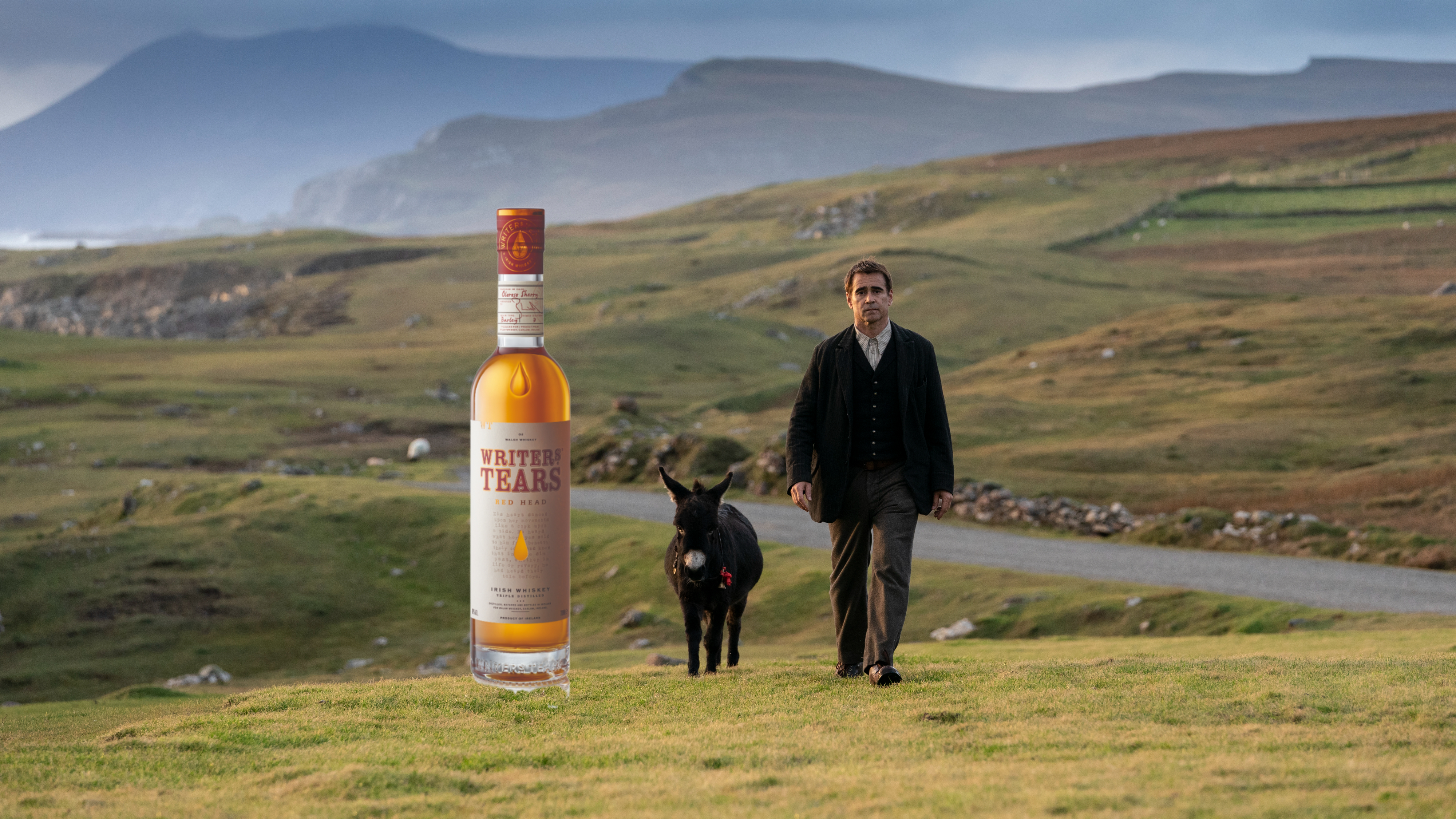 ABV: 46%
Average Price: $199
The Oscar Nominee:
This film is all about the banter between the actors. All that you really need to know is that Brendon Gleeson's village pub musician no longer wants to hang with his lifelong friend played by Colin Farrel. And so much banter ensues. Some of it is meaningful and some of it is banal, but it all tends to lean more toward funny than maudlin, which makes the film easily watchable.
The Whiskey:
This is classic Irish single malt that's triple distilled before a long aging process. The hot juice rests in Spanish Oloroso sherry butts until it's just right. Those barrels are batched and proofed before bottling otherwise as-is.
Tasting Notes:
Nose: Burnt orange and peach skins mingle with a hint of salted dried mango next to red berry tea leaves, plum jam cut with clove, and a mild sense of brandy butter and scones.
Palate: Nutella comes through on the palate with a sense of rum-raisin, old sherry-soaked oak staves, and creamy vanilla cake.
Finish: The end leans into the brandy butter and scones with a sense of sharp orange marmalade and fresh breakfast tea cut with cream and honey.
Why It's the Perfect Pairing:
This feels like a no-brainer given that Gleeson's character's whole drive is that he wants to write a great piece of music. And he does, but not without a whole hell of a lot of tears. That aside, this is just a great Irish whiskey that transports me back to Ireland in the same way that the film's sweeping vistas did. I wanted to live in the seaside pub in that film and sip on this whiskey for the rest of my life (without the rowin' of course).
Everything Everywhere All At Once and Johnnie Walker — Blue Label Blended Scotch Whisky, Limited Edition Year of the Rabbit
ABV: 40%
Average Price: $232
The Oscar Nominee:
It almost feels trite talking about this film at this point, especially since it's the lock for the big win on Oscar Sunday. Still, this is the thinking person's multiverse film that also happens to be incredibly subversive (in a very American way) and really freaking funny with great martial arts from one of the greatest on-screen martial arts actors of our time, Michelle Yeoh.
The Whisky:
This is the mountaintop of Johnnie Walker's whiskies. The blend is a marriage of ultra-rare stock from extinct Diageo distilleries around Scotland. That's just… cool. This expression is all about barrel selection and the mastery of a great noser and blender working together to create something special.
Beyond what's in the bottle, the actual bottle is also really freakin' cool. This year's Chinese New Year design was created by rising fashion star Angel Chen. Chen interpreted the Chinese rabbit Zen sign for a stunning bottle and box design that hinges on the ethereal nature of mercy, elegance, and beauty.
Tasting Notes:
Nose: The nose on this one feels like silk with soft malts, dried plums, good marzipan, old boot leather, mulled wine spices, and a whisper of fireplace smoke.
Palate: The taste layers orange oils into the marzipan as rose-water-infused honey leads to a line of bitter dark chocolate that's touched with smoked malts and nuts.
Finish: The end has an even keel of velvet mouthfeel next to floral honey, soft smoldering smoke from a fireplace, and old dried fruit.
Why It's the Perfect Pairing:
The adventure Evelyn goes on in The Daniels' Everything Everywhere All At Once kicks off because of her dad visiting for Lunar New Year. So grabbing a solid Lunar New Year whisky feels like the correct play for sitting back and enjoying this film as it wins Oscar after Oscar on Sunday night. Plus, you simply cannot go wrong with a whisky as unique and delicious as Johnnie Blue. It's a true flex for any Oscars party.
Tár and Octomore — 13.3 Edition Aged 5 Years Super Heavily Peated Islay Single Malt Scotch Whisky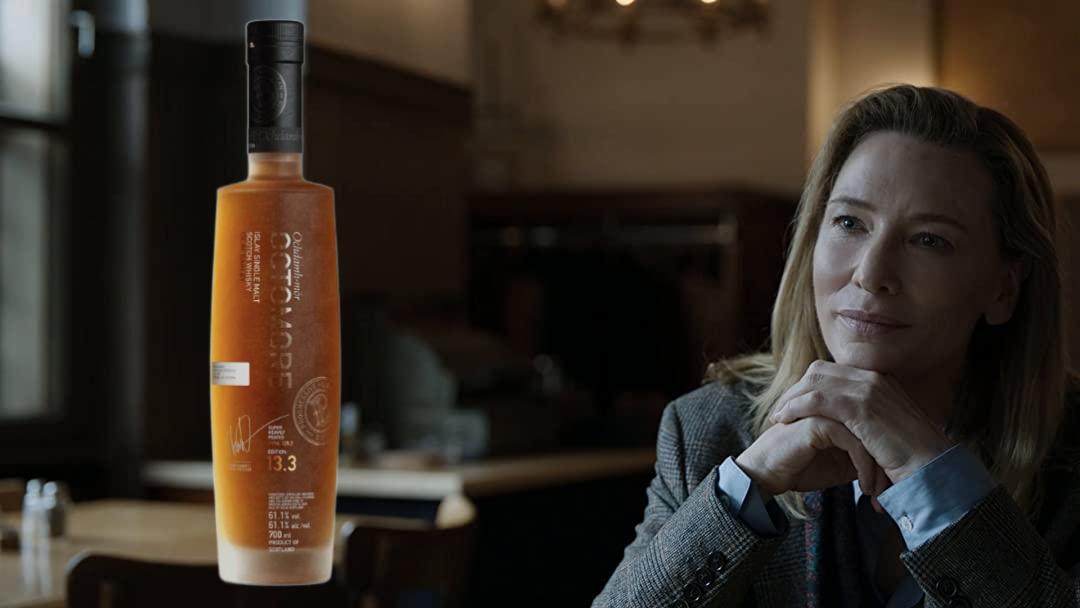 ABV: 61.1%
Average Price: $346
The Oscar Nominee:
Grooming and cancel culture are at the heart of Todd Field's Tár. But it's really Cate Blanchett's performance that elevates this film beyond a very 2022 conversation. Blanchett's Lydia Tár is an exploration of whether art should be revered even if the person who created that art is a bad person (according to cultural norms of a different time). The irony is that Lydia Tár is a grooming sociopath who reveres the most basic and obvious old-white-whale greats and only interprets their art without actually creating anything new, adding "artistic fraud" to sociopath and groomer.
The Whisky:
This new limited edition Octomore from Bruichladdich is all about Islay. The whisky is made from heavily peated malts grown on the island (most malts are shipping in from the mainland) back in 2015. In 2016, the whisky was distilled right by the sea at Bruichladdich and then loaded into first-fill, ex-American whiskey casks and second-fill European oak casks from the Rivesaltes region of France and the Ribera del Duero region of Spain. After five years, the casks were vatted and then bottled completely as-is.
Tasting Notes:
Nose: The nose is a subtle mix of salted caramel with sweet caramel malts, apricot jam, gingerbread, and a touch of nasturtium with a whisper of smoked apples and pears before the ashen peat starts sneaking in with a sense of a BBQ pork rib rack smothered in BBQ sauce.
Palate: The palate opens with smoked brown sugar next to rich marzipan with a hint of Almond Joy next to Kiwi boot wax, orange marmalade, dried roses, lemon pepper, and a hint of oyster liquor.
Finish: The end has a caramel maltiness that's just kissed with sea salt and potpourri cut with mild dark spices and more of that marzipan, finishing on a light fruit soda vibe.
Why It's the Perfect Pairing:
For a film that basically boils down to "Okay, Groomer," there are still deep themes of learning to appreciate things like classic music, which is certainly an acquired taste. So I chose the most acquired taste whisky I could think of, Octomore. This whisky has such a huge peated opening and barrier (it's literally in the name on the bottle) that it takes a lot of palate-building to understand/enjoy. But once you get past that opening barrage of ashen peatiness, there's so much beauty to enjoy in this deeply hewn whisky that it sings on the palate with deep and wonderful flavor notes. Much like truly getting into great classical music.
Triangle Of Sadness and Pappy Van Winkle — Family Reserve Kentucky Straight Bourbon Whiskey 23 Years Old
ABV: 47.8%
Average Price: $5,156
The Oscar Nominee:
Triangle of Sadness — which stole the noms from The Menu in my humble opinion — is the "Parasite eat-the-rich nom" of 2023. This film does go in a very different direction in the second half which is actually very enjoyable, and I won't spoil that. But the first 1/3 of champagne socialist talking points and obscene disconnected old-white wealth was very on the nose and pretty skippable.
The Whiskey:
This expression spends a long 23 years resting in new American oak, partially at the Stitzel-Weller Distillery and partially at Buffalo Trace. Not every one of those Stitzel-Weller barrels makes the final cut but most do. Only the "honey barrels" — the best of the best — are selected for marrying, proofing, and bottling for this very limited release.
Tasting Notes:
Nose: The nose opens in a fresh apple orchard on a sunny day fall with tart apples hanging low and taking on a hint of fermentation next to a jar of dark cherry spiced with cinnamon bark and cedar, old sheets of leather, and a hint of vanilla pudding powder mixed with dark and waxy cacao nibs.
Palate: The palate really leans into the bitterness and waxiness of those cacao nibs while layering old and dry tobacco leaves, shards of nut brittle, woody cinnamon sticks soaked in apple cider, and a mix of dried cherries, figs, and dates mashed into tobacco and cedar bark and buried in rich black potting soil.
Finish: The end leans into that old leather, wood, and dirt with a sense of old cellars and cobwebs next to cherry and cinnamon bark.
Why It's the Perfect Pairing:
Much like the film, this is all bark and no bite. The disgusting and shallow wealth shown off in this film demands the most elitist whisky I can think of. Pappy 23 has an inflated price tag that oligarchs eat up. It's a $200 whiskey masquerading as a $6,000 one that feels like it'd be the whiskey served/demanded on this boat. The trick here is that this whiskey is very good (a little woody for my taste) which is the tragic trick of the wealthy getting to enjoy all the good shit we poor saps never will — a point the film hammers home about a million times.
Bob's Picks
Elvis and Jack Daniel's — Triple Mash Blended Straight Whiskey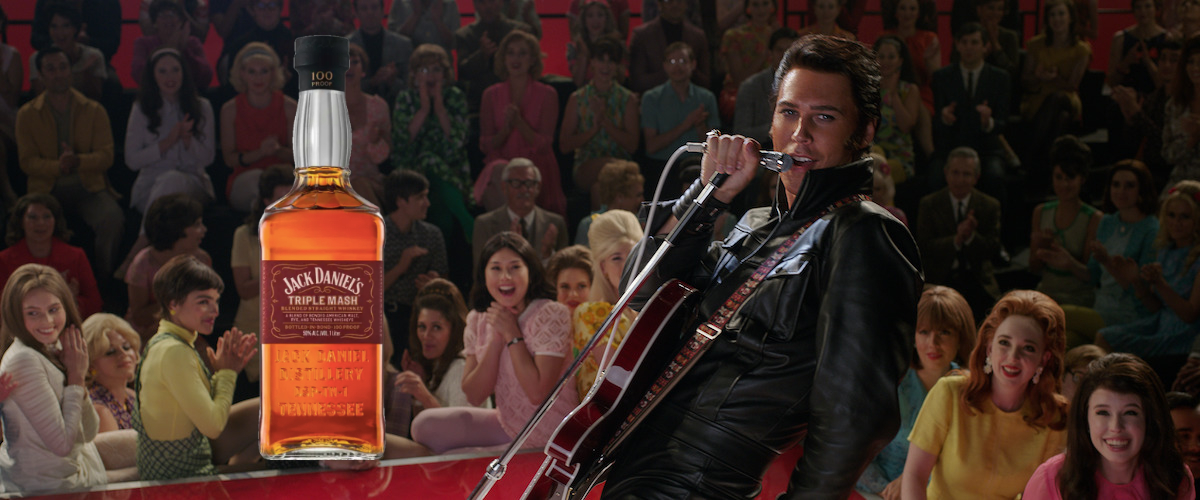 ABV: 50%
Average Price: $34
The Oscar Nominee:
Perhaps the year's most misunderstood movie, Baz Luhrman's Elvis is no Bohemian Rhapsody. While that 2018 film filled in a very paint-by-numbers biopic, Elvis isn't so much interested in being a biopic as an immersive, chaotic approximation of Elvis-mania, and the construction of Elvis as a mythic figure. Director Baz Luhrmann may have finally found the perfect vehicle for his frenetic, kinetic camera and over-the-top, gaudy tastes. What results is a director who uses the very structure and form of the movie to comment on Elvis' mythology.
The Whiskey:
Listen, I know that the easy choice here would've been the King's namesake whiskey, but I prefer to stay in Tennessee with this blend of three straight bottled-in-bond whiskeys of rye, Tennessee whiskey, and single malt. Rye is actually the most-utilized grain in the combined mash bill, but you'd never know it from the maple and peanut butter notes.
Tasting notes:
Nose: There's a "dusty old gymnasium" smell to this that I can't quite pin down, but behind that smell are some great notes of boiled peanuts and classic bourbon caramel on the end.
Palate: A doughy Belgian waffle with peanut butter and maple syrup, into a refreshing apple peel. Starts decadent and ends crisp. It's not viscous, but its thinner mouthfeel has the body you want for a hot summer day.
Finish: Oak takes over on the finish, turning those apple notes slightly bitter, but considering its thinner body, this is a surprisingly long-lasting finish.
Why It's the Perfect Pairing:
Elvis was a man of gaudy tastes, right down to his downright genius choice of sandwich: peanut butter, banana, and bacon. I can't think of a better whiskey to match those artery-clogging flavors than this decadent (and affordable) choice from a Tennessee distiller.
The Fabelmans and Noah's Mill — Small Batch Genuine Bourbon Whiskey
ABV: 57.15%
Average Price: $67
The Oscar Nominee:
The Fabelmans quickly and unfairly garnered a reputation as a treacly "love letter to Hollywood." And while director Steven Spielberg's passion for movies is on full display, it would be selling the film short to pretend it doesn't have more on its mind. Having hinted at his own upbringing throughout his career, Spielberg decides to fully plumb the depths of his parent's divorce and filmmaking as his method of both coping with it and pushing it away. Spielberg's never quite examined the relationship between art and pain quite like this. It's a beautiful testament both to the cathartic (and myth-shaping) power of making images and to the artist's often crippling inability to communicate any other way.
The Whiskey:
Once carrying a 15-year age statement and made with at least partially sourced whiskey, Noah's Mill has dropped the age statement, but now proudly states that it's distilled, aged, and bottled at Willett Distillery. At 114.3 proof, this high-proof bourbon carries all of my favorite distinctive notes that I've come to associate with Willett.
Tasting notes:
Nose: Willett products have a specific dusty "funk" to them, but it manifests here as rose petals. Subtle tobacco, honey, and vanilla complement oak and sawdust.
Palate: Honey and rye spice pop with a cherry backbone across the palate. Cracker-crust and some of the floral notes remain.
Finish: For a high-proof bourbon, there's a welcome lack of aggressiveness here. Not a ton of burn, but it still makes itself known with a Kentucky hug. Sawdust and cherry linger.
Why It's the Perfect Pairing:
With a movie like this, Spielberg really walks a fine line. It needs to be delicate and balanced to deliver some of its heavier and more aggressive notes. Noah's Mill walks the same tightrope. By managing to deliver so much subtle rose notes despite its high proof, it's as much a master class as Spielberg's storytelling.
Women Talking and Glenmorangie — Highland Single Malt Scotch Whisky The Quinta Ruban 14 Years Old
ABV: 46%
Average Price: $45
The Oscar Nominee:
I wouldn't have expected a movie with a topic this heavy to be among my favorites of 2022, but Women Talking succeeds on a number of levels. First, it delivers on its title as a dialogue-driven stage adaptation that asks tough questions and makes its audience investigate their own ethical codes. Second, and perhaps more miraculously, it's so darn entertaining. Many scenes end in heartbreak or a tension-releasing explosion of emotion, but just as many end in a well-timed joke. It's a masterful script (and film) with career-best work from Rooney Mara and Ben Whishaw.
The Whiskey:
It's hard to find a 14-year single malt for less than $60, and Glenmorangie not only meets that criterion but exceeds it with this beautiful port-finished Highland scotch. Aged in ex-bourbon casks, the 92-proof whiskey has its flavors punched up via a finishing process in ruby port pipes.
Tasting notes:
Nose: Mandarin orange is immediately prominent in the glass, leading to darker butterscotch, wildflowers, and black pepper.
Palate: A velvety mouthfeel. Toffee and salty butterscotch persist, with a "zip" of citrus to add some texture.
Finish: medium-long, dry, but not bitter. The transition from English toffee to oak is gentle and leaves space for the floral notes to resurface.
Why It's the Perfect Pairing:
There's more than meets the eye with both the movie and the whiskey. Thematically, the film plays on what happens behind closed doors, but it also pulls off perhaps its greatest trick by avoiding the rhythms and showiness of "Oscar bait" films. Likewise, you may be tempted to pass up Quinta Ruban because of its fairly low price point. Don't miss out on either one.
Avatar: The Way of Water and Barrell Seagrass
ABV: 59.2%
Average Price: $79
The Oscar Nominee:
There is a moment in this movie where an alien whale creature starts talking to a teenage boy. The whale's grunts are subtitled in English and the boy can understand the whale perfectly, and the explanation given is essentially, "Hey, that's the way of water, baby!" James Cameron is a ballsy magician and I love everything he does.
The Whiskey:
Let's not overcomplicate things here. I wanted a whiskey with a cool aquatic theme that I actually enjoy drinking. Luckily, Barrell Seagrass fits the bill and then some. Famous for their blending process, the folks at Barrell outdo themselves here by sourcing Kentucky, Indiana, and Canadian ryes and finishing each in a combination of Martinique rhum, Madeira, and apricot brandy barrels.
Tasting notes:
Nose: Is it possible to detect everything in a nose? When my cohost and I tasted this on our podcast, we emerged with the following list: orange, toasted marshmallow, crème brulee, butterscotch, brown sugar, caramel, strawberry shortcake, peach cobbler, dark chocolate, and black coffee. It's really deep and insanely complex.
Palate: Strawberries and cream with cinnamon, backed up with notes of apricot, peach, and potent rye.
Finish: Long-lasting, warm cinnamon lingers, and the apricot brandy influence continues as well. The high alcohol content becomes more apparent here, but it doesn't overwhelm the complexity of the experience.
Why It's the Perfect Pairing:
Aside from the whole "sea" element at play, the thing Barrell has in common with King of the World James Cameron is ambition. There's no earthly reason to create a blend that's this labor-intensive and opulent other than to just do it, and the fact that it works is a testament to the geniuses at work. People doubt Cameron every time he makes a movie and he delivers a $2 billion juggernaut. With each successive Barrell release, they further cement themselves as Kings of the Whiskey World.
Top Gun: Maverick and Rebel — Distiller's Collection Wheated Kentucky Straight Bourbon Whiskey
ABV: 56.5%
Average Price: $45
The Oscar Nominee:
This is the movie of 2022. Regardless of its place in the Best Picture race (it's not likely to win), only one movie made Steven Spielberg admit to Tom Cruise that he saved cinema, and it wasn't Tár. Crucial to the success of this film is a script that lets Cruise's Maverick reckon with his own mortality and impending obsolescence. It's all an obvious stand-in for Cruise himself, the last of a dying breed of movie stars, and it allows Cruise, without a hint of irony, to face down the accusation that his kind is going extinct by directly addressing the camera with a "Not today."
The Whiskey:
Rebel Distiller's Collection gets what Tom Cruise is trying to do here. As part of what is likely my favorite line of bourbon, this wheated mash bill has a hush-hush history with Heaven Hill sourcing, but Lux Row has started producing its own distillate for Rebel and keeping the dream of the "original 1849 'wheated' Stitzel-Weller recipe" alive.
Tasting notes:
Nose: Subtle, soft floral notes lead into wheat, vanilla, and root beer with a classic sarsaparilla nose.
Palate: Caramel sweetness with a salty peanut chaser. A bit thinner than expected, and toasted oak becomes prominent.
Finish: A super-long, mouthwatering finish. Primarily, the root beer and vanilla linger. It's not complex, but especially at the price point, it's pretty stellar.
Why It's the Perfect Pairing:
Despite all the talk of rebels and mavericks, what both the movie and the whiskey do best is tap into what their audiences have always loved. Top Gun: Maverick steers clear of the pitfalls of so many nostalgia-porn legacy sequels to deliver something wholly different. Rebel Distiller's Collection fills a void that a certain other wheated bourbon line has left in the market with its explosive popularity (*cough* Weller *cough, cough*) and presents the platonic ideal of a wheated mash bill for a price even a down-on-his-luck Pete Mitchell could afford.