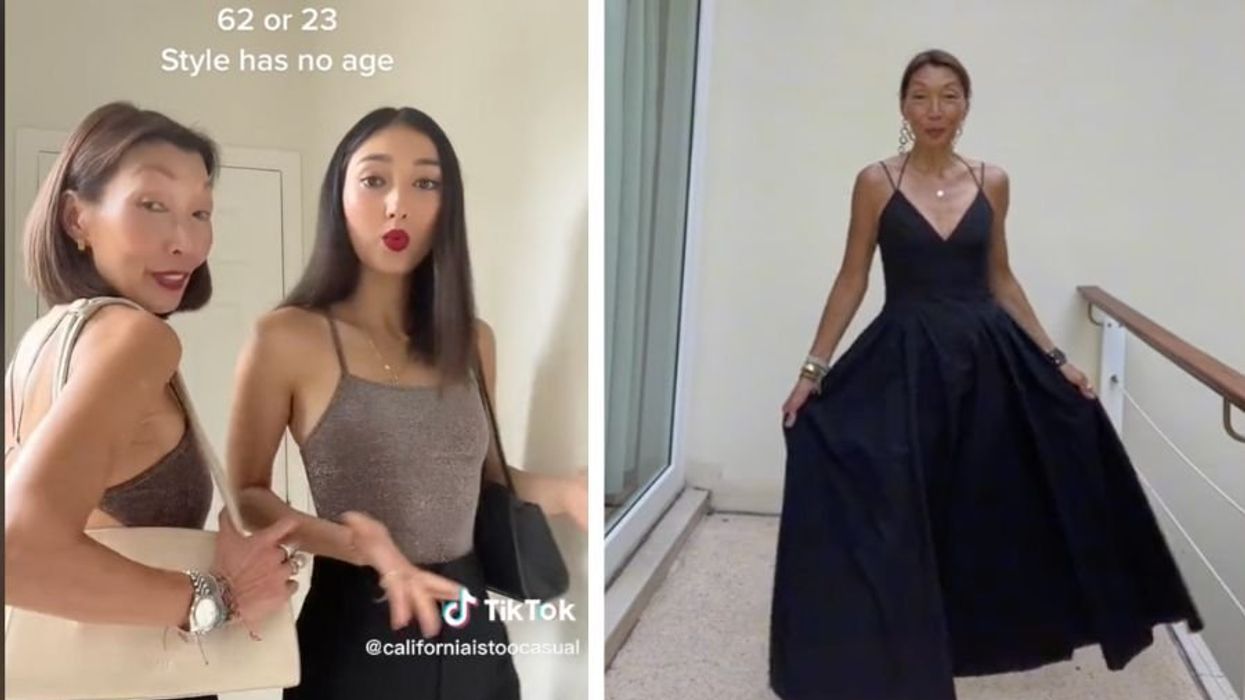 It feels like a safe bet to say that the phrase "fashion influencer on TikTok" instantly conveys an image of a young 20-something posting their latest shopping haul.
But just take it from 62-year-old fashionista Gym Tan—flair belongs to everyone, and it doesn't have an expiration date.
As she shared in an article for Insider, Tan worked for around three decades in the fashion industry and had a genuine love for it. However, after moving from her home in Hong Kong to what she calls "casual California," Tan put her career—and her passion—to the side.
Thanks to some encouragement from her 23-year-old daughter, Mya, Tan began posting videos of her "classic, understated" outfits to TikTok. At first, it was nothing more than a fun creative outlet. Little did either of them know that Tan would become an instant viral sensation.
---
"Within three weeks, I had around 10,000 followers, and last year, I started to pursue content creation full-time, having now built up a following of 140,000 people," Tan told Insider.
And I mean, what's not to love? From her effortless glam, to her adorable snap at the end of each video, this woman is a natural icon.
Things really took off after Tan posted a stitch while wearing the same form fitting black dress that a younger influencer wore. That video, which racked up 1.6 million views, also garnered a ton of praise.
Video below…and it's 125% fabulous, if you ask me.
Inspired to spread the message that "style has no age," Tan began posting videos with Mya showing off their matching outfits—from bikinis to sexy dresses to sweats and everything in between.
The best part? The response has been overwhelmingly positive.
"Nobody is telling me that I shouldn't be dressing like that at my age, [it] has felt empowering in so many ways," she shared, noting that she too had started to "feel insecure" as she approached 50—thanks in part to how societal beauty standards could make women feel "invisible" as they get older.
Social media of course plays its own hand in this collective shortcoming, what with the constant ebb and flow of contrasting beauty trends. (Are we in the thin eyebrow season or the thick eyebrow season? I seriously can't keep up.) Not to mention the plethora of filters that make a person look so completely sculpted, ageless and otherwise enhanced that they are left feeling devastated to find any signs of life on their real face.
However, Tan credits much of her newfound confidence to the welcome she's gotten on social media—and on a platform geared towards a younger generation, no less.
"TikTok is thought to be home to Gen Z users primarily, and I was a bit nervous at first about how younger users would treat me on the app. My daughter told me that TikTok loves older people, and I've definitely found that to be the case," Tan recalled.
Though people of all ages stop by Tan's TikTok to enjoy her styles, her new sense of purpose is inspiring others to abandon the fear of aging.
"I hope to show them that they can continue to gain confidence in themselves and the way they look as they get older, just as I have," she told Insider.
If you want to follow along on Tan's fashion journey, you can find her TikTok here.