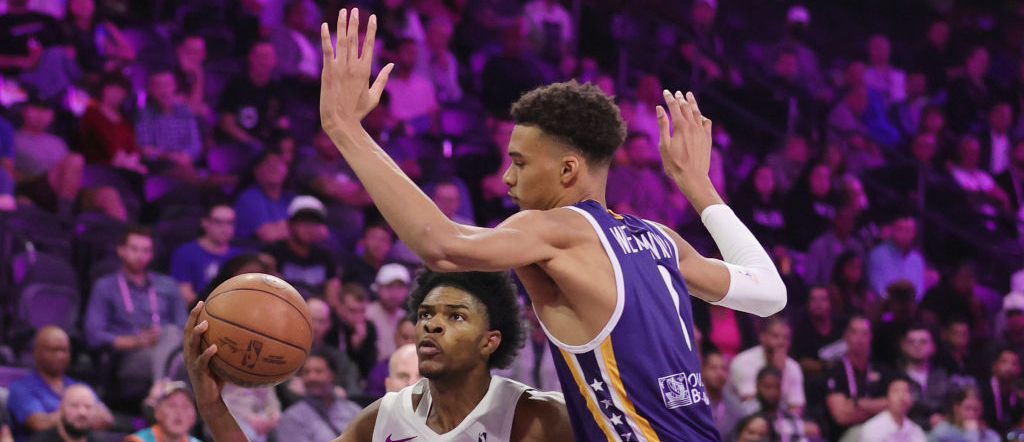 One of the presumed top prospects in the 2023 NBA Draft will not play again this season. According to a report by Jonathan Givony of ESPN, G League Ignite guard Scoot Henderson is getting shut down as the team is well on the outside looking in of the playoff picture.
Scoot Henderson, projected No. 2 pick in the 2023 NBA draft, has been shut down by the G League for the remainder of Ignite's season, a league official told ESPN. Ignite is unlikely to make the playoffs and the G League feels Henderson has shown enough this season.

— Jonathan Givony (@DraftExpress) March 14, 2023
Currently, the Ignite are 11-16 on the year and are four games back of the 8-seed with five games left to play in the regular season. While he has yet to formally declare for the 2023 NBA Draft, Henderson, a 19-year-old guard out of Georgia, is believed to be in the running to go No. 2 overall behind French center Victor Wembanyama. The two players went head-to-head in a pair of games between the Ignite and Wembanyama's Metropolitans 92 squad last year, and while an injury largely held Henderson out of the second game, the 6'2 guard held his own in a 28-point, 9-assist evening.
Henderson appeared in 19 games for the Ignite this season and went for 16.5 points, 6.8 assists, 5.3 rebounds, and 1.1 steals in 30.7 minutes of work a night. There are questions about his ability to score at an efficient clip, as he converted 42.9 percent of his attempts from the field and knocked down 27.5 percent of his shots from behind the three-point line.