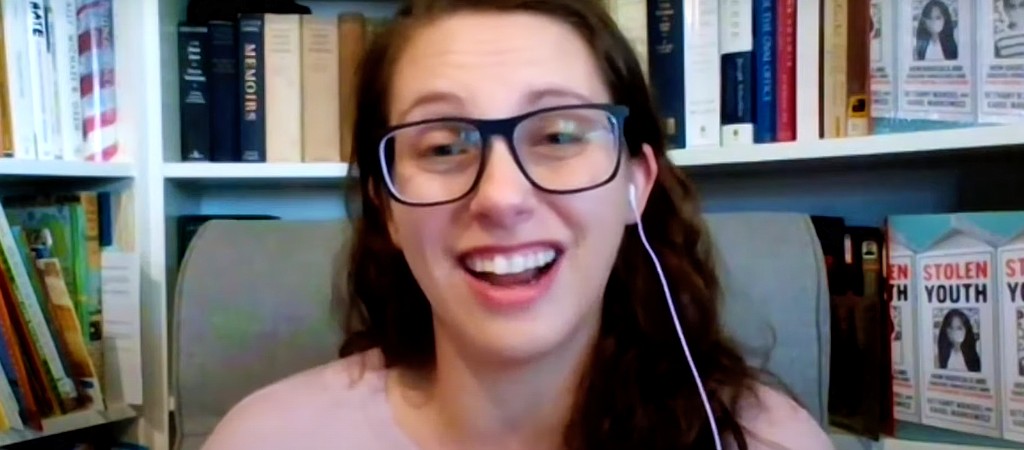 Bethany Mandel could literally feel herself stepping on a rake during a recent interview. The conservative author, who rose to infamy during the early days of the pandemic by dubbing herself the "Grandma Killer" for her anti-lockdown views, struggled to define what the term "woke" means despite frequently mentioning it as a societal scourge in her writings.
The now-viral moment happened during an interview with Briahna Joy Gray on the latest episode of The Hill's Rising. While discussing Mandel's new book, which blames wokeness for indoctrinating today's youth with "victimhood culture" and "gender madness," Gray asked Mandel to define what "woke" even means so they're both "on the same page."
It did not go well.
Via The Daily Beast:
"So, I mean, woke is sort of the idea that, um," the conservative writer stammered before presciently adding: "This is going to be one of those moments that goes viral."

A struggling Mandel continued: "I mean, woke is something that's very hard to define, and we've spent an entire chapter defining it. It is sort of the understanding that we need to totally reimagine and reduce society in order to create hierarchies of oppression. Um, sorry, I—it's hard to explain in a 15-second sound bite."
Mandel was correct about one thing, the moment did go viral. Twitter had a field day with the conservative author not being able to describe what she considers to be the greatest threat to society. There was also a lot of love for Gray telling Mandel to "take her time" as she was clearly drowning on camera.
You can see some of the reactions below:
"Take your time" = feel free to slow roast yourself.

— Matthew Chikaonda (@MattChikaonda) March 15, 2023
"It's hard to explain in a 15 second soundbite…"

No, it's hard to explain an imaginary idea the right created.

— Dude_In_The_Desert ❁ (@t_arnpreeest) March 15, 2023
I feel like if your entire *thing* is crying about society being woke, you 100% should have a 15- 30-second elevator speech ready on what your definition of 'woke' is.

— Susan Szews / betawriter everywhere (@betawriter) March 15, 2023
I believe it was Einstein who said ""If you can't explain it to a six-year-old, then you don't understand it yourself"

— Laura Jane Grace (@LauraJaneGrace) March 15, 2023
As one of thousands of people she's viciously attacked for supporting protecting school kids from covid, this is pretty tasty.

— Sarah Allen (@Mssarahmssarah) March 15, 2023
— Alx Uttermann #standwithUkraine (@alxindia) March 15, 2023
(Via The Daily Beast)