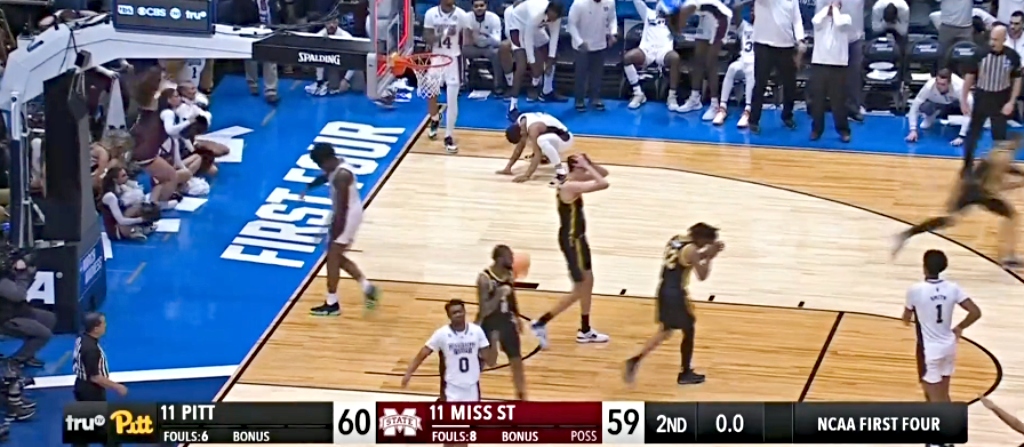 The first two games of the 2023 NCAA Men's Basketball Tournament delivered some high drama in Dayton on Tuesday night. First, it was Texas A&M-Corpus Christi earning the right to face Alabama in the first round, dodging a game-tying three in the final seconds from Southeast Missouri State.
That was followed by an absolute slugfest between Mississippi State and Pittsburgh, playing to get into the first round against Iowa State on Thursday. After the two teams were on fire from three coming out of the gate, the scoring pace slowed down quickly as Pitt took a 35-34 lead into halftime, and a defensive struggle ensued in the second half as the two teams combined for just 50 points. Buckets were at a premium, and for a brief moment, it looked like Pitt would pull away as they took a 58-52 lead with just over three minutes to play on a deep three by Blake Hinson — the first made by either team in the half.
FROM WAY DOWNTOWN @Pitt_MBB pic.twitter.com/Wm8Seh92Cs

— CBS Sports College Basketball (@CBSSportsCBB) March 15, 2023
However, Mississippi State would claw their way back into the game, rattling off a 7-0 run of their own to regain the lead by 1 on a Tolu Smith layup in the final minute.
Pitt would find the answer on the other end in the form of a tough midrange pullup from Jamarius Burton, leaving the Bulldogs with 10 seconds to draw up a game-winner.
.@Pitt_MBB is back on top with 9.8 seconds left pic.twitter.com/7Dnu78Hjwg

— CBS Sports College Basketball (@CBSSportsCBB) March 15, 2023
Guillermo Diaz-Graham then came up with a huge block on Tolu Smith with three seconds to play, setting up a baseline out of bounds for Mississippi State to once again try and win the game with a bucket.
GAME-SAVING BLOCK FOR @Pitt_MBB! #MarchMadness pic.twitter.com/b5cbmMRuJI

— NCAA March Madness (@MarchMadnessMBB) March 15, 2023
They drew up a beauty to spring a wide-open three from the corner, but that went begging as did a clean tip-in attempt that bounded off the backboard and the other side of the rim to somehow allow Pitt to survive and advance.
THE PANTHERS HOLD ON@Pitt_MBB wins its first NCAA Tournament game since 2014. pic.twitter.com/EG5BnNfXuG

— CBS Sports College Basketball (@CBSSportsCBB) March 15, 2023
It's hard to fault a team for getting that kind of a look, but for a team that was dead last in all of D-1 hoops in three-point shooting on the season (26.6%), it's hard not to look back in hindsight and wonder whether they should've been looking for something a bit closer to the rim. Pitt clearly wasn't expecting them to run anything for a three, but they got away with a total defensive lapse to leave him unchecked in the corner and then failing to box out as the shot went up.