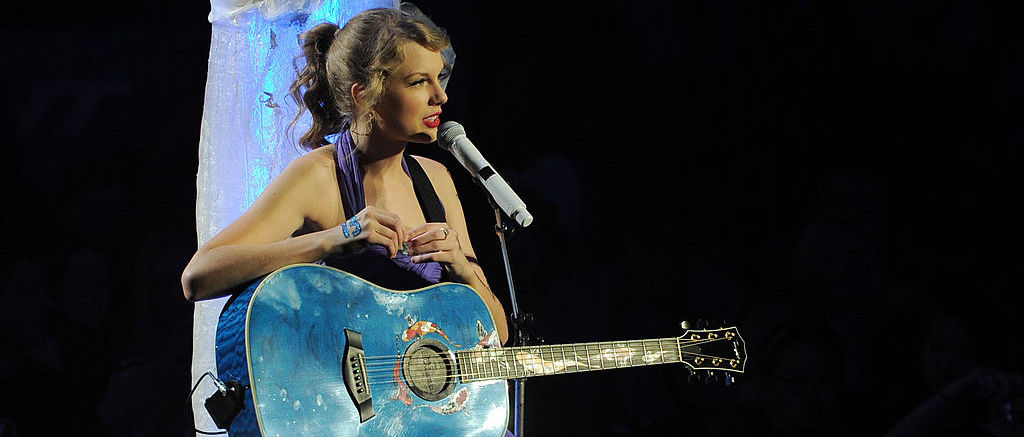 Today (March 16), Taylor Swift announced for fans to meet her at midnight, as she's dropping four new songs to commemorate her Eras Tour — which kicks off in Swift City, Arizona (aka Glendale) tomorrow night.
Three of the tracks, "Safe And Sound (Taylor's Version)," "Eyes Open (Taylor's Version)," and "If This Was A Movie (Taylor's Version)," had their original counterparts appear on her 2010 record, Speak Now. And, given that Swift is in the process of releasing her re-recorded copies of her first six albums, fans believe this is a confirmation that Speak Now (Taylor's Version) is the next to drop.
The fourth, "All Of The Girls You Loved Before," is a previously-unreleased track that didn't make the cut for her 2019 album, Lover. It had leaked among the Swifties a few weeks ago, which clearly made its way to Taylor's team, sparking the official drop.
More evidence for the theory of Speak Now TV being next is Swift's "Bejeweled" music video, where the colors on the elevator buttons correspond to her albums. In typical fashion, number 13 is a light purple, appearing to represent that era's lilac colors.
Taylor Swift teases 'Speak Now (Taylor's Version)' in the 'Bejeweled' music video.

The color of the numbers go in order of her album releases. "3" and "13" are purple, representing 'Speak Now' as both her 3rd and 13th studio album. She also sits on a clock that reads 3 o'clock. pic.twitter.com/PsOCfeUV94

— Pop Crave (@PopCrave) October 25, 2022
There's also some mention from fans that she is dropping these particular song versions — "If This Was A Movie" and one from the Hunger Games soundtrack ("Safe And Sound") — to not be included on the re-recorded official tracklist. This would then seem to make Speak Now (Taylor's Version) an entirely self-written album and leave room for other unreleased options from that era.
However, the fanbase has clowned before. Last summer, Swift released both "This Love (Taylor's Version)" and "Wildest Dreams (Taylor's Version)" without ever announcing 1989 as her next re-recording. It's also possible she could just… drop everything now.
Until then, we will hold out hope and are thankful for the new versions.