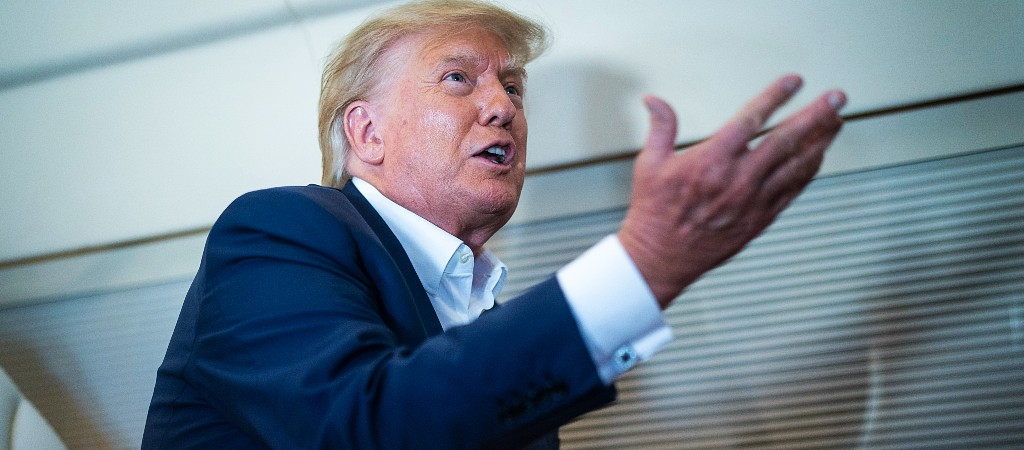 Donald Trump took a break from fantasizing about his perp walk to rant about Ron DeSantis sitting down with Piers Morgan. While the full interview won't air until Thursday, Fox has been promoting excerpts from the exchange, and clearly, Trump caught wind of them.
In both of the clips, DeSantis takes notable shots at Trump while also talking more and more like he's going to challenge Trump for the Republican nomination. The Florida governor took the former president to task for his weird use of nicknames, not firing Dr. Fauci, and his all around "daily drama." Like clockwork, Trump delivered on that last time with a belligerent post on Truth Social:
While I am fighting against Radical Left Lunatics, Persecutors, and unfair Prosecutors who want to destroy us all, Ron DeSanctimonious is not working for the people of Florida as he should be, he is too busy chatting with a Ratings Challenged TV Host from England, desperately trying to rescue his failing Campaign—But it's my fault, I put him there!
As for which of DeSantis' barbs rubbed Trump the wrong way is not known, but perhaps the most devastating burn was when the Florida governor basically waved Trump off as a nuisance and said his real opponent, should he run, would be Joe Biden.
"Ultimately you know the guy I'm gonna focus on is Biden because I think he's failed the country," DeSantis told Morgan. "I think the country wants a change. I think they want a fresh start and a new direction, and so we'll be very vocal about that."