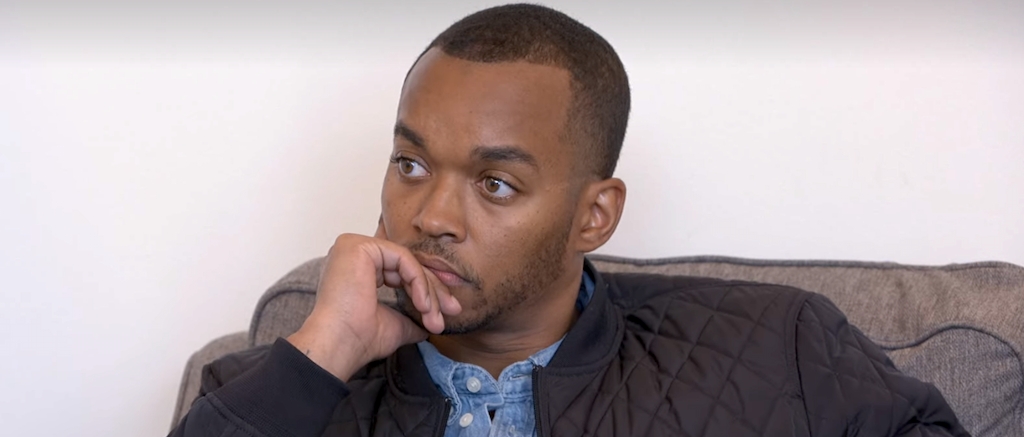 You've heard the phrase "love at first sight," but what about "love at first sound?" Netflix's hit show Love Is Blind sets out to answer that question with a social experiment. A group of single men and women date each other, fall in love, and get engaged — all without seeing the other person. Follow along as Uproxx ranks each couple and recaps the best tear-jerking and cringe-worthy moments from season 4.
(WARNING: Spoilers for up to episode 11 of Love Is Blind season 4 will be found below.)
We're one step closer to what is setting up to be a crazy finale for season four of Love Is Blind. Episodes 9-11 were released on Netflix today, allowing viewers to check back in with this season's cast as they weather the stress of a wedding less than a week away. Some couples coast through the stress with no issues while others need a break to clear their minds and focus on the special moment ahead of them, something that makes them stronger. And then there's one couple who breaks things off in a way that will leave viewers with a plethora of thoughts and emotions to let out.
Just like we did last week, we're back to give you a recap of what went down in each of the new episodes this week. After that, we'll give you our predictions for who will (and won't) say "I do" at the altar in the season four finale of Love Is Blind.
Episode 9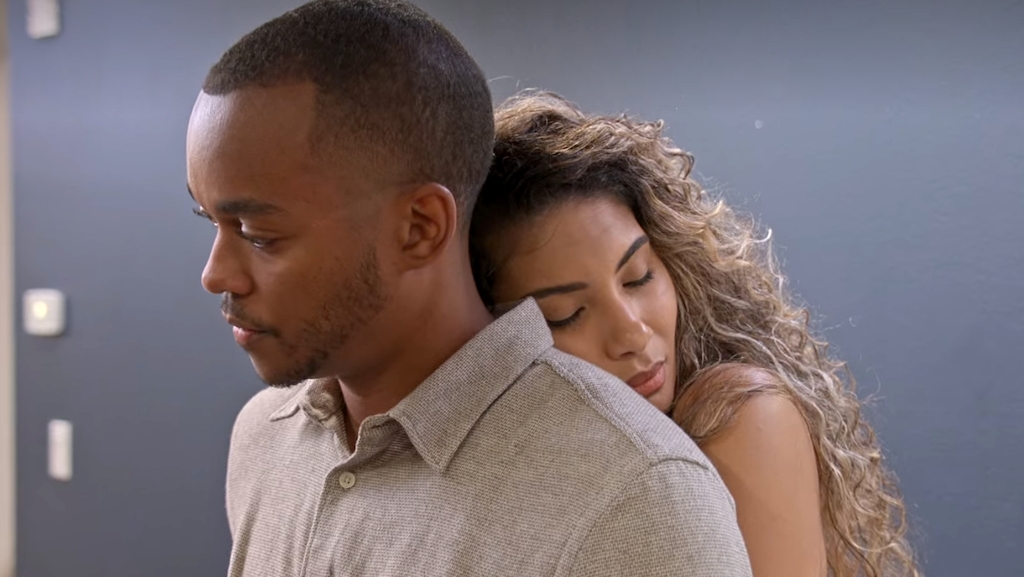 Jackie and Marshall have been on thin ice ever since returning to Seattle. Let's be honest, though, they've been on thin ice since Jackie saw Marshall in person for the first time (poor guy!). While Marshall has been doing his best to work through their problems, Jackie's comment about him "not being man enough" not only perpetuates the idea of toxic masculinity, but also makes it clear Jackie just isn't into him. To further prove the point, Jackie doesn't even show up to the wedding dress fitting. Marshall finds this fact out through Brett (who got a text from Tiffany), and the look on Marshall's face shows how absolutely devastated he was. Jackie, however, isn't devastated at all. In fact, she's already moved on. She met up with Josh (who the rest of the cast despises) and agreed to rekindle their relationship.
Now, time to talk about a couple who could not be further from Jackie and Marshall's relationship woes: Brett and Tiffany. In Episode 9, the picture-perfect couple met Brett's friends for the first time. Brett's friends absolutely loved Tiffany, further proving how the two are completely compatible for each other. His friends even say it sounds like "real love" and they can tell by the way they look at each other. I've said this once and I'll say it again, if Brett and Tiffany don't both say "yes" at the altar, I'll be convinced love doesn't actually exist.
Kwame seemed like he was finally able to open up to Chelsea about how much he's been compromising in their relationship. He says he doesn't have any space for himself in Seattle, especially since he works from home and Chelsea's apartment is so small. Chelsea straight-up asked him if he's ready to be married, and he replied, "I think I love you with all my heart but there's some things that make me take an extra second to think."
Kwame and Chelsea aren't the only ones who have been getting into arguments about where they will live. Micah wants to move to Scottsdale, Arizona, while Paul wants to stay in Seattle. I personally understand Micah's point of view, but it leads me to ask, "Why the hell would you go on a dating show in Seattle if you knew you didn't want to move there?" (For reference to those who don't live on the west coast: Portland is a 3-hour drive from Seattle while Scottsdale is a 3-hour flight). Paul seems flexible, though, saying he's afraid of losing Micah and willing to try Scottsdale if that means staying together.
Zack met Bliss's mom and sisters for the first time in this episode, something he was very nervous about. Zack came clean immediately to her family about proposing to Irina first, which Bliss was taken aback by. It seemed as though honesty was the best policy, though, because Zack won over Bliss' mom. She even told the camera that they seem like soulmates.– Carolyn Droke
Episode 10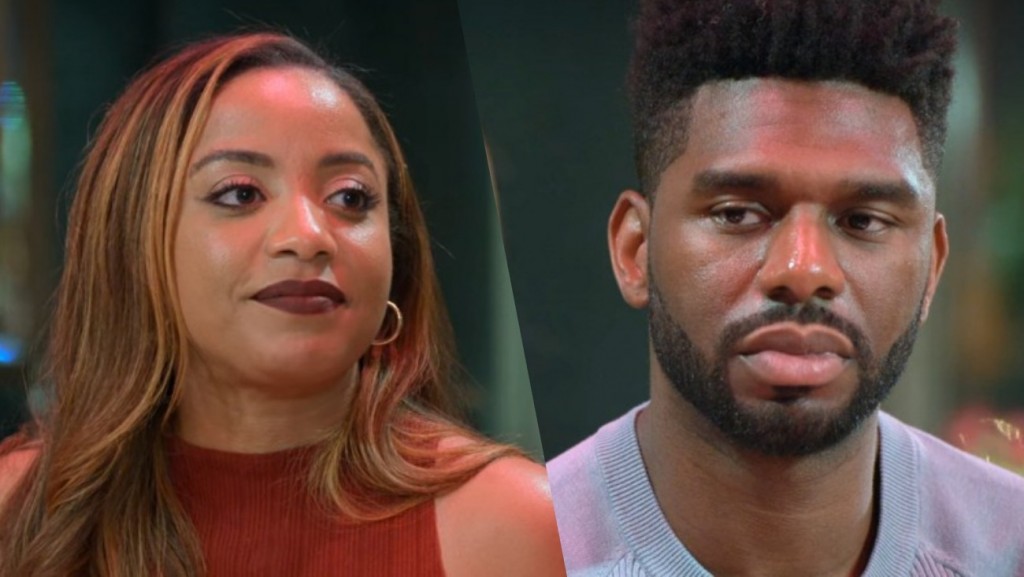 Let's get the biggest news out of the way first: Marshall and Jackie are done. While the other Love Is Blind cast members were trying on suits and dresses for their weddings, Jackie was on a date with Josh. Their date proved to be all she needed to walk away from Marshall. Jackie broke things off with Marshall by explaining how emotionally drained she was from her time with him and how her attraction for Josh wouldn't allow her to fully love him. All in all, Jackie didn't seem too considerate of Marshall's feelings which continues a trend that dates back to episode eight. Jackie wants what she wants, which oddly includes keeping the ring Marshall gave her, so there's no changing her mind here. Jackie wanted a change, but she didn't seem ready for it and it's unfortunate Marshall had to be collateral damage in her realization.
Aside from Jackie and Marshall's mess, things were smooth sailing for the most part in episode 10 – just ask Brett and Tiffany. This season's fan-favorite couple saw some cracks in their foundation as Tiffany neared a breakdown from the stress of her impending wedding. Brett arrived to console and comfort her in their living room as the cool, calm, and collected man he's proven himself to be this season, but that's not all he did. He also took Tiffany on a relaxing plane ride over nearby Seattle waters and surprised her with a sweet and beautifully-decorated dinner. In the end, Brett opened up about his feelings towards Tiffany, who shared her belief that she is marrying her person. All in all, how could not love these two??
Kwame and Chelsea stripped down for an intimate photoshop, something Chelsea dreamed of doing before her wedding. Calvin Klein may be the ultimate winner here thanks to some sweet product placement, and that's all I'll say about that moment. Later on, Kwame called his mother for a second time in hopes of another conversation about his upcoming marriage, but that failed as she didn't answer his calls. In his mother's eyes, Kwame is going against tradition and it'll be a while before she comes around to it. Luckily, Kwame has support from his brother who tells him to "do right by you."
Bliss is also going through a similar thing with her dad not totally being on board with her marrying Zack after knowing him for just three weeks. He makes his feelings clear over dinner in what was a very tense interaction between him and Bliss. Though this is a unique way to get married, Bliss' father wasted the opportunity to get to know Zack and find out more about his personal life while they were at dinner. Bliss and Zack are very committed to each other and it seems a bit counterproductive to critique and try to cast doubt on it, but at the end of the day, Bliss' dad is just trying to protect her.
Paul and Micah got a bit of airtime this episode as we joined them at a blacksmith to make their own wedding bands. It was a warm moment between the two as they seem set on marrying each other in the season finale. All in all, it was an eventful episode that also spent some time with the ladies as they picked out their dresses and had intimate and emotional moments with each other and family. — Wongo Okon
Episode 11
Chelsea and Kwame start off with another, heart-to-heart and difficult conversation about the possibility of marriage without his mother's blessing. He admits that while he might feel like it's throwing away the opinion of a loved one, Chelsea helps to reassure him by saying they'll have to weather difficulties — as is any long-term relationship. The two come to a resolution of both just wanting to be happy.
These tense conversations carry equally into the other couples, like Zack and Bliss, as the reality of heading to the altar steadily approaches for them all. Still, there are some lighter moments during the meet-the-family, particularly for Brett and Tiffany, when his brother asks her what he thinks of his hair. Hilariously, she passes the test.
Chaos truly ensues when the guys and girls attend their own bachelor and bachelorette parties. Micah gets waaaaay too drunk and emotionally calls Paul on Facetime. The two go back and forth about not being able to hear each other. It gives that annoying girl and her boyfriend fighting at the bar before he finally hangs up — making her even more confused. (Plus, her friends and family make it abundantly clear they think she can do better.)
Zack continues his "signs" speech, noting that Lee Ann Womack's "I Hope You Dance" and the fact that Bliss mentioned his favorite animal, means they're meant to be. (Cue eye roll.) By the chance there's any intersection between Love Is Blind and The Rehearsal fans, he was giving Robbin, who thought crashing his car at 100mph was a sign too.
After the party shenanigans, the first couple — Chelsea and Kwame — get ready to give their answers at the altar. Kwame's sister has a truly sweet moment with Chelsea, as she gives her a wedding gift to welcome her to the family. However, it might be premature, as Chelsea says "I do," but his returning answer ends on a cliffhanger.
Finale Predicitons
Will each person say "I do" at the altar?
Zack
Wongo: Yes
Carolyn: Yes
Lexi: Yes
Bliss
Wongo: Yes
Carolyn: No
Lexi: No
Chelsea
Wongo: Yes
Carolyn: Yes
Lexi: Yes
Kwame
Wongo: No
Carolyn: No
Lexi: Yes
Paul:
Wongo: Yes
Carolyn: Yes
Lexi: No
Micah:
Wongo: Yes
Carolyn: No
Lexi: No
Brett:
Wongo: Yes
Carolyn: Yes
Lexi: Yes
Tiffany:
Wongo: Yes
Carolyn: Yes
Lexi: Yes
'Love Is Blind' season four is currently available to stream on Netflix.