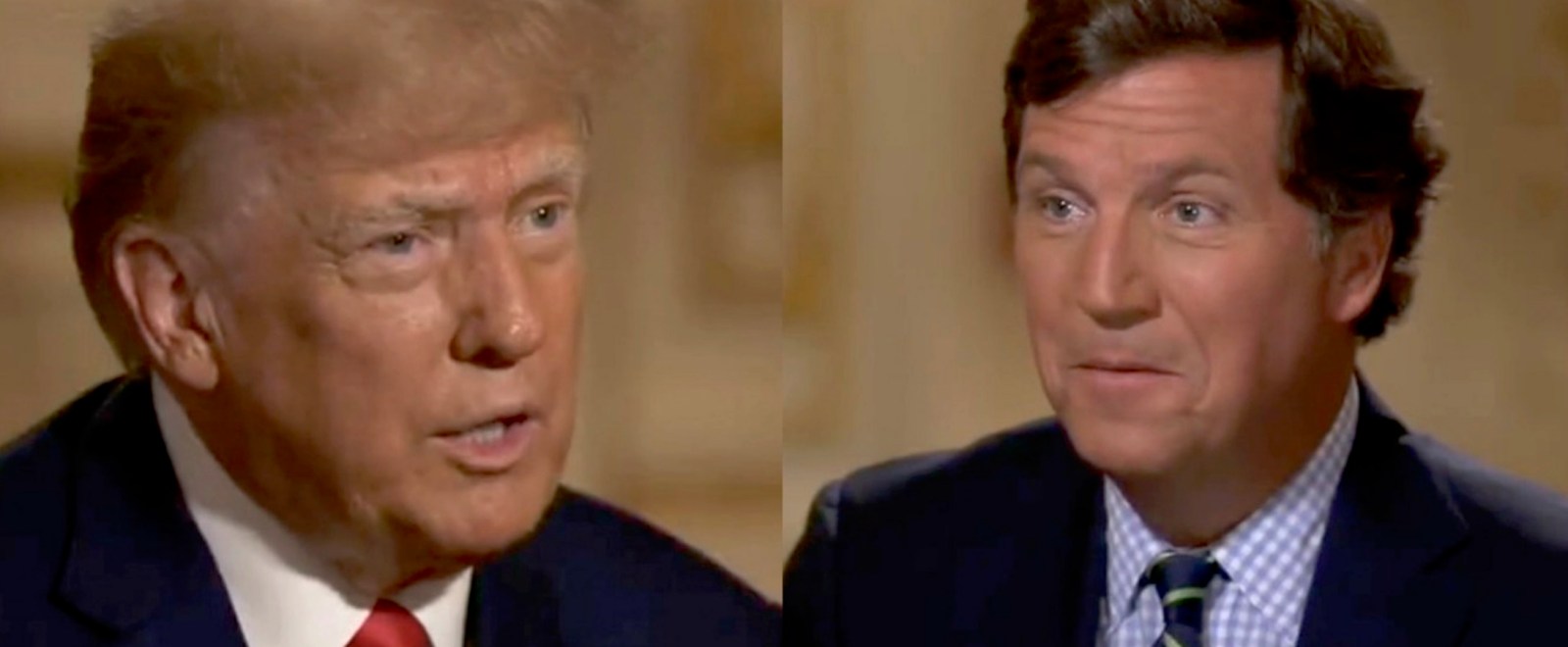 Donald Trump, the first president to be impeached twice, gave his first interview on Tuesday night about becoming the first president to be indicted. So many historic firsts! The interviewee: Tucker Carlson, who called Trump "sophisticated" and "remarkable," and fawned all over him during the chat.
That's what Carlson thinks of Trump on TV, at least. In private, he's not a fan, as revealed in texts that were made public in court filings by Dominion Voting Systems. "We are very very close to being able to ignore Trump most nights. I truly can't wait," he wrote to an unknown Fox News employee. Carlson also said of Trump, "I hate him passionately," and on the day of the Capitol wrote, he called the then-president a "demonic force" and a "destroyer."
None of that came up during the interview on Tuesday. CNN reports:
Carlson sat silent as Trump rambled and ranted his way through the sit-down, making a number of eyebrow-raising comments on a host of topics that were never challenged by the right-wing talk host. Carlson made no effort to press the disgraced president on any of the issues that an actual news anchor would. Instead, Carlson sang Trump's praises. "For a man caricatured as an extremist, we think you'll find what he has to say moderate, sensible, and wise," Carlson told his audience. At another point, Carlson mocked the "Neo-con media establishment" for suggesting Trump is a "dangerous lunatic."
You can watch a highlight (?) from the interview below, assuming you can see it through the tears in your eyes over the sight of Mr. Trump.
"a demonic force, a destroyer."

"He could easily destroy us if we play it wrong."

"We are very, very close to being able to ignore Trump most nights. I truly can't wait."

"I hate him passionately."

– Tucker Carlson pic.twitter.com/DmiUK4YYyj

— Mehdi Hasan (@mehdirhasan) April 11, 2023
Phony populist Tucker Carlson crawling back to the Donald—and competing with Hannity for who can do a bigger softball interview—after his real feelings about hating Trump got leaked https://t.co/oSNB8uU9vL

— Jordan (@JordanChariton) April 12, 2023
Looking forward to watching Tucker interview someone he's called a "demonic force" that he "can't wait" to ignore

— Thor Benson (@thor_benson) April 11, 2023
Tucker Carlson, who privately called Trump "a demonic force, a destroyer," and claimed to "hate him passionately," now says on Fox News: "For a man who is caricatured as an extremist, we think you'll find what he has to say moderate, sensible and wise." #FoxDominion

— Dylan Byers (@DylanByers) April 12, 2023
(Via CNN)