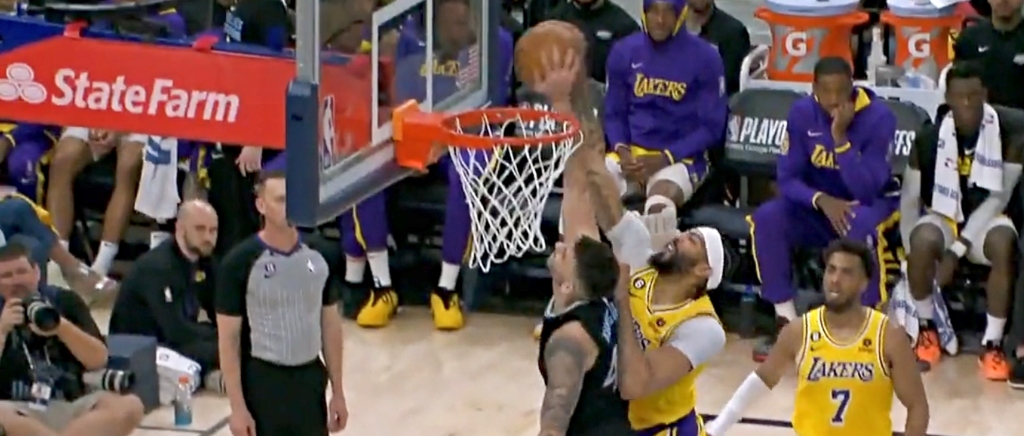 The Memphis Grizzlies came into Game 2 hoping to even their first round series with the Lakers, but would have to do so without the services of star guard Ja Morant, who was unable to go due to his hand injury suffered in Game 1.
With Morant out, the Grizzlies needed to lean on its depth more, as Tyus Jones would step into the starting lineup as the point guard with Desmond Bane likewise needing to shoulder a bigger creative load. It also meant more minutes for guys like Luke Kennard and John Konchar on the wings, as everyone in the rotation had to increase their minutes load to make up for Morant's absence.
In the first half, all of those players stepped up in a big way, but Konchar delivered the most unexpected highlight of the group as he found himself as the last line of defense at the rim against Anthony Davis and blocked a dunk attempt clean, pinning it off the window, to the shock of just about everyone in the arena and watching at home.
John Konchar denies AD at the rim pic.twitter.com/948yov8K42

— NBA on TNT (@NBAonTNT) April 20, 2023
Davis seems to not have the best control of the ball but, no matter, it's still stunning to see Konchar (who is a tremendous athlete) getting him at the apex of a dunk attempt and pinning it clean.
Shortly after, Konchar would get Davis again, this time rotating down and catching Davis from behind.
Jaren Jackson Jr. is lucky Jitty only plays rotation minutes, because his DPOY credentials would apparently be in jeopardy if they unleashed Konchar as their roaming rim protector. Behind defensive gems like Konchar's blocks and a tremendous half from Bane offensively, Memphis took a 59-44 lead into the halftime break, once again showing they're much more than just a team that follows its star guard.