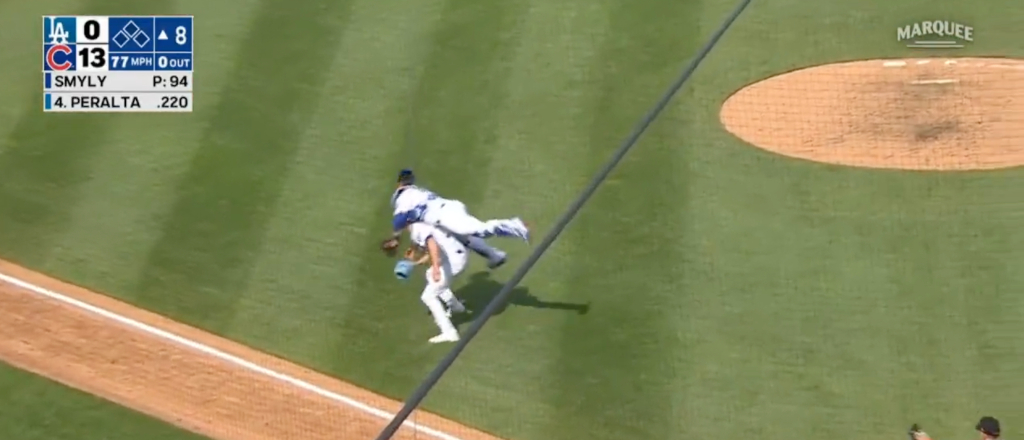 It was a beautiful day for afternoon baseball in Wrigley Field, and for seven innings, the fans in attendance witnessed a pitcher attempting to make history. Chicago Cubs starter Drew Smyly was perfect through seven against the Los Angeles Dodgers, and thanks to the Cubs' bats coming to life and giving him a 13-0 lead entering the eighth inning, all eyes were on whether or not Smyly could throw the 24th perfect game in Major League history.
Up to the plate to lead off the top of the eighth was David Peralta, who came in as a defensive substitution in the previous half inning. Smyly had him looking at the first pitch for a strike, and then, Peralta meekly swung at a pitch outside of the zone on the second pitch of the at-bat. It was a soft liner down the third base line, and Smyly or his catcher, Yan Gomes, had a chance to get to it and try to make a play.
The issue: the communication between the two was just a bit off, so while Smyly got their first, Gomes got there about a quarter second later. He tried to get out of the way, but instead, he just jumped on Smyly's back, which let Peralta get to first.
This is really how the perfect game ended. pic.twitter.com/W662zOk3xs

— B/R Walk-Off (@BRWalkoff) April 21, 2023
It's an unfortunate twist for Smyly, who got two outs in the inning before his day ended. Major League Baseball has not seen a perfect game since 2012.