Nothing in fast food is as hype as breakfast. Maybe it's the limited window of availability or maybe it's just because there's something so satisfying about a carb-loaded sandwich first thing in the morning, but the drive-thru line at your favorite fast food chain is never as packed as at the early hours of the day. Clearly, there is something extra special about breakfast food.
In our time covering fast food, we've raced against the clock to grab many a breakfast sandwich… but we've never put breakfast food to the trusty blind taste test. Until now! That's right, we woke up super early this morning (after Coachella weekend no less) to grab as many breakfast sandwiches as we could to put them to the blind taste test.
Who makes the ultimate breakfast sandwich? Let's find out.
Methodology:
For this blind taste test, we decided to focus on sausage-based sandwiches since they seem to be the most popular.
Acquiring the sandwiches for this blind taste test was relatively easy, if time-consuming — each of the four fast food restaurants selected for this tasting was located on the same street (Pacific Coast Highway, it's more glamorous than it sounds) so it took a total of 30 minutes to grab all the sandwiches and about 10 more minutes for me to arrive back home. Because of time and distance, I had to drop Wendy's from this blind taste test. We'll get them in the next breakfast round!
Altogether it was a 40 minutes transit time — not perfect, but each of the sandwiches was still warm-to-hot and I think time doesn't have as strong an effect on a breakfast sandwich as it does on something like a cheeseburger, where the sauce can soak into the bun causing a soggy mess. Here is this morning's tasting class:
Carl's Jr. — Grilled Cheese With Sausage and Egg
Chick-fil-A — Sausage Egg & Cheese Muffin
Jack in the Box — Sausage Croissant Sandwich
McDonald's — Sausage McMuffin with Egg
Once home, I donned my blindfold and had my girlfriend serve me each sandwich one at a time. The blindfold helped ensure that I couldn't easily identify where each sandwich was from since two of the sandwiches used noticeably different bread buns. I thought I'd be able to pick them out by feeling, but I was wrong — all four felt super greasy to the touch.
Let's get to tasting!
Part 1: The Tasting
Taste 1:
Very soft buns here, they have a squishy airiness to them and feel buttery to the touch. Biting into the sandwich I'm getting a bland unseasoned egg flavor and a spicy meaty finish. It's incredibly dry and kind of a chore to chew through. Not a fan of this one.
Taste 2: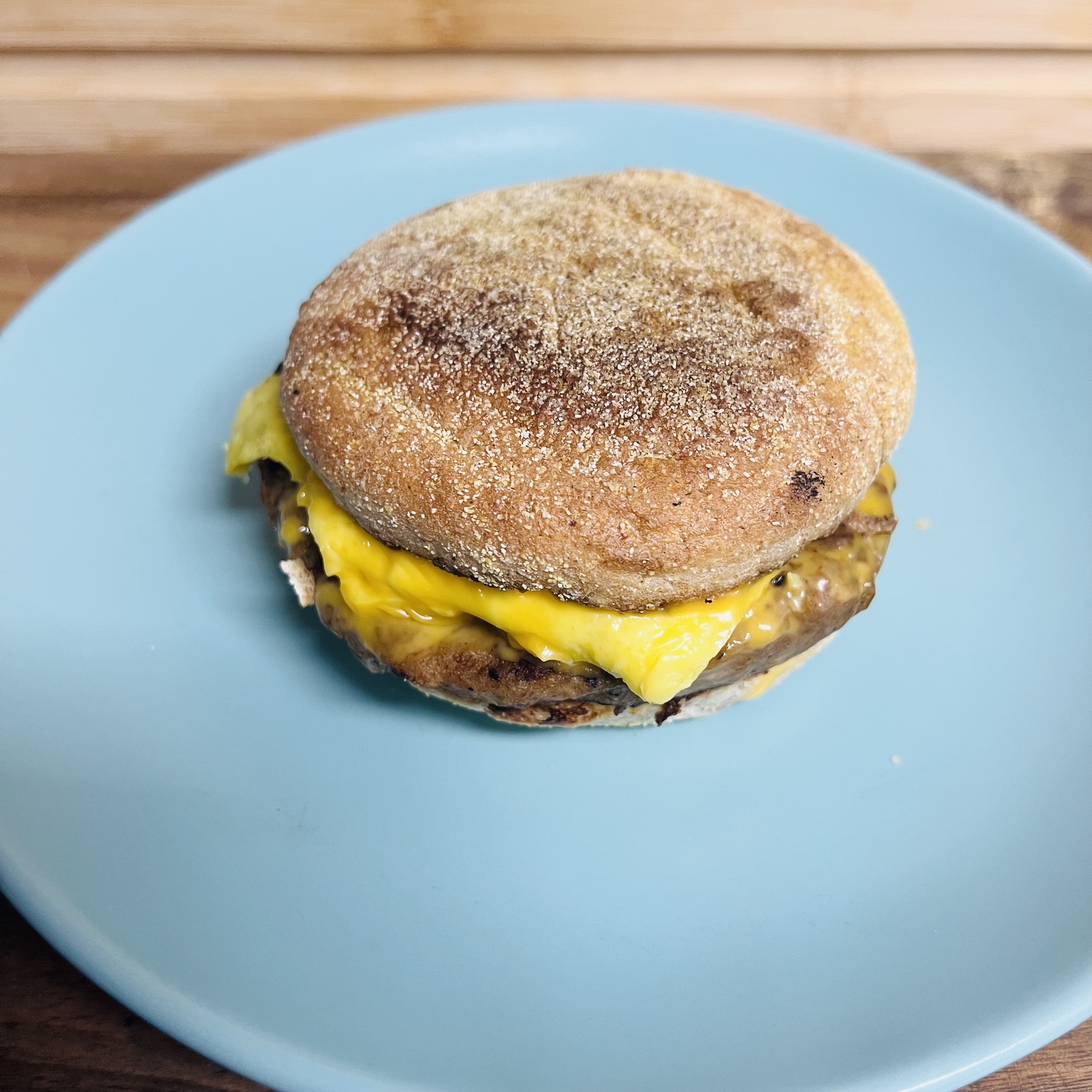 A leap up from taste 1, this sandwich is also super soft to the touch, and a lot less greasy. Biting into it I'm getting some salty notes, a hunt of black pepper, a savory meat flavor, and some butter on the finish. The egg here is very wet and it mixes well with the melty cheese.
Taste 3:
Near perfect. There is a soft airiness to this sandwich, each component is distinct, the buns are nicely toasted, the sausage is smokey, savory, and very peppery, the egg has some moisture but not too much to the point of being off-putting, and the cheese provides a perfect salty contrast to the pepper. The flaw? Those are thicccc bread slices and it makes this… very bread-y (send me the Pulitzer pls & thanks.).
Taste 4:
There is something in this sausage that the other sandwiches don't have, it's earthy… possibly oregano? Whatever it is, it's delicious. While the sausage is good I'm a little less wowed by the other components. The bun here has a nice butter-forward flavor, but this sandwich is a bit too bready. I'm not tasting enough egg or cheese.
Part 2: The Ranking
4. Jack in the Box — Sausage Croissant Sandwich (Taste 1)
I know, it's hard to believe this would rank lost because the idea of a sausage sandwich on a croissant is a good one, but Jack in the Box can't nail the execution here. Never mind that this bun isn't flakey like a real croissant (it's pumped with preservatives making it come across as indistinguishable from boring white sandwich bread) but JiB just didn't even bother to season it.
The sausage is bland, the egg is bland, the bread is bland… this sandwich has nothing going for it.
The Bottom Line:
Great idea, poor execution.
Find your nearest Jack in the Box here.
3. Carl's Jr — Grilled Cheese with Sausage And Egg (Taste 4)
I wanted to rank this one higher because the sausage was easily the best of the lineup, but the rest of this sandwich just didn't deliver. I think that comes down to the thickness of the toast, it's so bready that it drowns out all the flavor from the cheese and egg.
In a sandwich that's billed as a 'grilled cheese,' you expect more cheese, but it's just not here.
The Bottom Line:
A great flavor, but too much bread for its own good.
Find your nearest Carl's Jr. here.
2. Chick-fil-A — Sausage Egg & Cheese Muffin (Taste 2)
Each individual component of this sandwich is tasty and well seasoned, but for whatever reason it just doesn't all come together like our number one choice. It could be because it doesn't have an identity of its own, it's clear that Chick-fil-A is trying hard to be McDonald's here, and they just can't pull it off.
It's a shame because the quality control at Chick-fil-A is on-point but the weakest component here is the English muffin bun. It doesn't have that same addicting craggily texture that McDonald's has, it's too soft and spongey and could do with more toasting or grilling time. If Chick-fil-A had its own bun idea here, it might work out better but, as it stands, it feels like an imitation of a classic rather than a classic itself.
The Bottom Line:
A pale imitation of our number one choice.
Find your nearest Chick-fil-A here.
1. McDonald's — Sausage McMuffin with Egg (Taste 3)
McDonald's Sausage McMuffin with Egg is the perfect breakfast sandwich. A perfect balance of peppery, meaty, salty, and savory flavors, each component of this sandwich delivers everything you expect it to and, as the cherry on top, it's served up on a perfectly toasty English muffin bun that manages to be both crunchy enough to add texture and soft once you bite it.
A lot of breakfast sandwiches suffer from being a bit dry, but not this one, there isn't a single thing we'd change about this sandwich and that says a lot for its quality. Next to the fries, this might be McDonald's best menu item.
The Bottom Line:
The Sausage McMuffin with Egg sets the standard for what a great fast food breakfast sandwich should be.
Find your nearest McDonald's here.