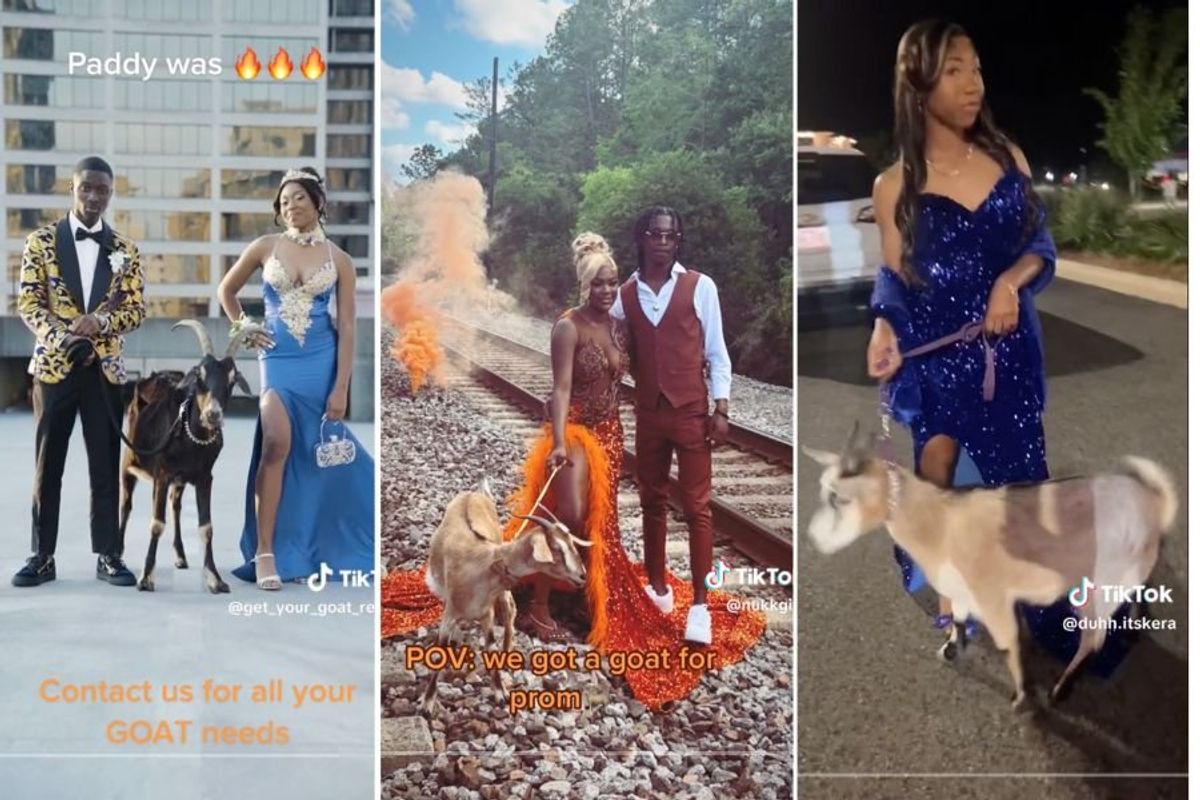 Prom season is upon us, and you know what that means. Fancy dresses, elaborate promposals, rented limousines…and goats.
Yes, you read that right. Goats. They're this year's hottest prom trend, thanks to TikTok.
High schoolers are posting videos across the platform showing off their formal attire while posing next to a rented-out, real-life goat as a tongue-in-cheek nod to the popular sports phrase G.O.A.T., meaning "greatest of all time."
---
Some even adorn their goat dates with sparkly collared leashes, because doesn't everyone deserve to feel fancy on prom night?
It's kind of the younger generation's M.O. to baffle the older folk with weird fads, but this by far is Gen Z's wildest move yet. A few are even calling the craze "tacky." But hey, it doesn't look like any goats are being hurt in the process (except maybe the ones who didn't get asked to prom…sad) so it seems like pretty harmless fun.
It also means business is booming for places like Get Your Goat Rentals. This Atlanta-based grazing company mostly rents out goat herds to chew through overgrown vegetation as an eco-friendly alternative to chemical sprays. But this year, it's added prom rentals to the list of services.
Amanda Hudgins, owner of Get Your Goat, shared with Insider that the company had actually been capitalizing on the G.O.A.T. acronym since February, offering "Goat Grams" for Valentine's Day as well as half-hour cuddle sessions/photo sessions for $75.
Both products were a success, and in March, a high school senior named Trevian White hired their goat Paddy to take prom photos. And these weren't your average prom photos. No no no, these were shot at the Mercedez-Benz Stadium in downtown Atlanta and incorporated a rented-out Lamborghini red carpet.
Watch below:
…and the rest is viral TikTok history.
"Now we're getting calls from all over the south. It's just really gone crazy," Hudgins told Insider. So far, Get Your Goat has done 20 prom shoots and is expected to do at least 100 by the end of the school year.
We don't always understand what the kids are into these days, but if it brings a bit of joy, I say let them do whatever floats their goat.