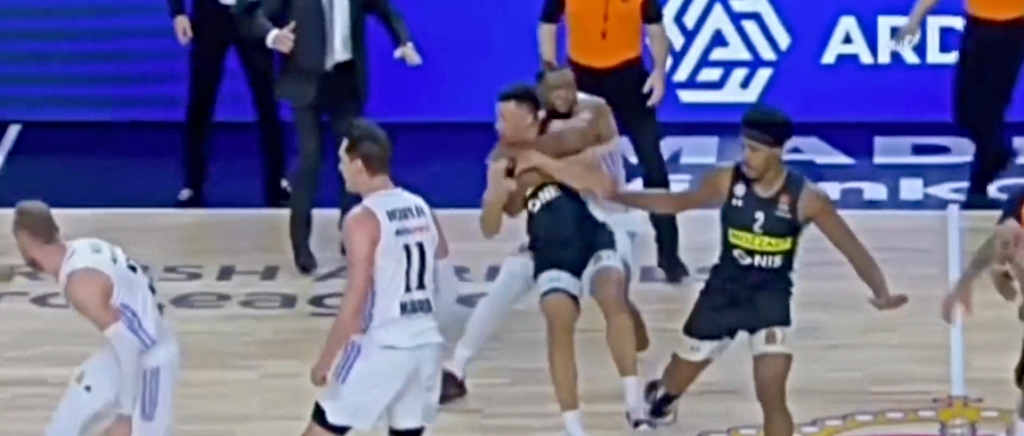 A EuroLeague game on Thursday between Real Madrid and Partizan got called with 100 seconds left due to a gigantic brawl between the players. With less than two minutes remaining and Partizan holding a 95-80 lead, one of their guards, former Tennessee player Kevin Punter, got fouled by Madrid's Sergio Llull, which Punter did not appreciate.
Things then boiled right over, as the players on the court started to get into it with one another and the referees' efforts to calm things down were for naught. Players on the benches and security guards eventually ran onto the floor and tried to get everything broken up.
HUGE BRAWL just went down in Wizink Center between Partizan and Real Madrid players #EuroLeague pic.twitter.com/wkpzyIQTcM

— BasketNews (@BasketNews_com) April 27, 2023
A whole lot is going on in this, like number 31 on Real Madrid — former Brooklyn Nets player Džanan Musa — getting thrown to the grown from behind. But the big thing was this takedown of former NBA journeyman Dante Exum by Guerschon Yabusele, who spent a few years as a member of the Boston Celtics.
Guerschon Yabusele slamming down Dante Exum pic.twitter.com/iEvAtsGZgk

— BasketNews (@BasketNews_com) April 27, 2023
The EuroLeague are currently in the playoffs, where the four teams that win a best-of-5 series will move on to the Final Four in May. With today's win, Partizan opened up a 2-0 series lead on Madrid, with both wins coming in the Spanish capital. Now, the series will move to Belgrade, with Game 3 taking place on May 2.