We're fully into spring now and that means the whiskey releases are dropping hot and fast. That's especially true when you take a step back from local whiskey releases and take a global view of the whole whiskey industry. There's just so much Scotch whisky, rye, bourbon, American single malt, and more hitting the market right now. To help you sort through all of the new stuff, I'm going to call out 20 brand-spanking-new bottles of whiskey that you should track down this month.
For this list, I'm looking at whiskey expressions that either just dropped for the first time ever or are the latest 2023 versions of classic whiskeys. The throughline? All 20 of these whiskeys are just hitting shelves right now. That means that you should be able to find most of these, either by clicking the price links for each entry, by perusing your local (good) liquor store, or by sidling up to your nearest whiskey bar. These are the hottest whiskeys right now and certainly worth the effort.
I didn't rank these whiskeys, which is rare for us. They're all good, folks. Basically, I could say "if you only get one whiskey this month…" with every single one. But that would be boring so find the tasting notes that speak to you and go from there. Let's dive in!
Also Read: The Top 5 UPROXX Bourbon Posts Of The Last Six Months
Bardstown Bourbon Company Collaborative Series Foursquare Blend of Straight Whiskies Finished in Foursquare Rum Barrels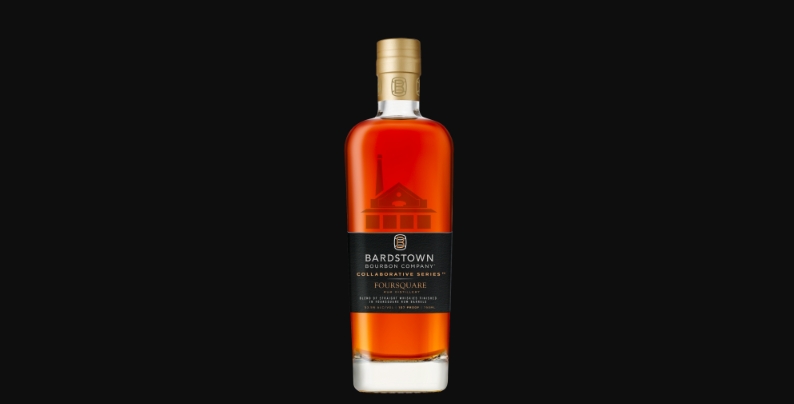 ABV: 53.5%
Average Price: $159
The Whiskey:
This is a much-sought-after blend from Kentucky darling Bardstown Bourbon Company. The blend in this case is a mix of seven-year-old Indiana rye with a mash bill of 51% rye, 45% corn, and 4% malted barley blended with a 17-year-old Tennessee bourbon with a mash bill of 84% corn, 8% rye, and 8% malted barley. Once those barrels are batched, the whiskey is re-barreled in Foursquare rum barrels for an additional 23-month rest.
Tasting Notes:
Nose: Woody banana and marzipan pop on the nose with a deep and sharp clove, anise, and cinnamon vibe next to peanut butter clusters dusted with toasted coconut, burnt orange zest, and sea salt with this whisper of sultanas in the background.
Palate: The rye funkiness drives the rum tannins towards a soft sticky toffee pudding with rich toffee, mild vanilla oils, and a sense of spiced mincemeat pie.
Finish: The finish is lush and silken with a sense of fresh and warm vanilla pods over warm grog with a handful of dark and woody winter spices countered by luxurious and buttery salted caramel with a fleeting hint of smoldering marshmallow.
Bottom Line:
This is one of the best rum-barrel-finish whiskeys to date. Seriously. It's fire on its own in a Glencairn glass. It also makes a killer old fashioned with all that spice already built in.
Booker's "Charlie's Batch" 2023-01 Small Batch Kentucky Straight Bourbon Whiskey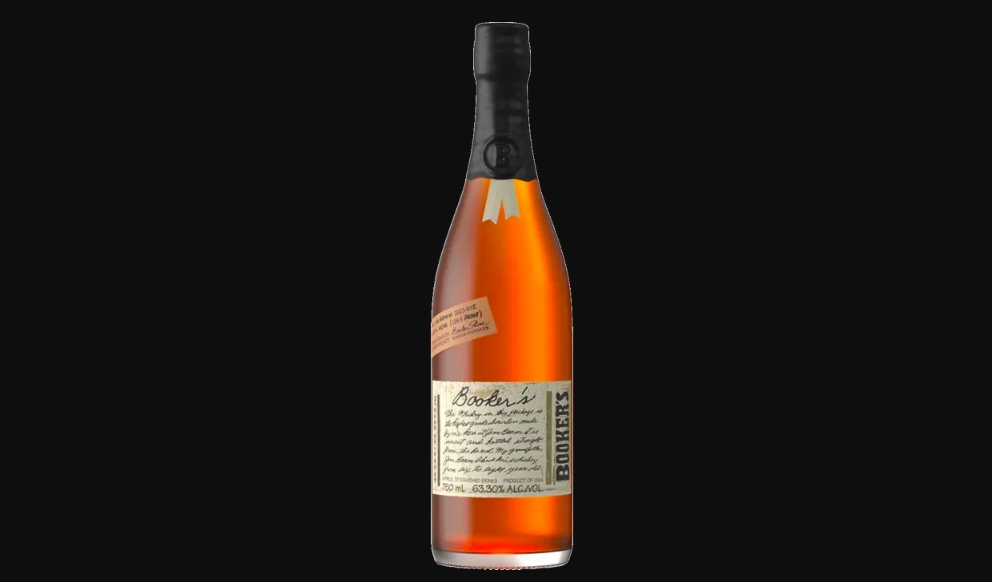 ABV: 63.3%
Average Price: $97
The Whiskey:
This first Booker's Small Batch of 2023 has arrived! This release is an hommage to Charlie Hutchens — the woodworker who makes Booker's boxes the whiskey comes in and a long-time family friend to the Noe family who makes Beam whiskeys. The whiskey is a blend of mid to high-floor barrels from five warehouses. Those whiskeys were batched and bottled 100% as-is at cask strength after just north of seven years of aging.
Tasting Notes:
Nose: Toasted almonds and walnuts lead the way on the nose with a deep and rich vanilla cake lightly dusted with cacao, dry cherry, and cinnamon with a touch of old oak cellars and black-mold-encrusted old deck furniture.
Palate: The soft caramel and vanilla open the palate before a rush of woody and sharp spices — clove, anise, allspice, red chili pepper — arrive with a sense of old wood chips on a workshop floor leads to salted toffee dipped in roasted almonds and dark salted chocolate with a whisper of cherry cordial backing it all up.
Finish: That soft sweetness counters the hot spices for a while on the slow finish as the spices take on an orange/cherry/vanilla Christmas cake vibe with plenty of nuts and ABV heat.
Bottom Line:
This is a warm whiskey — the quintessential Kentucky hug bourbon if you will. That said, there's just so much going on in the flavor profile that the heat is secondary to the beautifully layered smells and tastes. My advice is to pour this over a single large rock and slowly let it wash over you one sip at a time.
Jefferson's Marian McLain Blend Of Straight Bourbon Whiskeys
ABV: 51%
Average Price: $299
The Whiskey:
This whiskey pays tribute to Jefferson's founder Trey Zoeller's grandmother — Marian McLain — who was an 8th-generation moonshiner and bootlegger back in the day (she's one of the earliest documented women in American whiskey to boot). The whiskey Zoeller made to honor McLain is a blend of five whiskeys. 40% of the blend is an 11-year-old Kentucky bourbon, 21% is a 14-year-old Tennessee bourbon, 17% is a rum-cask finished bourbon, 14% is a wheated double-barreled bourbon, and 8% is an eight-year-old Kentucky bourbon.
Tasting Notes:
Nose: The nose opens with a mix of old whiskey barrels wrapped in worn saddle leather with a sweet and creamy sense of honey, vanilla, and old cinnamon sticks dipped in hot apple cider.
Palate: The palate is fruity with a sense of mango chutney and rum raisin next to dark chocolate-covered espresso beans, salted toffee, and banana bread inside of a cedar box with a twinge of smoldering wild sage.
Finish: The end is lush and full of dark holiday cakes brimming with soft spices, roasted nuts, and dark dried fruits next to more of that creamy honey and silken vanilla.
Bottom Line:
This is damn fine whiskey. It might be one of my favorite Jefferson's releases to date. It's really that tasty. Overall, the lower ABVs also mean that you can pour this one neat and enjoy it as a slow sipper or mix it into an amazing whiskey-forward cocktail.
Maker's Mark 2023 Limited Release BEP Kentucky Straight Bourbon Whiskey Barrel Finished With 10 Virgin Oak Staves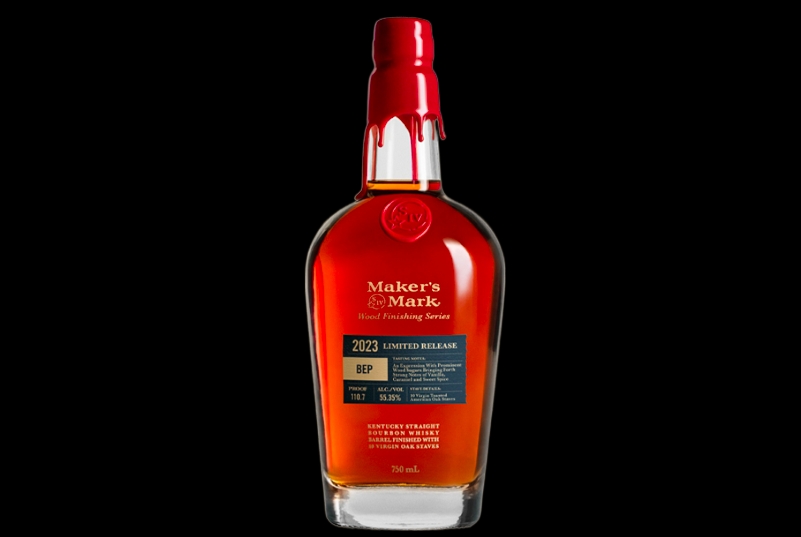 ABV: 55.35%
Average Price: $69
The Whisky:
This is the final chapter of Maker's Mark "Wood Finish Series." The whiskey in the bottle is made from classic Maker's that's batched at Barrel Entry Proof (BEP), which is 110-proof (the average bourbon goes into the barrel at 125-proof) and then finished with ten bespoke wooden staves inside the barrel, all made from new (or "virgin") oak.
Tasting Notes:
Nose: Roasted vanilla beans and pan-toasted winter spices (nutmeg, clove, allspice, and cinnamon) mingle with lush and butter caramel sauce, brown-sugar rock candy, and a whisper of old wicker furniture with a hint of pipe tobacco.
Palate: That brown-sugar sweetness drives the palate toward woody and warm winter spices with a creamy eggnog edge next to vanilla sheet cake sprinkled with toffee chards and dried orchard fruits.
Finish: The end dries out a tad as the spices ramp up toward a holiday cake made with plenty of vanilla, brown sugar, buttercream, and toasted woody spices before being kissed with fresh pipe tobacco that was left in a cedar box for a spell.
Bottom Line:
This is excellent whiskey. It's on the woodier side, yes, but it all makes sense to the senses as you slowly sip it. This is the bottle you get when you want a slow and delightful sipping experience with a well-made bourbon.
Chicken Cock Double Oak Kentucky Whiskey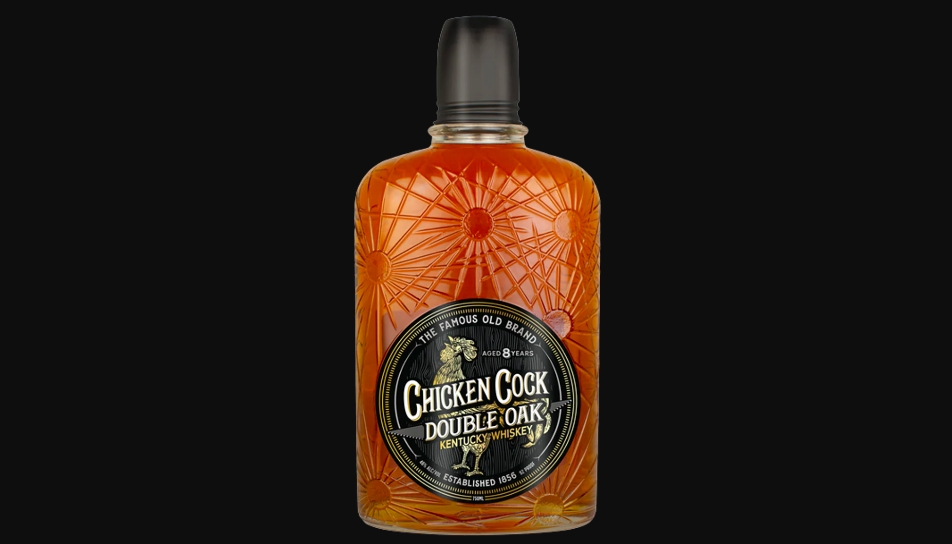 ABV: 46%
Average Price: $99
The Whiskey:
This new release from Chicken Cock (yes, yes, get your laughs out) is a new mix. The blend in the bottle is a mix of eight-year-old Kentucky whiskeys that have been double-barreled, meaning that they were aged in new American oak for a spell and then were re-barreled in new new American oak barrels. This adds an extra layer of fresh and vibrant wood sugars to the mix, really amping up the flavor profile with the wood.
Tasting Notes:
Nose: Dark caramel opens the nose before diving into creamy espresso, dark chocolate-dipped cherry and raspberry, and a mild sense of really fancy Almond Joy.
Palate: Whiskey-soaked red berries and vanilla beans drive the palate before ice cream waffle cones, cherry ice cream, and holiday cakes full of winter spice, roasted nuts, and toasted coconut thrive on the taste.
Finish: The creaminess really amps up the finish with a sense of toffee pudding and cinnamon ice cream with a sense of berry compote spiked with allspice and clove over a mild sense of pipe tobacco and cedar bark.
Bottom Line:
This has a great balance of woody spice and creamy lusciousness that just works. It's not subtle but it never overpowers your palate. In the end, I'd use this to make one hell of a Manhattan or Sazerac or as a slow sipper on a slow afternoon with a single rock to help amp up the creaminess to 11.
Ardbeg Heavy Vapours Limited Edition Islay Single Malt Scotch Whisky
ABV: 46%
Average Price: $167
The Whisky:
This Ardbeg committee release is one of the more esoteric in a while. The whisky was distilled without the purifier in the still. Without getting too lost in the weeds, the purifier softens some of the harsher edges of the distillate. Since that didn't happen, this whisky was built to be a deeper and darker version of the classically already deep and dark whisky.
Tasting Notes:
Nose: Rich and dark is a good way to describe a nose full of fresh asphalt, burnt rope dipped in seawater, muddy barnyard after a fresh rain, I want to say jet fuel, and this deep counterpoint of dark dried red fruit and the darkest of dark cacao nibs tossed with salt.
Palate: The taste starts off subtly with mild cinnamon bark and cardamom pods next to really dark salted chocolate, spicy and fresh peppermint, and crushed oily espresso beans with a bitter sense of a mouthful of really expensive Japanese charcoal (binchōtan).
Finish: The finish is oddly numbing — it's not hot at all — while coal and espresso bitterness wane as the chocolate, peppermint, and spice settle on your senses for a patient fade out.
Bottom Line:
This is … a challenge. I love crazy shit like this as a single pour outlier to have something, anything different in the rotation. I can also see people being turned off from whiskey for their whole lives if they drink this first. Tread carefully with this one. It's specifically not for everyone.
Larceny Barrel Proof Kentucky Straight Bourbon Whiskey Batch No. B523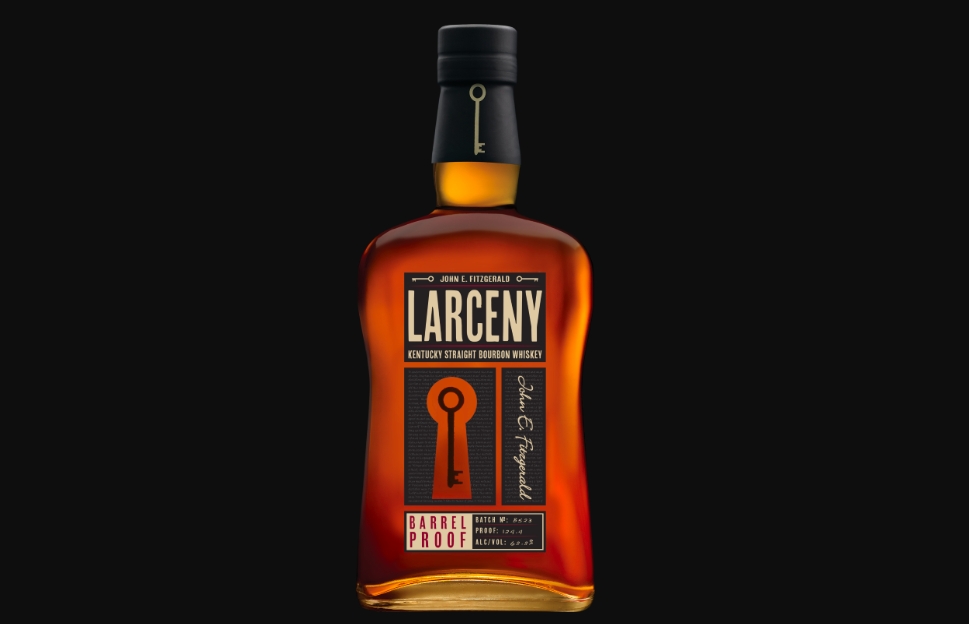 ABV: 62.2%
Average Price: $59
The Whiskey:
The spring edition of Larceny is here. The whiskey is a barrel-strength version of Larceny wheated bourbon (68% corn, 20% wheat, and 12% malted barley) created for a small batch of six to eight-year-old barrels. Those barrels come together and go into the bottle 100% as-is.
Tasting Notes:
Nose: The nose runs deep with dark chili pepper spice next to salted caramel, cherry cake, and rich vanilla with a hint of nuttiness.
Palate: The taste is lush with a deep sense of creamy winter spices mixed into mincemeat pies and eggnog next to malted buckwheat pancakes drizzled in toffee syrup and sprinkled with roasted walnuts, pecans, and almonds with a whisper of wild sage.
Finish: Sharp cinnamon bark and cherry vanilla tobacco round out the finish with a nice balance of creaminess and sharp woody spice leading to a warm and long Kentucky hug (ABV warmth).
Bottom Line:
This is a killer Larceny release — it's one of my favs in a while. It's a bit warm but still delivers a deep and satisfying bourbon vibe. Overall, try it over a single ice cube first then start playing around with it in cocktails.
Lost Lantern Single Distillery Series Gentle Giant Balcones Distilling Texas Single Malt
ABV: 57.6%
Average Price: $100
The Whisky:
This rare blend from Balcones via Lost Lantern is a batch of five-and-a-half super rare casks. The batch is made from single malts aged in a four-year-old double cask apple brandy cask, a three-year-old large European cask that dried outside for three years, another one of those casks but just a little older, a four-year-old ex-bourbon cask, and a half-full European oak cask that was exactly three years and 56 days old when it was dumped. All of that whisky was vatted and bottled as-is. Only 1,100 bottles came from those barrels.
Tasting Notes:
Nose: This opens with Granny Smith apple skins over winter spice barks dipped in floral honey and dried next to orange wheels and Graham Crackers.
Palate: The orchard-iness drives the palate with a sense of soft salted toffee cut with vanilla oils and dipped in dark chocolate orange sauce.
Finish: Orchard woods and soft malts round out the finish with a hint of honeyed toffee and spiced apple fritter.
Bottom Line:
This is just nice. It's not life-changing but it doesn't have to be. Sometimes just being really, really good is enough.
Stranahan's Diamond Peak Colorado Single Malt Whiskey Extra Anejo Tequila Cask 2023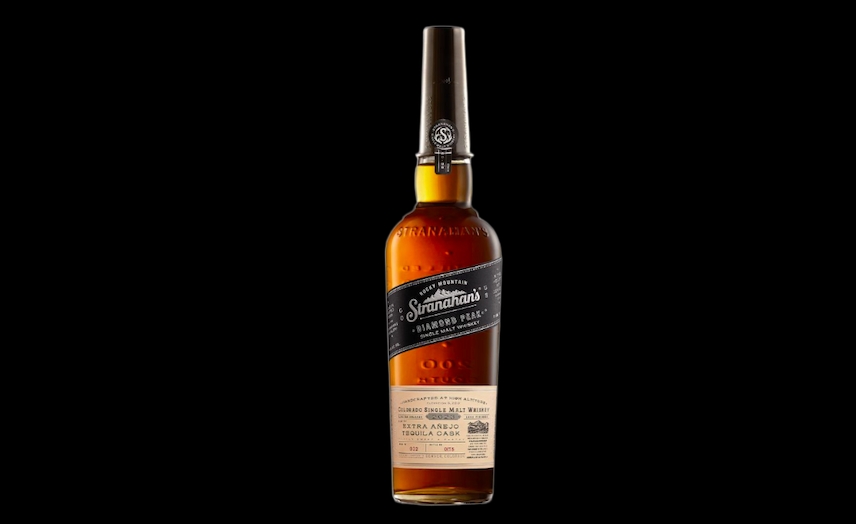 ABV: 45%
Average Price: $78
The Whiskey:
The second Diamond Peak release of 2023 is a 100% Colorado malt whisky. The whiskey barrels were five to eight years old (all-new American oak) that was batched and re-barrelled into Jose Cuervo's Reserva de la Familia Extra Añejo Tequila for two more years of resting. Finally, those barrels were batched, proofed, and bottled.
Tasting Notes:
Nose: This pops with a deep pink peppercorn next to floral honey (think wildflowers and mountain sage) next to soft salted toffee rolled in roasted almond and dipped in lush vanilla caramel.
Palate: That wild sage and lush toffee drive the palate toward a sense of old cedar planks, deep and dark berry leather, and a lush sense of vanilla over salted caramel and marzipan.
Finish: That creamy and lush vibe drives the end with more salted caramel, marzipan, and vanilla cream with a hint of honey-soaked dates and salted cinnamon candies with a whisper of rose-hued tobacco.
Bottom Line:
This is a delicate yet deep AF whiskey. You really cannot go wrong if you're looking for an easy sipper that takes you on a long malted journey.
Cragganmore 2023 Distillers Edition Speyside Single Malt Scotch Whisky
ABV: 40%
Average Price: $88
The Whisky:
Cragganmore is an iconic Scottish distillery. This yearly whisky release is matured in sherry casks for 12 years. It's then transferred into port-seasoned American oak casks for a final maturation phase before proofing and bottling.
Tasting Notes:
Nose: Fennel leads to dried fruits — sultanas, prunes, dried fig — and fresh apples on the nose with a hint of tartness and skin next to savory (almost oily) herb branches and leaves.
Palate: The taste, on the other hand, leans into sweet oak, pear candies, fresh figs, and a softness that's almost hard to believe while this medley of caraway, fresh fennel, and sweet cardamom dance together on your palate.
Finish: The end is full of sweet fruits — think ripe pears, green tomatoes, and star fruit — and has just the right touches of soft oak, oily vanilla, and savory green herbs as it fades towards a final note of wet wicker right after a rain storm.
Bottom Line:
There's something about the funky green herbal and orchard notes of this whiskey that keeps calling me back for more. It's unique but nostalgic. It's like silk but still full of surprises. It also truly blooms with some water added, leading you through herb gardens, fruit orchards, and creameries on a sunny day.
Chattanooga Whiskey Straight Bourbon Whiskey Tennessee High Malt 111 Proof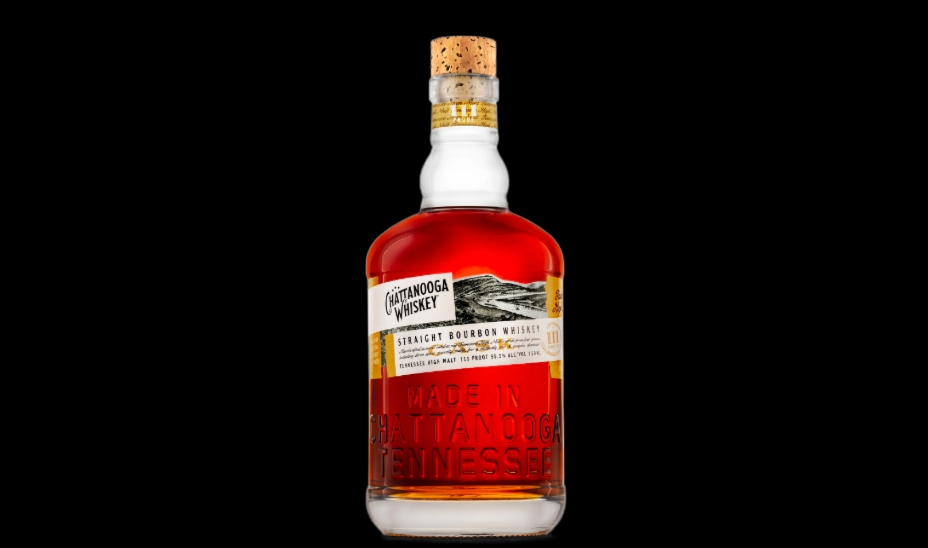 ABV: 55.5%
Average Price: $49
The Whiskey:
This Tennessee whiskey is hewn from a mash bill (recipe) of classic yellow corn, malted rye, caramel malted barley, and honey malted barley. The ripple here is that the fermentation of those grains with water and yeast lasted for seven whole days (basically three times as long as most fermentation runs). The distilled juice was filled into toasted and charred oak and left alone for over two years. The final batch was pulled from no more than 12 barrels for this release.
Tasting Notes:
Nose: Chocolate malts cut with spiced cherry syrup drive the nose with a hint of cinnamon bark and eggnog nutmeg next to soft orchard vibes.
Palate: That chocolate maltiness leans into honey-dipped graham crackers with a hint of allspice and clove over gingerbread and dark-chocolate-covered dried cherries.
Finish: A hint of cinnamon bark dark cherry tobacco mingles with malty spiced vanilla cookies and a hint more of that honeyed sweetness with deep chocolate lurking beneath it all.
Bottom Line:
These new and exciting malt experiments from Chattanooga are some of the best whiskeys hitting shelves right now. The best part? It's just really f*cking tasty. That makes this a great choice to add to your bar cart right now.
Balcones Cask Strength Fr.Oak Aged Texas Single Malt Whisky Single Barrel (S1B61)
ABV: 67.8%
Average Price: $88
The Whisky:
This is one of only a few barrels of Balcones' famed Fr.Oak barrels left. This particular barrel was chosen by ReserveBar at five years and nine months old. That barrel was bottled as-is at cask strength.
Tasting Notes:
Nose: This runs deep on the nose with dates, prunes, and leathery figs next to cinnamon bark, clove buds, and burnt sugar over burnt orange with a hint of dark chocolate espresso — kind of like an affogato with a scoop of rich dark chocolate gelato instead of vanilla.
Palate: The fig and chocolate combine on the palate to create a lush balance of rummy mincemeat pie, clove-stuffed blood orange, and a touch of old cedar humidor with a hint of sticky toffee pudding tobacco still lingering.
Finish: That sweet and chewy tobacco drives the finish toward soft cedar bark weaved with old wild sage, figs, and vanilla bean husks.
Bottom Line:
This is so deep and dark and funky and fun — freaking delicious. And since these are going to be extinct soon, so now is the time to add one or two to your collection.
Lagavulin 2023 Distillers Edition Islay Single Malt Scotch Whisky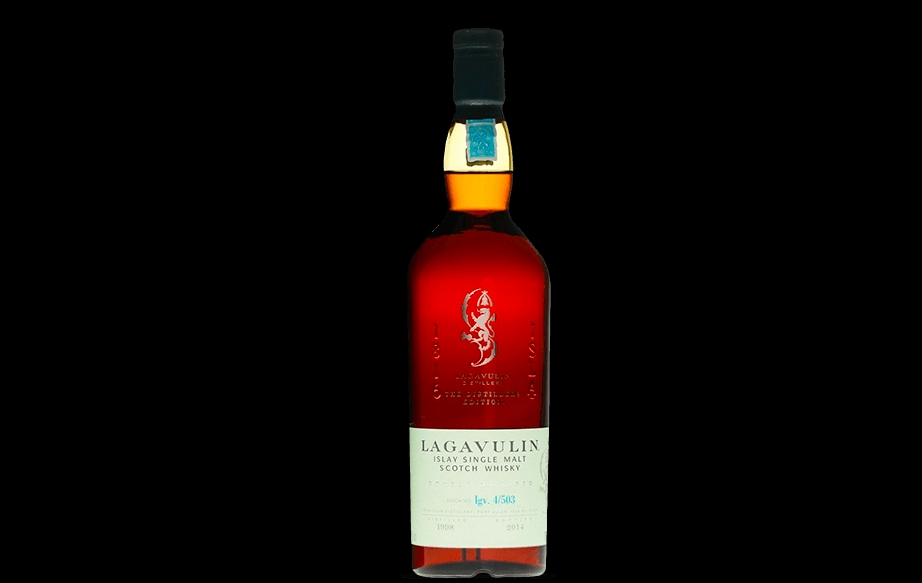 ABV: 43%
Average Price: $115
The Whisky:
2023's Distillers Edition is a prime example of the heights Lagavulin can reach. The whisky was aged for 15 years in the core Lagavulin barrels (ex-bourbon and ex-sherry) and then finished for around six months in Pedro Ximénez sherry casks that were specifically made and held specific sherry before the whisky was loaded into the barrels. The result is a 15-year-old Lagavulin that'll help you fall in love with the brand and style.
Tasting Notes:
Nose: This feels like all the subtle notes across the Lagavulin range have come together in the best way. You're drawn in with hints of honeyed smoke, salted caramel apples, mild hints of vanilla, and smoldering coffee grounds.
Palate: The taste ties the honey to a soft oakiness next to vanilla chocolate coffee, seaside salted taffy, and a touch of fish oil.
Finish: The end is very long and pure velvet on the tongue as the sweet oak fades towards a sweet smokiness, with a hint of salty roasted almonds and burnt vanilla husks.
Bottom Line:
This is the best gettable bottle of Lagavulin on the shelf. It pours beautifully as a neat sipper but also makes a divine whisky-forward cocktail.
Hemingway Rye, 1st Edition A Blend Of Straight Rye Whiskeys Finished In Rum Seasoned Olorosso Sherry Casks
ABV: 50%
Average Price: $109
The Whiskey:
This whiskey is a unique one. The blend is made up of two whiskeys — 94% is a nine-year-old 95/5 (rye/malted barley) Indiana rye and 6% is a four-year-old 95/5 Kentucky rye. Those whiskeys were batched and then re-filled into a rum-season Oloroso sherry cask for a final rest before batching, proofing, and bottling.
Tasting Notes:
Nose: Rich and old oak mingles with salted caramel, dark maple syrup, and sheets of dark fruit leather next to a soft sense of caraway rye toast with a soft creamed vanilla butter and a light touch of cherry compote.
Palate: That cherry takes on a slightly tart and salted aura on the taste as the salted caramel leads to huge sticks of cinnamon bark, clove-studded oranges, and a smudging bundle full of wild sage, sweetgrass, and cedar bark.
Finish: Those smoldering botanicals linger on the finish as a soft cinnamon cake with salted toffee drizzle and a whisper of dark chocolate-covered espresso beans counter the rye dank.
Bottom Line:
Delicious. Great value. Get it.
Talisker 2023 Distillers Edition Single Malt Scotch Whisky
ABV: 45.8%
Average Price: $113
The Whisky:
The 2023 Distillers Edition is a classic Talisker that's aged by the sea and finished for six months in Amoroso sherry casks. The whisky was distilled in 2012 and bottled at 10 years old. It was then finished in another Amoroso sherry cask, making it "double cask" matured.
Tasting Notes:
Nose: The nose runs deep on this whisky with mild hints of beachside campfire smoke whispering in the background as hints of red fruit, wet driftwood, and green peppercorns draw you in.
Palate: The palate embraces the red berries with a slight tartness next to the sweetness as the peat remains dry and distant and tied to the brine of the sea with an almost oyster liquor softness.
Finish: The finish lingers for just the right amount of time as sweet berries and dry peat lead towards soft dark cacao powder with a tiny note of vanilla and one last spray from the sea.
Bottom Line:
This is as close to a perfect whisky as you can get from Scotland. It's sophisticated, dynamic, and delectable. This is the sort of whisky pour that helps you fall head over heels in love with whisky.
New Riff Silver Grove Straight Bourbon Whiskey Barrel Proof Aged 4 Years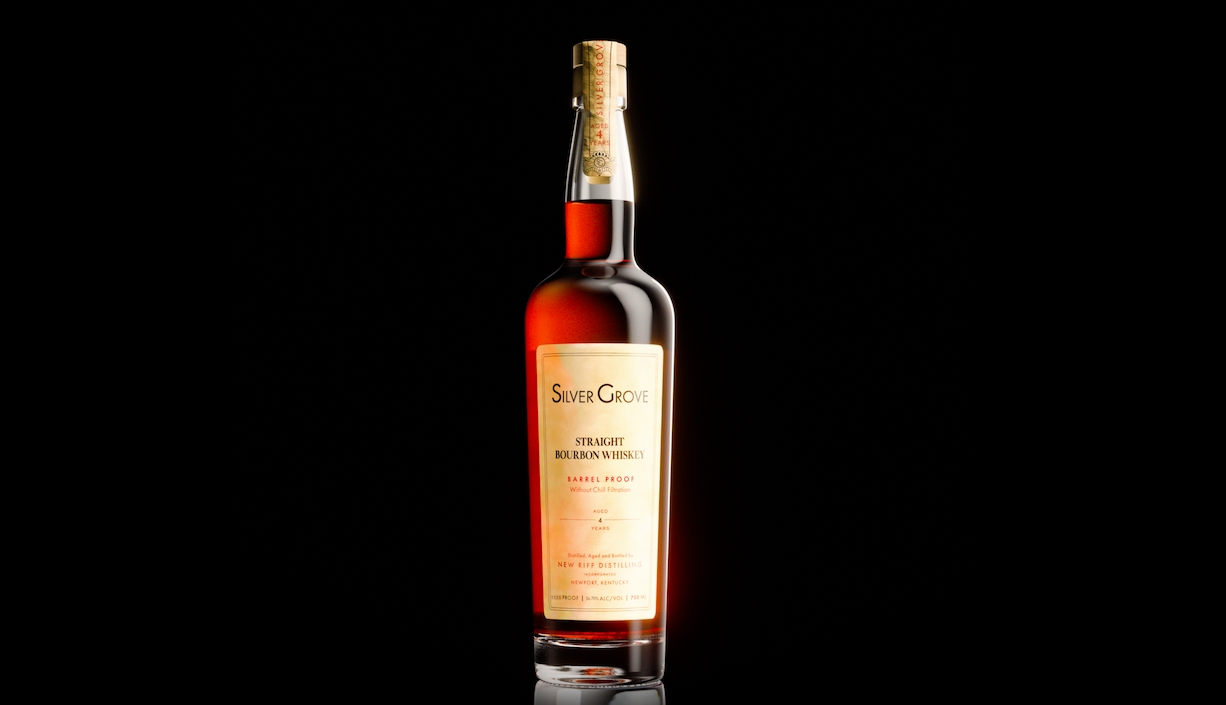 ABV: 56.8%
Average Price: $55
The Whiskey:
This new and very limited release from New Riff (it's a distillery-only release for now) is an hommage to Cincinnati's Carthage neighborhood and the Edward Brinkmann Distillery's 1933 bottling of "Silver Grove." The actual whiskey in the bottle is made from a mash of 65% corn, 30% malted rye, and 5% malted barley. That whiskey was left alone for four years before batching and bottling as-is.
Tasting Notes:
Nose: Sweet salted caramel and dusty old cinnamon sticks lead to oily vanilla pods, red chili spiced cherry syrup, and a sense of cedar planks soaked in red fruit and maple syrup.
Palate: Dried blueberries and woody huckleberries combine with rich salted caramel and ground almond with a sense of classic cherry vanilla bourbon notes adhering to a light sense of chewy tobacco.
Finish: That tobacco really leans into the caramel/cherry/vanilla on the finish as the bourbon-iness of everything peaks with a soft Kentucky hug and subtly sweet end.
Bottom Line:
This is damn fine bourbon from one of the best "craft" distilleries working today. If you're anywhere near Northern Kentucky, or Cincinnati, Ohio, get yourself over to the distillery for a bottle ASAP.
Barrell Rye Singel Barrel (S1B4)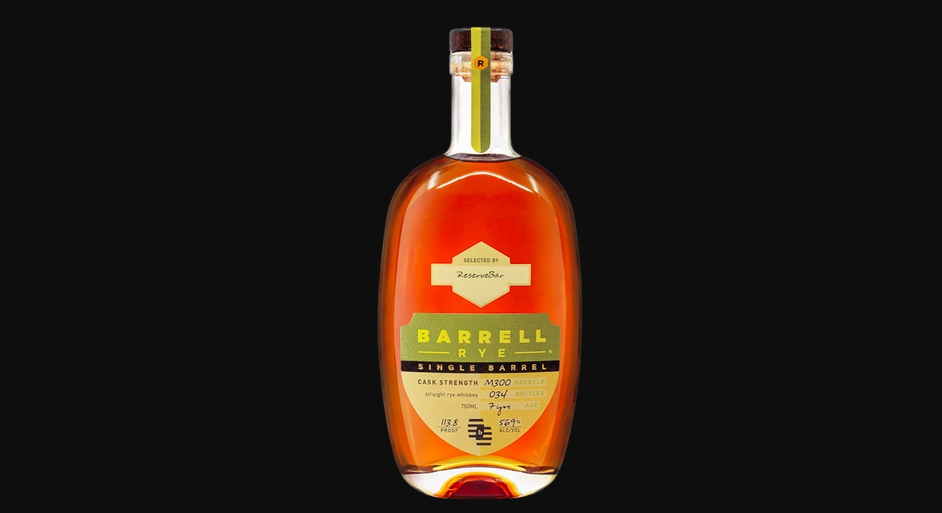 ABV: 56.9%
Average Price: $100
The Whiskey:
This ReserveBar barrel pick is from a single barrel of Indiana rye (95/5) that spent seven years resting before it was bottled. The whiskey when into the bottle completely as-is from the barrel.
Tasting Notes:
Nose: The nose opens with a sense of pain au chocolate next to cardamom pods, earthy spice barks, dark burnt orange, and a fleeting sense of cherry by way of tart black currants, cloves, and salted black licorice.
Palate: The dark chocolate from the pastry drives the taste toward a salted toffee dipped in roasted walnuts with a light sense of orange marzipan, lemony hops, and soft mossiness with a whisper of mustard seed, and maybe some coriander seed.
Finish: There's an umami vibe that's almost toasted cinnamon bark with dried forest moss next to sweet and spicy cherry syrup over chocolate-lemon balls with a flake of salt and a sprinkle of dried lavender next to fresh nasturtiums, old cedary tobacco, and freshly baked baguette with a pad of salted creamed butter.
Bottom Line:
This is next-level stellar whiskey. This whiskey truly takes you on a journey that you want to never stop. It's so good that $100 doesn't even feel that expensive for what it is. It's just great.
Macbeth Act One Lady Macduff Linkwood Single Malt Scotch Whisky Aged 31 Years
ABV: 48.2%
Average Price: $792
The Whisky:
This whisky is from a super whisky nerd distillery, Linkwood. If you know, you know. The whisky in the bottle was chosen by Elixir for its Macbeth lineup this year. The whisky is hewn from four ex-bourbon barrels that held the malt for at least 31 years (it's a small miracle that any survived). Those barrels were vatted and bottled as-is.
Tasting Notes:
Nose: The nose opens with a beautiful sense of ripe apricot (fresh from vine clarity) with creamy lemon curd, fresh spearmint, lavender lemonade, soft saddle soap, buttery brioche, and … I swear … freshly washed sheets hanging out on a line on a sunny day.
Palate: Fresh pears and sweet apples counter the apricot on the palate as buttery scones just touched with rose water smeared with vanilla brandy butter with a light toward of floral honey and very dry champagne.
Finish: The pear layers into the champagne while the floral honey creates a luxurious mouthfeel next to soft moments of winter spice barks, marmalade, apricot leather, and creamy salted buttercream just kissed with vanilla and summer flowers.
Bottom Line:
There are only 650 bottles of this. If you can, buy two. It's not only that good, but it's damn near "a once-in-a-lifetime whisky" good.
Michter's Single Barrel Kentucky Straight Rye Whiskey 10 Years Old
ABV: 46.4%
Average Price: $200
The Whiskey:
2023's Michter's 10-Year Rye release is here! The whiskey is made from a corn-rich rye whiskey mash bill with a good dose of barley in there. The absolute best barrels are chosen — with some up to 15 years old — for this release. Then each of those barrels is individually bottled as-is with a hint of proofing water.
Tasting Notes:
Nose: Rich and lush toffee combines with soft marzipan on the nose as a dash of freshly cracked black pepper lead to cinnamon-laced apple cider and cherry-soaked cedar bark.
Palate: The palate is part Red Hot and part zesty orange marmalade with creamy vanilla pudding, sweet and spicy dried chili peppers with a hint of smoke and woodiness, and this fleeting whisper of celery salt.
Finish: The end dries out the almond with a vanilla cream tobacco, soft and sweet cedar, and dark chocolate orange vibe all balanced to damn near perfection.
Bottom Line:
This is the ultimate Kentucky rye expression that showcases how fruity and dark Kentucky sweetness can balance with sharp spice, deep woodiness, and soft nuttiness. This is the closest to "perfect" you can get of any of the American whiskeys on this list. Plus, it makes the best Manhattan you'll ever sip.
Glenglassaugh Highland Single Malt Scotch Whisky 46 Years Old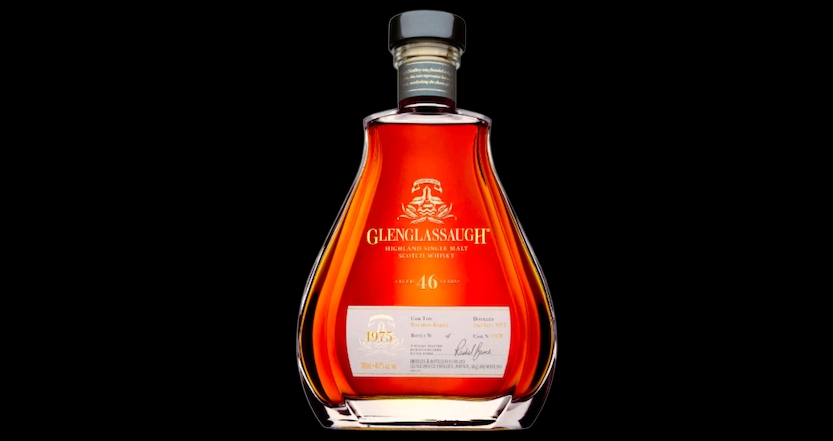 ABV: 41.7%
Average Price: $4,800
The Whiskey:
Glenglassaugh is a reborn distillery in Scotland — having operated from the 1800s to the 1980s before getting mothballed for over two decades before its resurgence in 2008. This is important to know in that the whiskey in this bottle was made in 1975 during the last years of the distillery's 20th-century heyday. Living legend Master Blender Rachel Barrie found this barrel (a bourbon cask) in the stocks, and by some sort of whisky miracle, there was juice in the barrel.
That whisky was bottled as-is at barrel strength and sent exclusively to the U.S.
Tasting Notes:
Nose: This is almost … fresh on the nose with a sense of tart and woody black currants, fresh plum, mango juice, and red grapes that then veers into the abyss with a sense of old boot leather, maple wood dipped in varnish, and waxy sense of ambergris (I swear) — think boot cream, fresh tobacco, and sandalwood with a hint of salt.
Palate: The taste takes the fruit and tosses it into a fruit salad that's cut with seawater and nori that's then countered by menthol tobacco and sharp citrus oils with a whisper of cherry-flavored cream soda.
Finish: A twinge of grapefruit oil drives the finish toward this fleeting sense of cellar dirt, more ambergris, and mint chocolate chip ice cream that's laced with pipe tobacco and black currants.
Bottom Line:
This is a wild and delicious ride. The fresh fruitiness was completely unexpected and really helped this whisky stand out when I sampled it. It's almost bafflingly delicious. And look, we'll never see this whisky again so now is your only chance.