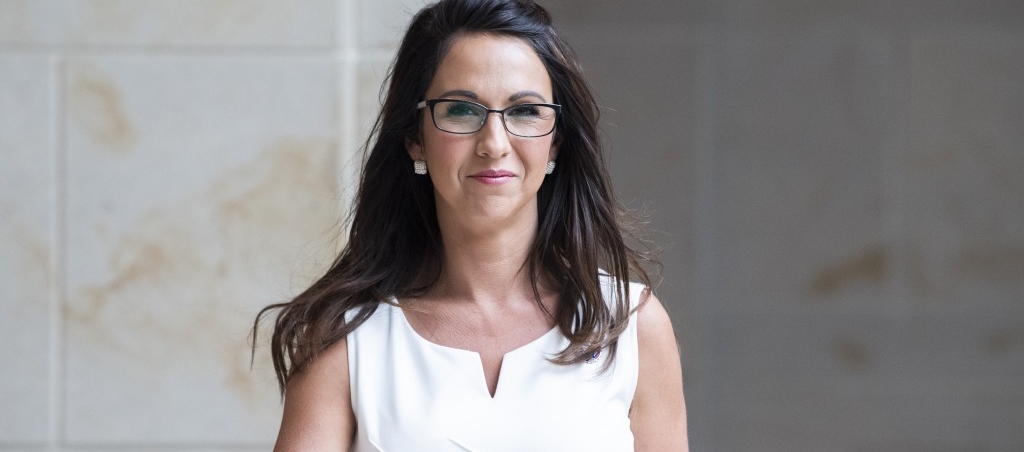 Lauren Boebert is rootin' and tootin' all over her Colorado district lately, and if you wondered if she would enjoy some downtime from almost impressive self owns, you were wrong. She's also back in the same realm where constituents defiantly held a drag story time despite her threats that no one had better do that on her watch.
One of Boebert's "on tour" photos is standing out more than the rest, and this revolves around her bizarre decision to post this photo in the first place. Let's briefly discuss after the image, which speaks volumes on its own.
"Thanks to my amazing team, Pueblo won't see that I accidentally sat on lipstick on the drive down," Boebert tweeted while wearing all white and with a staff member wiping a stain from her tush. "Always an adventure!"
Thanks to my amazing team, Pueblo won't see that I accidentally sat on lipstick on the drive down.

Always an adventure! pic.twitter.com/UY9zkjWqQ8

— Lauren Boebert (@laurenboebert) May 2, 2023
A few questions here: (1) Lipstick? This makes zero sense and feels very transparent, as though Boebert believes that people will not innately know what a red stain on the back of a white skirt means, and seriously, this should not be a big deal. She could have easily covered it up in several ways, including with her favorite accessory: a gun.
"lipstick" – is that what it's called now?

— 𝐂𝐡𝐢𝐝𝐢 (@ChidiNwatu) May 2, 2023
Lipstick. Haha!
That happened to my sister in 7th grade.

— enrich12 (@enrich1212) May 3, 2023
Lipstick? Heard that one before

— Owen Dangel (@OwenDangel4) May 2, 2023
Just tell them your a real woman who gets their period

— Jason413 (@Jason413B) May 3, 2023
Sure… that's your story and your lipsticking to it?

— J Adams (@BigDogSRQ) May 3, 2023
(2) Why did she choose to post this photo at all? If it's an attempt to appear relatable, the lie negates that vibe.
I don't think that is a photo I would share on Social media, but that's just me.

— Mickie (@GriffinTheory) May 3, 2023
Some things don't need to be a photo!

— Stephen Larsen (@StephenLarsen25) May 3, 2023
Probably better not to make yourself go viral…

— 《Eric》 (@lodog1974) May 2, 2023
So, you looked at this moment and somehow in your head, a light-bulb went on: "I should share this moment with the world!" ?

— MagicSquid (@MagicSquid3) May 3, 2023
And then there are even more merciless jokes, including one about literal (rootin' and) tootin.'
Apparently you get confused about which lips the lipstick is applied to

— Jessica M. MSN, FNP-C, CFNP (@Jessicam6946) May 2, 2023
It's kind of like lipstick on a pig metaphorically.

— Dr Phillips resurrected (@DrPhill00657723) May 2, 2023
Lauren Boebert accidentally ate one of her diarrhea sliders and they're cleaning her up

— Cheesy Gordita Brett (@CreampieOrDie) May 2, 2023
Heads must still be shaking. Some photos definitely shouldn't be posted.