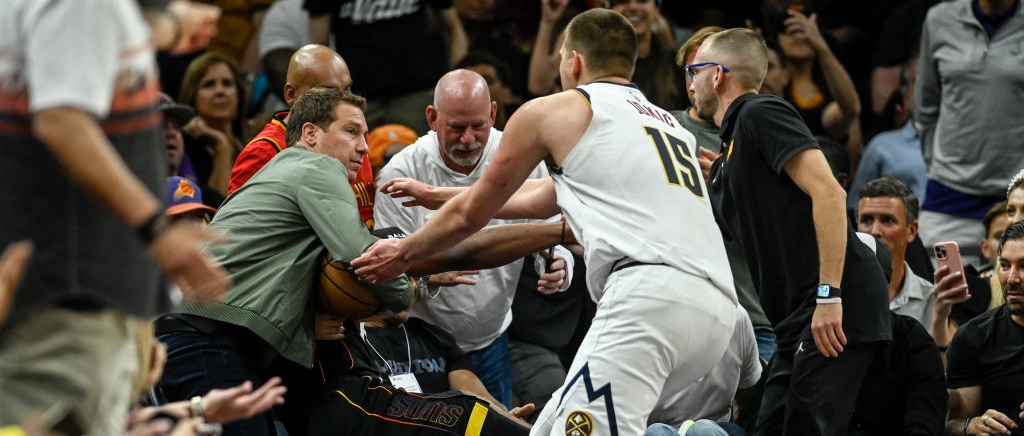 Game 4 between the Suns and Nuggets was a shot-making exhibition between stars on both teams, as Nikola Jokic piled up 53 points for Denver, while Kevin Durant and Devin Booker scored 36 each in a winning effort.
However, within that incredible duel was one of the strangest incidents of the postseason, as Jokic got into it with Suns owner Mat Ishbia after the ball landed in Ishbia's lap and Jokic wanted to quickly get it back in play with Denver having an advantage. The two wrestled over the ball, having it pop into the row behind, and then Jokic gave Ishbia a little shove, which the Suns owner (and former Michigan State player) sold with a flop into his seat.
Jokic got a technical for the shove, as Tony Brothers deemed it a purposeful act, while another fan who reached out to hit Jokic was ejected from courtside. After the game, Jokic and Michael Malone expressed their frustration with the situation, not caring that Ishbia was the owner as that doesn't change the fact that, when seated courtside, he has the same rules as any fan. Jokic thought he should've been kicked out for interfering with the game, noting multiple times he thought the league was supposed to protect players.
On Monday morning, Ishbia released his first statement on the matter, calling for everyone to move on and hoping the league won't do anything else to punish Jokic, as there was talk after the game wondering if a suspension could be on the way.
Great win for the Suns last night in an amazing series so far!
That should be and is the only story. Suspending or fining anyone over last nights incident would not be right. I have alot of respect for Jokic and don't want to see anything like that. Excited for game 5! Go Suns!

— Mat Ishbia (@Mishbia15) May 8, 2023
Hopefully the league heeds Ishbia's advice, as the technical should suffice as punishment for Jokic as neither party is without fault in the incident and it didn't escalate into anything more.