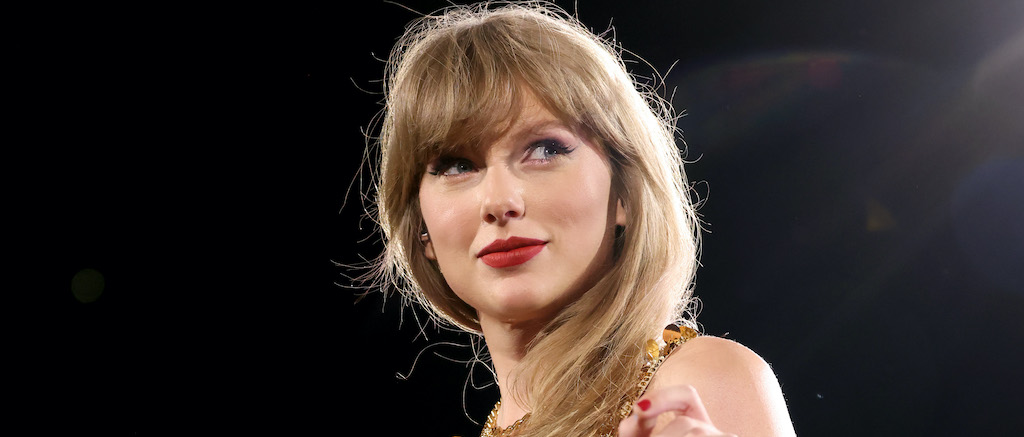 Joe Alwyn is all but a distant memory after Taylor Swift's three The Eras Tour shows in Nashville this weekend.
Following Alwyn and Swift's reported breakup, which Entertainment Tonight first broke on April 8 and People contextualized days later, speculation has steadily been intensifying about with whom Swift has moved on. The 1975's Matty Healy is the leader in the clubhouse after UK tabloid The Sun reported last week that Healy and Swift "are madly in love" and were "ready to go public with their romance" during Swift's Nashville tour stop.
Healy was allegedly spotted at The Eras Tour in Nashville on Friday night, May 5, and he joined Phoebe Bridgers for her opening set on Saturday, May 6.
This morning, Entertainment Tonight dumped lighter fluid on Swifties' collective panic with yet another report on the purported romance.
One anonymous source told the outlet, "Taylor and Matty like each other. Taylor ha a crush on Matty, and they are having a good time hanging out. Matty also thinks Taylor is awesome and incredibly talented, too. They dated briefly in the past."
Another anonymous source added, "Taylor and Matty have been hanging out recently, and Jack Antonoff reconnected them."
Some Swifties are so upset by this that they're blocking Antonoff on Twitter.
Taylor Swift and Matt Healy are dating, so I blocked Jack Antonoff pic.twitter.com/kajN8MN4xE

— Morgan le They (Tayphoebe stan) (@queeri0sity) May 8, 2023
jack antonoff you will pay for your crimes against humanity im so serious

— CLOSED (@ev3rhaze) May 8, 2023
Antonoff has contributed production and songwriting to every Swift album since 2014's 1989, and Swift shared that October's Midnights was "the first album we've done with just the two of us as main collaborators." Antonoff was also one of four producers on The 1975's Being Funny In A Foreign Language album from last October.
Not for nothing, Swift surprised fans at The 1975's O2 Arena tour stop in London this January, and Healy thought so highly of her that he opted against making out with fans in the crowd in her presence, which he'd been doing like clockwork throughout the tour.
None of the involved parties have commented publicly on the swirling rumors — Swift was too busy announcing the July 7 arrival of Speak Now (Taylor's Version) and playing in the pouring rain — but The Eras Tour next hits Lincoln Financial Field in Philadelphia, Pennsylvania from Friday, May 12, to Sunday, May 14, so prepare your magnifying glasses to search for more perceived clues.