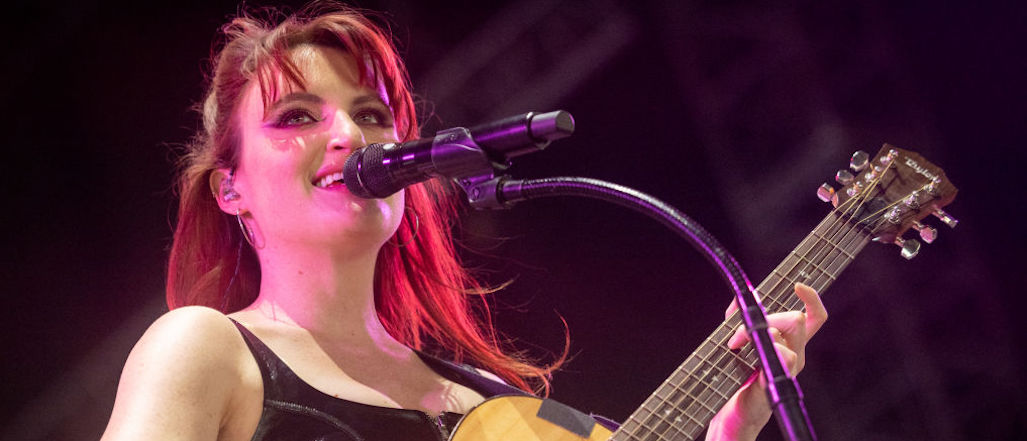 Muna took the stage at NYC's Terminal 5 last night as the band is continuing their Life's So Fun Tour. However, they had a surprise in store for fans during their biggest hit to date when they played "Silk Chiffon" as the final encore.
"Put your hands together for Lorde," lead singer Katie Gavin told the crowd as everyone cheered. Then, none other than Lorde popped out on stage, wearing a blazer and bright red pants. Based on the outfit alone, she was ready to deliver some serious vocals by herself, while the band members danced around on stage.
For the popular "Life's so fun" chorus, Lorde and Gavin also performed the regular guest choreography — the same as Phoebe Bridgers' appearance with Boygenius from Muna's Coachella set. IYKYK.
The magic moment when Lorde joined Muna on stage to perform "Silk Chiffon" pic.twitter.com/0GqIOCoJuE

— Lorde Updates (@LordeUpdatesBR) May 10, 2023
Muna fans, both at the show and online, went absolutely wild over the performance. "NO ONE TALK TO ME FOR 9 BUSINESS DAYS!!!! wtf lorde x muna??? dead," one person wrote.
NO ONE TALK TO ME FOR 9 BUSINESS DAYS!!!! wtf lorde x muna??? dead. pic.twitter.com/kpfhRAFoFD

— josiah | (@jsebregts) May 10, 2023
"Proof that MUNA shows are gay church: Lorde was in the building tonight," another added.
This also brings things full circle in a way, as Muna previously joined Lorde as an opener for the Australian dates of her Solar Power tour. During one particular concert in Adelaide, Lorde invited the band to join her on stage to perform "Kind Of Girl" together.
Check out Lorde's "Silk Chiffon" performance with Muna from last night above. Below, find some more fan reactions.
MUNA getting Lorde to sing Phoebe's part in Silk Chiffon in New York when they toured all over Australia together and didn't do that once… I'm hurt

— cathy (@catherinebouris) May 10, 2023