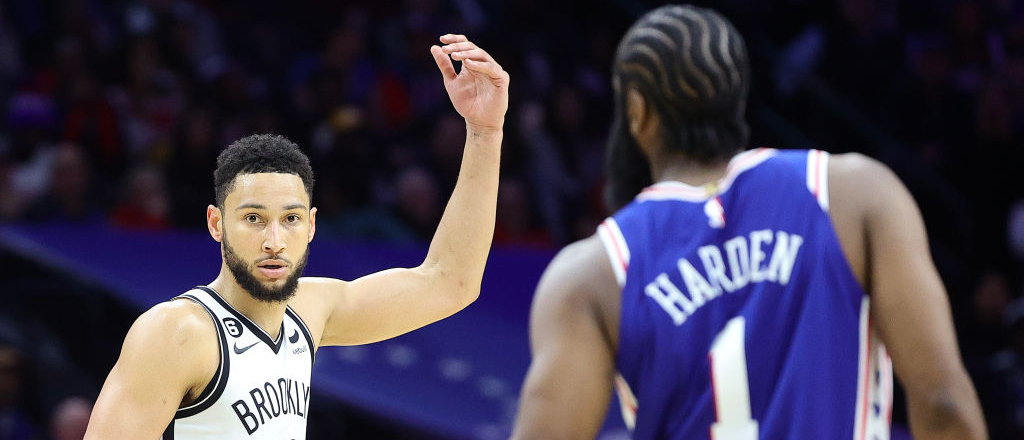 It's been three years since Ben Simmons became the focal point of the Philadelphia 76ers collapse in the conference semifinals against the Atlanta Hawks, with his decision to pass up an open layup becoming the final and defining moment of his tenure in Philly.
After sitting out the start of the following season, Simmons was traded for James Harden, with the Sixers believing pairing Joel Embiid with an elite offensive guard would push Philly into the contender tier. In the two seasons since, Philadelphia has continued to struggle in the postseason, with Sunday bringing a new low point as Jayson Tatum put up a Game 7 record 51 points to help Boston blow out the Sixers, 112-88.
Harden was particularly brutal on Sunday, scoring nine points on 3-of-11 shooting, disappearing in the second half almost completely. Given the Sixers biggest issue with Simmons was his lack of impact on the offense late in games, it has been notable how Harden has not been able to fill that role consistently enough to elevate the Sixers beyond the second round ceiling that seems to exist for them. As the fourth quarter wound down and most non-Celtics fans were changing the channel, there was one man still absolutely dialed in on the action: Ben Simmons.
This is some tremendous trolling from Simmons, who is just cozy as can be on his couch, wrapped in a blanket with a glass of wine, taking in his former team's latest collapse. What makes this funnier, at least to me, is that Simmons has done almost nothing positive for the Nets since being traded, so it's not as though his career is thriving outside Philadelphia. However, that doesn't mean he can't enjoy seeing his former team in the mud right alongside him — in fact, that's what hating is all about — and Sunday clearly brought a bright spot in Simmons' offseason thus far.