There's no worse feeling than getting screwed by an airline. Imagine you planned the perfect escape to Costa Rica to listen to some music. Maybe you carefully budgeted and planned every detail. Nothing can possibly go wrong now (except maybe the whole festival getting canceled?). You hop on a red-eye to Miami to connect to Central America, and then — while devouring some $20 lettuce wrap in the international terminal — the airline announces in a mock-compassionate tone: "Ahhh-ttention passengers of flight 355 with direct service to San Jose, Costa Rica –your flight has been delayed. More information will be shared as it becomes available."
You're stranded. And not because of weather. Now you have to pay for a hotel, more food, transportation, and all the emotional trauma that entails witnessing your hard-earned budget getting pillaged. Well, no more (hopefully! In some cases!). Because last week, President Biden and his Department of Transportation announced new initiatives to protect passengers from bodying the costs of airline incompetence.
Here's what the proposed new rules mean:
NEW LEGISLATION:
According to a White House Statement, the newly proposed legislation will require airlines to cover expenses such as meals, hotels, and rebooking when they are responsible for stranding passengers. Department of Transportation Secretary Pete Buttigieg even stated, "When an airline causes a controllable flight cancellation or delay, passengers should not foot the bill."
Beyond guaranteeing fair compensation, this initiative seeks to define what exactly is a "controllable cancellation/delay." From the looks of it, that seems to include Mechanical errors and overbooking. With respect to overbooking, NBC reported that "after thousands of Southwest Airlines flights were canceled in late December, The Department [investigated] whether company executives scheduled an unrealistic volume of flights, which under federal law is considered an unfair and deceptive practice."
Buttigieg and his department believe holding airlines accountable will help improve their on-time performance. Weather is likely to not be included in this legislation — so hopefully the boundaries of what is considered a weather delay won't be overly malleable.
A TWO-YEAR EFFORT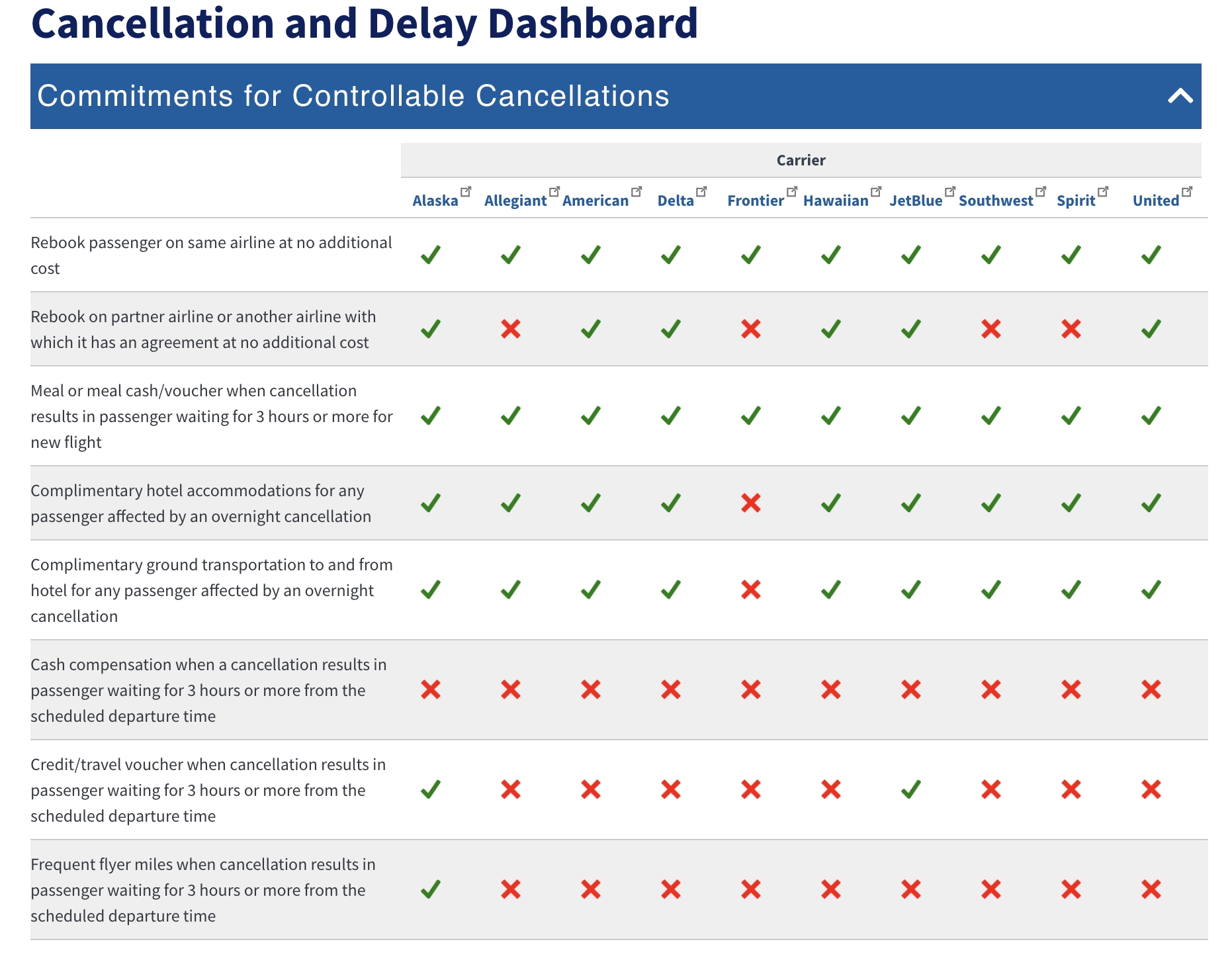 These new initiatives add on to The Department's efforts over the last two years to improve the passenger experience. Last Summer, amid a massive surge in flight cancellations, Buttigieg sent a letter to ten airline CEOs saying "he would publish charts showing which airlines guaranteed compensation for canceled or delayed flights," according to CNN. The response: those ten airlines now promise to provide meals and free rebooking on the same airline, and nine of them even offer hotel accommodations.
You can check out all this information on the Department's Airline Customer Service Dashboard FlightRights.Gov. The Dashboard has also been updated to show which airlines provide cash compensation, travel credits, vouchers, or frequent flyer miles when they mess up and cause flight delays or cancellations. You can also see sneaky junk fees, like which airlines will charge you extra to sit with your kid.
BOTTOM LINE:
Complacency breeds problems and Consumer rights often need to be fought for. Think back to the days when Ralph Nader rallied for cars to include seat belts among other landmark changes. In that spirit, the days of old, scammy airline practices seem to be coming to an end — something the pandemic couldn't pull off — and much more accountability and transparency look to be on the rise.
This comes just in time for what some predict to be a huge surge in summer travel that breaks pre-pandemic travel records. So make sure to know your rights as you plan this summer and enjoy yourself out there on the road. With that said, the laws look like they may take a few months to fully implement.