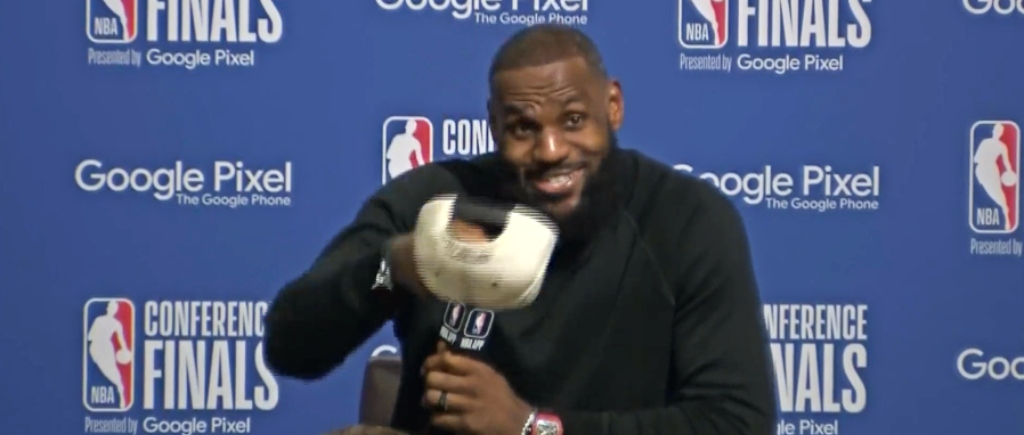 LeBron James put forth an incredible effort in Game 4 against the Nuggets on Monday night, scoring 40 points (31 in the first half) with 10 rebounds and nine assists while playing all 48 minutes, but it was still not enough to get the Lakers a win in the series.
Nikola Jokic and company were just too good in all four games against a competitive, but ultimately outgunned Lakers team. Denver is now headed to the NBA Finals for the first time in franchise history, and after the game LeBron James had some high praise for the Nuggets and their superstar. James called the Nuggets the best team the Lakers have faced in the four years he and Anthony Davis have been together in L.A., and also spoke glowingly of Jokic's game, particularly how even when you do everything right, sometimes it's not enough.
James could only laugh and tip his cap to the two-time MVP for those stepback, one-legged threes that he made with upsetting regularity in the series, including a pair on Monday night — one in the first half to keep them within reach and one in the fourth quarter to push the lead out to six.
This Jokic stepback three pic.twitter.com/HqRRvl4e9a

— NBA TV (@NBATV) May 23, 2023
NIKOLA JOKIC pic.twitter.com/j9LveeLeKB

— NBA TV (@NBATV) May 23, 2023
Those shots are simply demoralizing for the opposition, because there is nothing more you can do. They are 24 seconds of perfect defense that end in a three, and that's a really hard pill to swallow, particularly against a team that creates so many good looks with the crispness of their offense. Still, LeBron knows the only thing you can do is laugh and hope that the next time the shot doesn't fall.
Watching James talk about Jokic, you can see the respect he has for his abilities and intelligence on the basketball court. James would later say he didn't think Jokic got enough credit for what he does mentally on the court, largely because most people don't understand everything he does, "but I do…he's special."