Unofficial summer is about to begin, which means you and everyone you know are scouring Google Flights, requesting PTO, and getting the group chat on board for a getaway. Travel, according to AAA, is expected to reach pre-pandemic levels this Memorial Day weekend with nearly 42.3 million Americans expected to hit the road. With anticipated increases in nearly every sector of travel this season — from air travel to road trips to cruises to even travel by bus – it's time to decide on an itinerary and start making those plans.
National Park trips are, at this point, an obvious choice for summer travel — whether as part of a longer road trip or while visiting a nearby city. Many parks have experienced explosive increases in visitation over the past several years due to social media coverage and a greater cultural emphasis on getting outdoors. And if you've been considering it for yourself, there is no better time than summer to get into America's wild spaces.
But with over 400 National Park units and 63 Major National Parks, many of which now require reservations or timed entry tickets, it can be daunting to decide which park is right for your summer vacay. That's where I come in.
As a seasoned solo traveler, I have visited nearly every major US National Park over the past several years, many of them multiple times and in all seasons – so I have some opinions. And as someone who also spent over a decade as a math teacher – I like to quantify. So I took an inordinate amount of time to rank and re-rank my top 15 National Parks for summer travel in 2023.*
*While, of course, there is no "best" National Park, as they are all collectively America's Best Idea – there are some that lend themselves to a particular season or type of traveler more easily. At the end of the day, personal preferences are always going to be just that, constantly in flux and based on our values.
METHODOLOGY:
This is unscientific, to be sure, but there are some general considerations I thought about beyond, just, like, "what do I like?" Access to all attractions was the major pillar of my decision-making and ranking – many parks are much too warm to visit comfortably in the summer, while many other parks are only partially open throughout much of the year except in the summer months.
All of the top five parks on this list have roads that do not open until the spring if not even later in the summer months. So while it may not be the sexiest reason, road closures and opening dates played a key role in my rankings because, in my opinion, to get the full experience you have to visit those parks when everything is open.
Beyond accessibility due to weather, I thought about parks that offered an array of traditional summer activities – especially in water. Lakes you can jump in, rivers to float, and beaches to lounge on were all important considerations. That being said, many of the parks on this list aren't on the coast, or an island (despite there being many park units that fit the bill.) While summer vacation may mean tropical beach vacation for many of us, those parks and beaches are generally accessible year-round – and feel much more invigorating to visit in winter than in summer.
Anyways, on to the good stuff. Here are my rankings for the top 15 National Parks for summer travel in 2023:
15 – ACADIA – MAINE
Acadia National Park, in Bar Harbor Maine, is of course known for fall travel. And while I agree that seeing the vibrant changing fall foliage of New England is a bucket list experience, after visiting this park in summer and fall – summer wins, by a long shot. The temperature in summer is still mild in the mid 70's most days – perfect for camping in the park, spending time on Sand Beach, and visiting outer islands by watercraft.
Lobster rolls also just taste better in the summer. I don't make the rules.
WHAT TO DO:
Be sure to grab a timed entry reservation to drive to the summit of Cadillac Mountain (sunrise or sunset preferably). Bike the carriage roads, with a stop at Jordan Pond to hike around the water and stop for popovers (and maybe some champagne) at Jordan Pond House. Hike the Ocean Path Trail then relax or get in the water at Sand Beach before heading over to the less crowded Schoodic Peninsula.
WHERE TO STAY:
There are a lot of options around Acadia and Mount Deseret Island, from camping to short-term rentals, glamping, and RV sites. I prefer to stay in one of the quaint bed and breakfasts that dot Bar Harbor for a bit of old-timey New England charm and walkability to the sweet downtown area.
14 – BRYCE CANYON – UTAH
You may be surprised that only one of the "Mighty 5" National Parks in Utah made the rankings, but that's not an indication of their quality or visit-worthiness. It's just that summer in Utah is hot – extremely hot. Even dangerously hot. But Bryce Canyon – with most of the park between 8,000 and 9,000 ft elevation – is unique from its Utah neighbors in that it's slightly cooler.
Spend the day hiking in the hoodoos before taking a scenic drive – all roads and trails should be melted and dry, perfect for a summer adventure.
WHAT TO DO:
Hike into another world at Bryce Canyon National Park. Mossy Cave Trail is easy and gorgeous, while the popular and more moderate Queens Garden and Navajo Loop are truly otherworldly. Spend time on the rim and the Bryce Amphitheater, drive the Southern Scenic Drive and spend time in the park at night for some impressive stargazing.
WHERE TO STAY:
There are several motel and hotel accommodations around the park entrance but I stayed at the slightly more upscale Stone Canyon Inn during my last trip to Bryce – and it was lovely. I also recommend Yonder Escalante, while it's slightly further from the park, it's right in the middle of a triangle of outdoor adventure: Bryce Canyon National Park, Kodachrome Basin State Park, and Grand Staircase-Escalante National Monument.
13 – KENAI FJORDS – ALASKA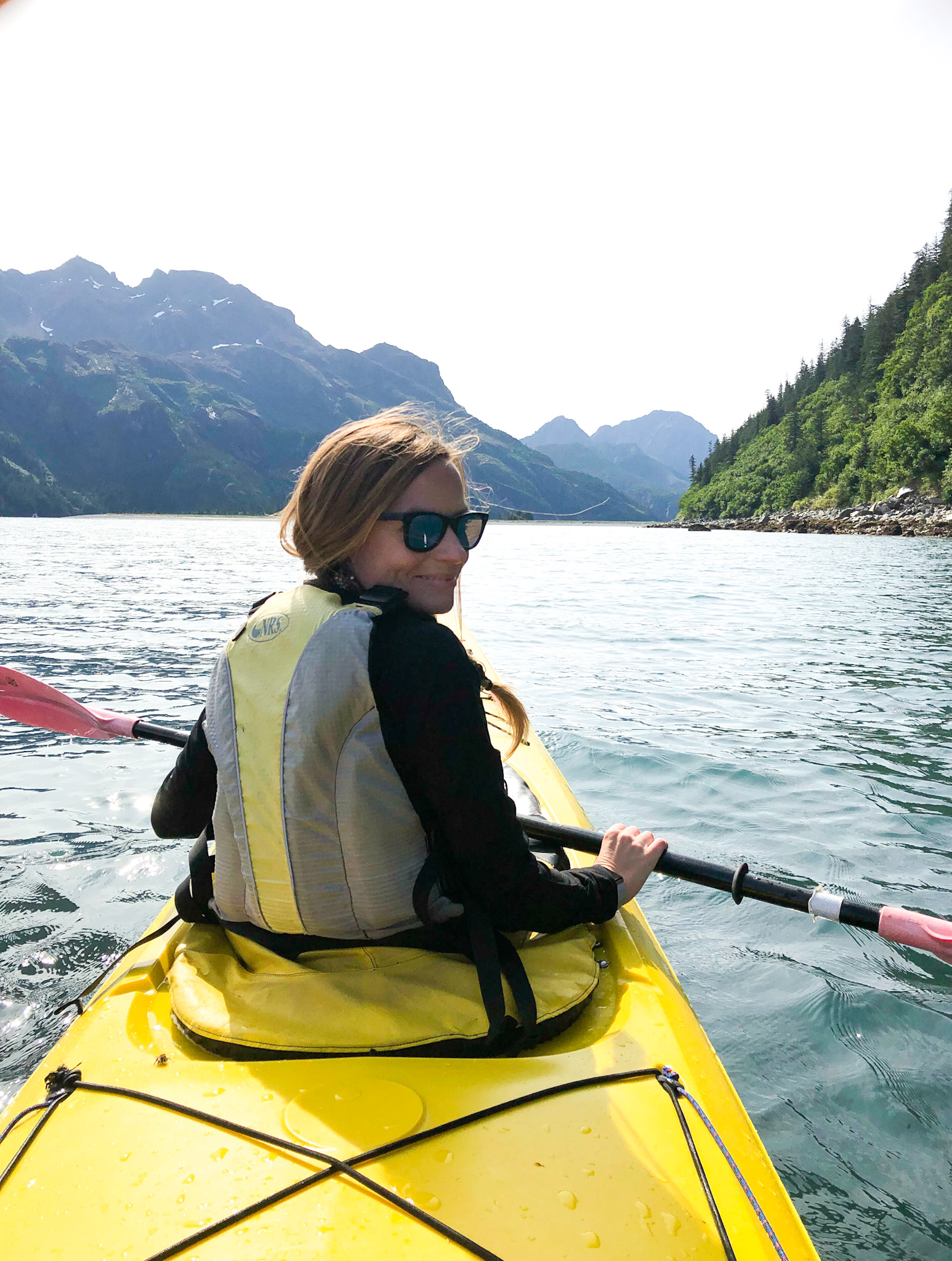 This is a slightly less known park than many others on this list, but it is perfect for summer travel. While generally speaking, all of Alaska's impressive eight National Parks are best visited in the summer months, Kenai Fjords really stands out. With more than 150 lakes and ponds in the park that also protects 545 miles of incredible and rugged Pacific Coastline, it truly comes alive in the warmer summer months.
Home to the Harding Icefield on the Kenai Peninsula, nearly 40 glaciers are flowing in the park – albeit shrinking. Wildlife abounds whether you're hiking a Glacier, taking a boat tour, or kayaking the fjords – all best or only possible during the summer months.
WHAT TO DO:
You'll want to get out on the water at Kenai Fjords. Take a boat tour around Kenai Fjords and Ressurection Bay for a front-row seat to impressive glaciers and lots of wildlife. There are boats departing every day from the harbor in Seward during the summer months. For more of an adventure, get into a kayak (with a guide) and explore the Kenai Fjords coastline. Hikers can get up close and personal with glaciers by hiking the relatively easy Exit Glacier trail or the much more strenuous Harding Ice Field Trail.
WHERE TO STAY:
Kenai Fjords is in close to Seward, possibly my favorite town in Alaska. Camp in a van or RV on the banks of the peninsula to enjoy the midnight sun with a view.
12 – YELLOWSTONE – WYOMING/MONTANA
You might be surprised that Yellowstone is just out of the top 10 parks for summer travel. As the United States' first "National Park" it has always been the classic example of parks and the stereotypical family summer outdoor road-trip destination. And it deserves a visit, for sure – with its geothermal features, wildlife, and vast open landscape it's completely otherworldy and a sight to see for yourself. But it's also very crowded, with good reason.
So while I recommend it, it's not on the top of my list. The best way to travel to Yellowstone in the summer, in my opinion, is to base yourself in the nearby Grand Teton National Park and dedicate a day to exploring Yellowstone.
WHAT TO DO:
The touristy things at Yellowstone are that way for a reason, so I recommend hitting up all of the popular spots you've seen in photos. Hike up Fairy Falls for a great view of Grand Prismatic Spring, explore the boardwalks in the West Thumb area, and enjoy the scenic drive to the Grand Canyon of the Yellowstone. And of course, no trip would be complete without a visit to Old Faithful, which famously erupts around 20 times a day, and is still one of my favorite things to witness – crowds be damned.
Pro-tip: grab a drink in Old Faithful Inn and watch the eruption from above on the public balcony.
WHERE TO STAY:
You have a lot of options near Yellowstone, as it's long been a tourist area. I generally stay closer to Grand Teton south of the park or in West Yellowstone. If you're going for a bucket list trip, try to snag a room at the Old Faithful Inn.
11 – GLACIER BAY — ALASKA
The great majority of people who travel into Glacier Bay do so by cruise ship, with the park service granting two permits per day to ships. And while it is possible to go independently, you'll likely end up taking a boat out anyway as the action is on the water in this park. With majestic glaciers and towering peaks, it is something to be seen and is best seen from the water.
As you can imagine, cruise ships and other boat tours don't open up until late April or into May – making it prime season to visit this extremely impressive park – however, you choose to do so.
WHAT TO DO:
Grab your binoculars and head out to watch some calving glaciers if you're on a ship. Visit Bartlett Cove if you're not – it's the only developed area in the park with some trails, kayak rentals, a campground, and a visitor center.
WHERE TO STAY:
Your options are limited here. You can stay on a cruise ship – I enjoyed sailing on the Norwegian Bliss – or at Bartlett Cove Campground or Glacier Bay Lodge.
10 – VOYAGEURS — MINNESOTA
Voyageurs is nearly 40% water, so you can imagine why I chose it to round out the top ten on this list. With most of the park only accessible by watercraft in the summer or snowmobiles in the winter – boats are going to win out every time. Spend time boating, kayaking, fishing, hiking, camping, or staying at an old historic hotel on the border of the United States and Canada at this lesser-visited and truly remarkable National Park.
WHAT TO DO:
You need to get on the water during a visit to Voyageurs National Park. Whether by tour boat, fishing boat, kayak, or canoe – that's where the action is. Make stops at Kettle Falls and Ellsworth Rock Gardens before hiking Blind Ash Bay Trail or Echo Bay Trail.
WHERE TO STAY:
You can camp at Voyageurs on several islands that are all, obviously, only accessible by watercraft. For a real step back in time and a solid roof over your head, stay at the Kettle Falls Hotel, an over 100-year-old historic lodge within the park that is 13 miles from the nearest road between Namakan and Rainy Lake. Kettle Falls Hotels' tagline is "tough place to get to… but well worth it once you get there" and I can only agree.
9 – YOSEMITE – CALIFORNIA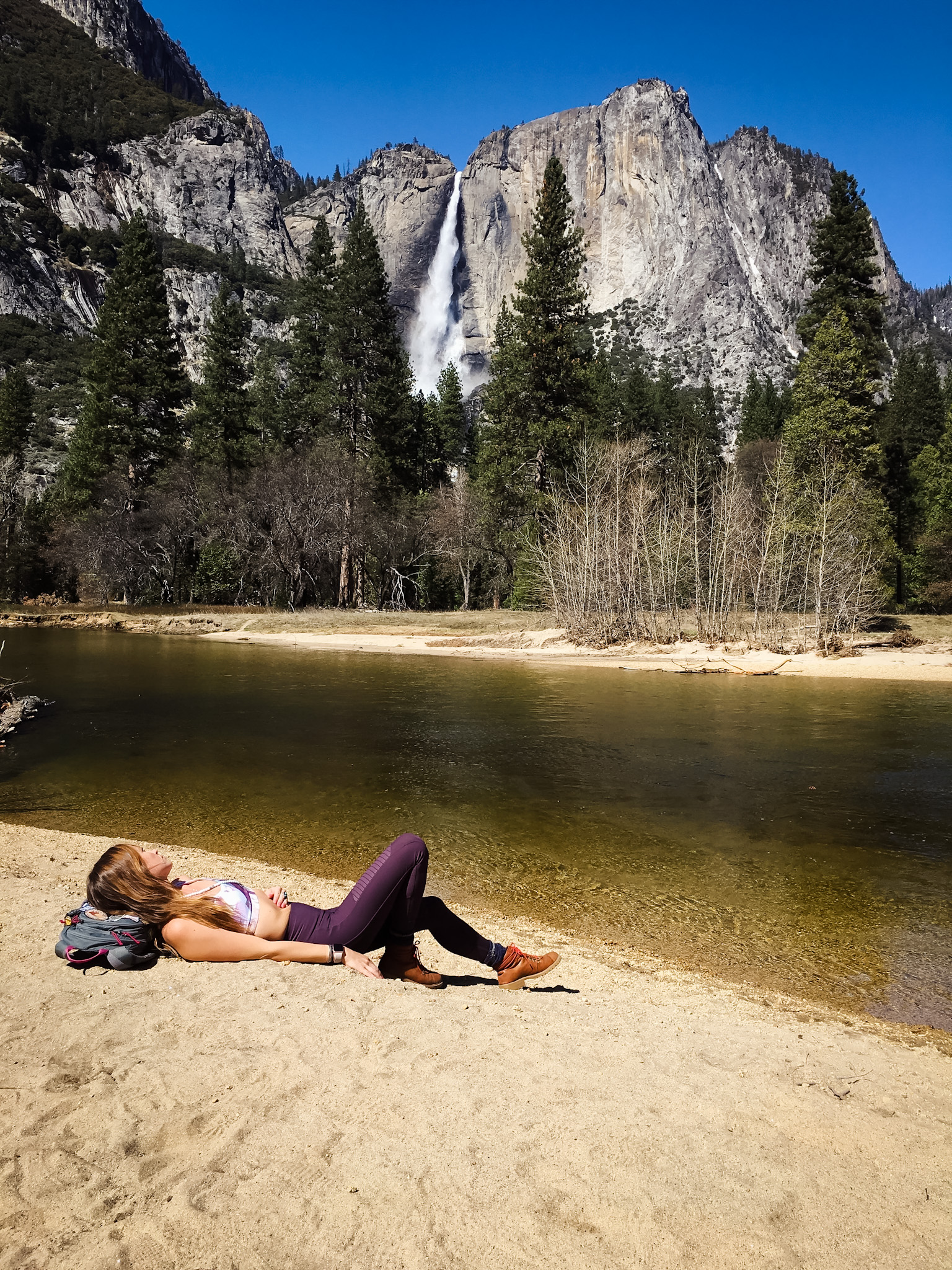 Is there ever a bad time to visit Yosemite? Probably not, but summer is something special. With warm temperatures in the 80s and even 90s, better access to trails, the chance to float the Merced River, and the reopening of Glacier Point Road in July – it's legendary for a reason.
If you're adventurous, summer is the time you're able to score a permit to hike Half Dome (after the cables go up in late May or early June), and with the reservation system a thing of the past at Yosemite, you can visit with somewhat less hassle. Because while number nine is nothing to scoff at, Yosemite only did not rank higher on my list due to crowds.
Be prepared to gawk at the granite cliffs with hundreds of new friends. But fear not, it's still worth it.
WHAT TO DO:
Yosemite is an outdoor lovers' playground, with plenty of options regardless of your level of physical preparation. Nab a permit to hike Half Dome if you dare, float the Merced River, bike in Yosemite Valley, or just enjoy a picnic and dip on the sandy beaches of the river.
WHERE TO STAY:
Like many of the parks on this list, there are a lot of hotel and motel options near Yosemite, with a new and trendy glamping spot popping up seemingly every week. But when I visit I tend to always stick to what I know and love, the Sierra Sky Ranch. It has an interesting history, great rooms, and friendly staff, and it's just ten miles from the southern entrance of the park – closer than any of the traditional chains.
8 – OLYMPIC – WASHINGTON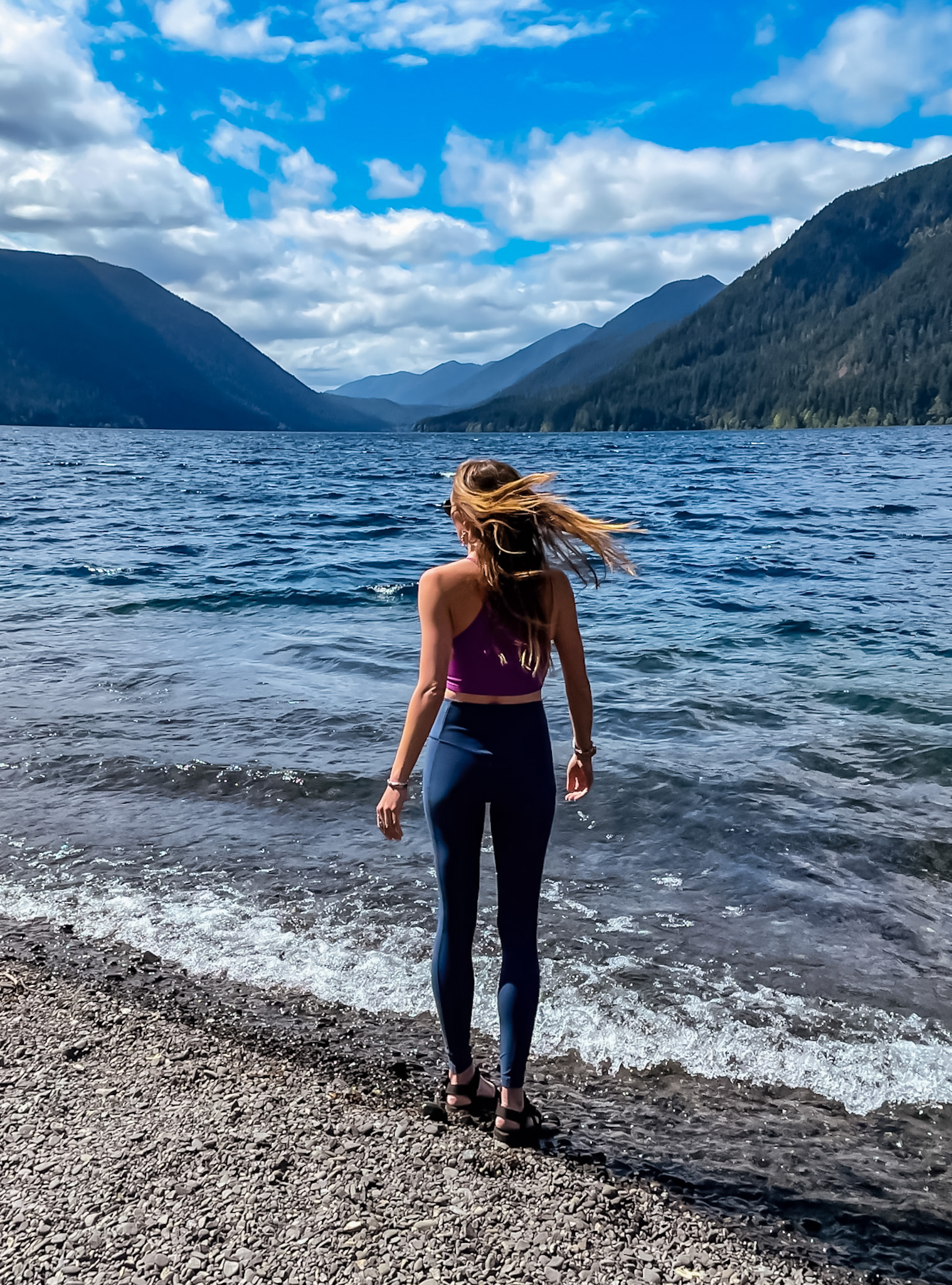 To be fair, I would probably add Olympic National Park to any "Best of" Park ranking, regardless of the season or topic – because it's that unbelievable. It's been my old faithful since my first visit. The diversity of experiences can't be beaten — with rainforests, mountains, lakes, and beaches all within one 1,442-square-foot peninsula.
Why summer? A few more specific reasons. First, the beaches! While the beaches on the coast of the Olympic Peninsula are not ever going to be of the SoCal tanning and swimming variety, the lakes are great for hitting the water before heading to the coast for sunset. And second, the weather! The weather is mild in the summer months and also has the lowest average rainfall – something that matters in the Pacific Northwest.
WHAT TO DO:
Olympic National Park is incredibly diverse, and I'd recommend trying to experience as much of that diversity as you can on a visit. Visit Hurricane Ridge, the Hoh Rainforest, the Sol Duc Valley, and at least one of the park's stunning beaches (I love Rialto). Mount Storm King is a very popular and scenic hike, along with Marymere Falls, and the Hall of Mosses Trail in the Hoh Rainforest area.
WHERE TO STAY:
Several small towns on the Olympic Peninsula have hotels and short-term rentals. Port Angeles is great for visiting Hurricane Ridge, just remember your passport to take the ferry over to Victoria. And Forks is great, especially if you're into Twilight. I think the clutch move if you can, is to stay at one of the Olympic Park Lodges – they are some of the best. Lake Crescent Lodge is quaint and in a stunning location, Kalaloch Lodge is cozy, and Lake Quinault Lodge on the West Penninsula is stately and grand.
7 – NEW RIVER GORGE – WEST VIRGINIA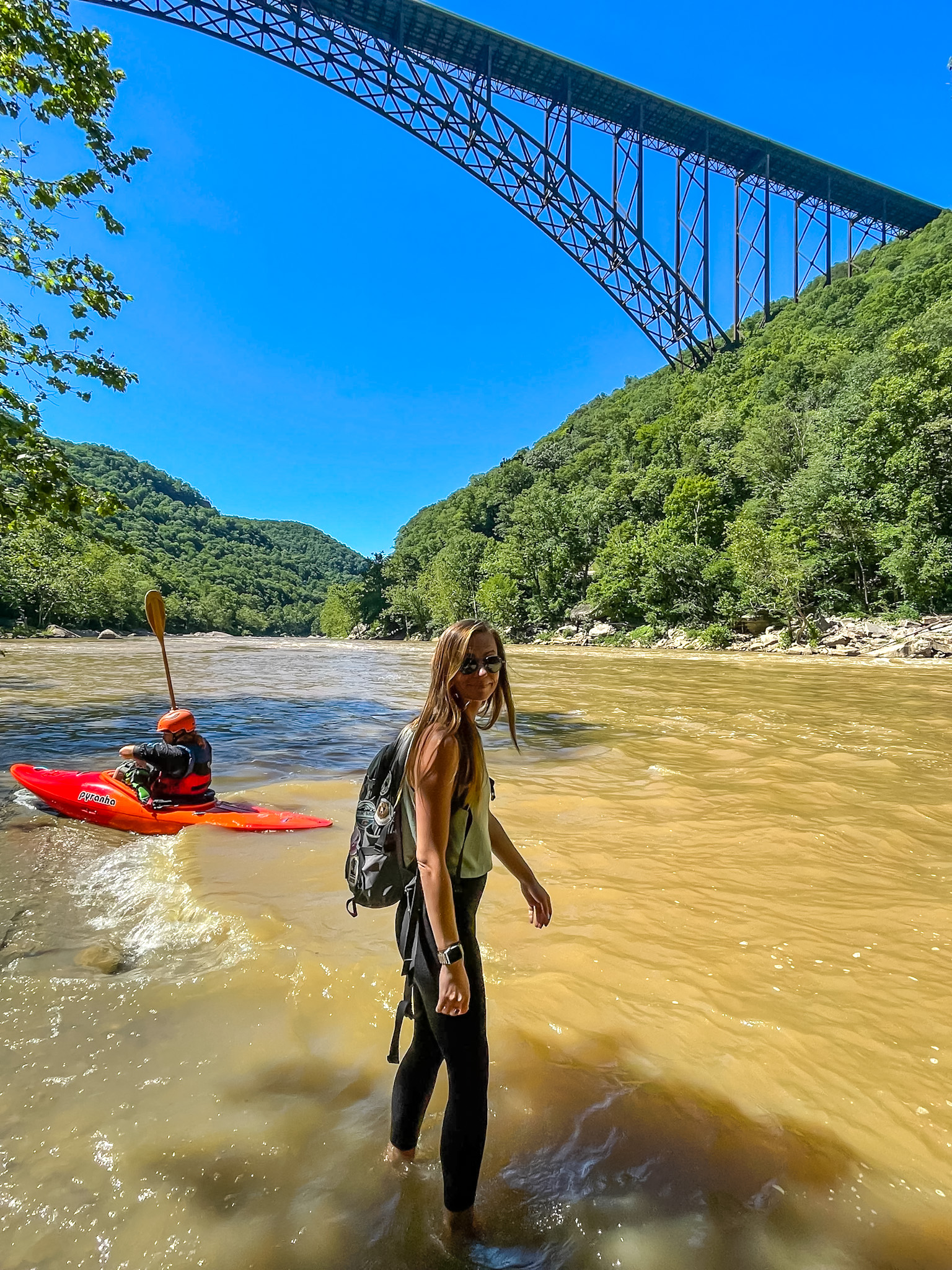 As the newest major National Park in the United States, New River Gorge is still a bit of a mystery to many park travelers. Located in West Virginia, the "Grand Canyon of the East" is in a prime location for summer getaways – with two-thirds of the population of the United States reportedly living within a day's drive of the park.
But proximity isn't the only reason it scores so high on this list – it's also because of the rafting. While Gauley Season on the nearby Gauley River is in the fall, summer is the perfect time to adventure down the New River. The outdoor, climbing, biking, and rafting culture is very prominent in Fayetteville near the park, and a summer visit allows you to experience it all.
WHAT TO DO:
I was surprised at how diverse New River Gorge is, and by how many varied activities were possible. If you only have a short time, be sure to drive the 7.5-mile Fayette Station Road that takes you down to the river and under the iconic New River Gorge Bridge. Take some hikes – I recommend Endless Wall and Longpoint Trail. Then raft the New River, bike Arrowhead Trails, or climb one of the over 1,400 established rock climbs.
WHERE TO STAY:
If you're planning to stay in Fayetteville I'd recommend booking a cabin, campsite, or safari tent at River Expeditions in nearby Oak Hill. You can head out on your whitewater adventure right from your doorstep, enjoy the zipline, and head to the on-site bar and grill to relax at the end of your day.
6 – MOUNT RAINIER – WASHINGTON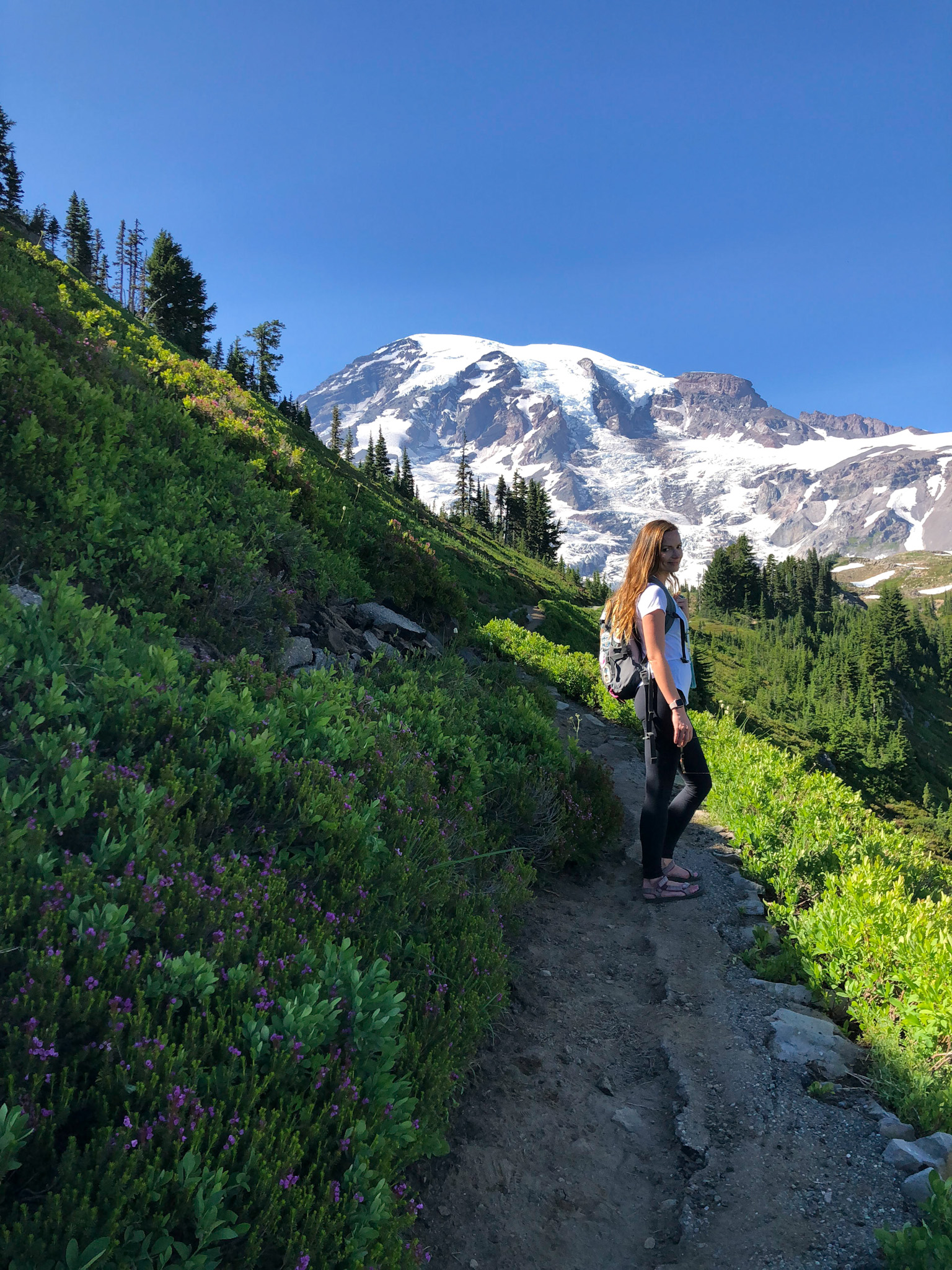 Mount Rainier is a showstopper, as anyone who has been within its view can attest to. The looming 14,411-foot mountain is massive, rising from the land around it like something out of another world.
While I have visited and enjoyed the park in many seasons, summer takes the cake. With several of the park roads not opening back up for the season until late May or into June, you'll have much more access by planning a trip after Memorial Day. Besides that, the park is incredibly vibrant as most of the snow melts, with green forests and colorful wildflowers that are unlike anything I've seen. Prime wildflower season is generally starting in mid-July and reaches nearly perfect-fairytale status in August.
WHAT TO DO:
Mount Rainier has some incredible hiking trails. I recommend the Skyline Trail, Mt. Fremont Lookout, and Pinnacle Peak. Be sure to explore Paradise (during wildflower season if possible), the Grove of the Patriarchs, and the Carbon River Rainforest Trail.
WHERE TO STAY:
The Mount Rainier area is chock full of gorgeous cabins ready for short-term rentals. My dream stay would be inside the park at the historic Paradise Inn.
5 – ROCKY MOUNTAIN – COLORADO
Rocky Mountain National Park is a classic. With the awe-inspiring Rocky Mountains towering up all around you, wildlife passing by at every turn, and tons of trails to crystal blue lakes, it is what many travelers think of when they think of "National Park." While the park understandably becomes much more crowded in the summer months, with a timed entry system in place, it is still firmly near the top of the list for summer National Park getaways.
With wildflowers making their debut, mild temperatures ranging from the 70s to the occasional '80s, and Trail Ridge Road – the 48-mile highway that reaches elevations of 12,183 ft – that is only open to vehicles around Memorial Day weekend each year, summer is an ideal season to experience this always impressive natural wonder.
WHAT TO DO:
First, you'll want to be sure you nab a timed entry ticket to the park that includes the Bear Lake Corridor. I'd recommend doing some hikes from the Bear Lake area (Emerald Lake is a classic) and then driving Trail Ridge Road to the Alpine Visitor Center.
WHERE TO STAY:
Estes Park on the Eastern side of the park and Grand Lake on the West side are both quaint, small-town tourist towns with plenty of cabins and hotels to stay in. I recommend Grand Lake Lodge in Grand Lake for the views and ambiance, and the historic Stanley Hotel (which inspired The Shining) in Estes Park for glam with a side of paranormal.
4 – DENALI – ALASKA
Denali National Park is truly a bucket list destination. Home to the 20,310 ft Denali – the highest mountain in North America — it is a dream for many a traveler. The entire road to Denali doesn't open to buses until June 8, and to truly see the park and Denali itself you have to take a bus. There are generally no passenger cars allowed past mile 15 of the 92-mile road and no other way in unless you decide to hike or do some flightseeing.
Summer is also when the weather is best, the park is fully operational, and wildflowers are blooming with abandon. I hate cliches but truly, you have to see it to believe it.
WHAT TO DO:
The first thing you need to do when planning a trip to Denali is decide which bus trip you want to take. Anything after mile 15 of the 92-mile road is only accessible on a Denali Park bus tour – and that's where the action is. Due to a landslide, the road is closed through 2024 at mile 43, but you'll want to get as close to it as you can. Choose a transit bus you can hop on or off, or a narrated tour bus. Hike Triple Lakes Trail, around Mountain Vista and Savage River, or off-trail – it is encouraged at Denali as there are very few formal trails.
WHERE TO STAY:
RV or van life is the move when you visit Denali or take any road trip around Alaska. Unlike many other states, Alaska, for the most part, has no laws against sleeping overnight at rest areas and on highway pullouts, so you'll see RVs and vans dotting the road every night. There are also tons of developed RV and campsites catering to the road warriors among us – which in Alaska feels like most people.
3 – NORTH CASCADES – WASHINGTON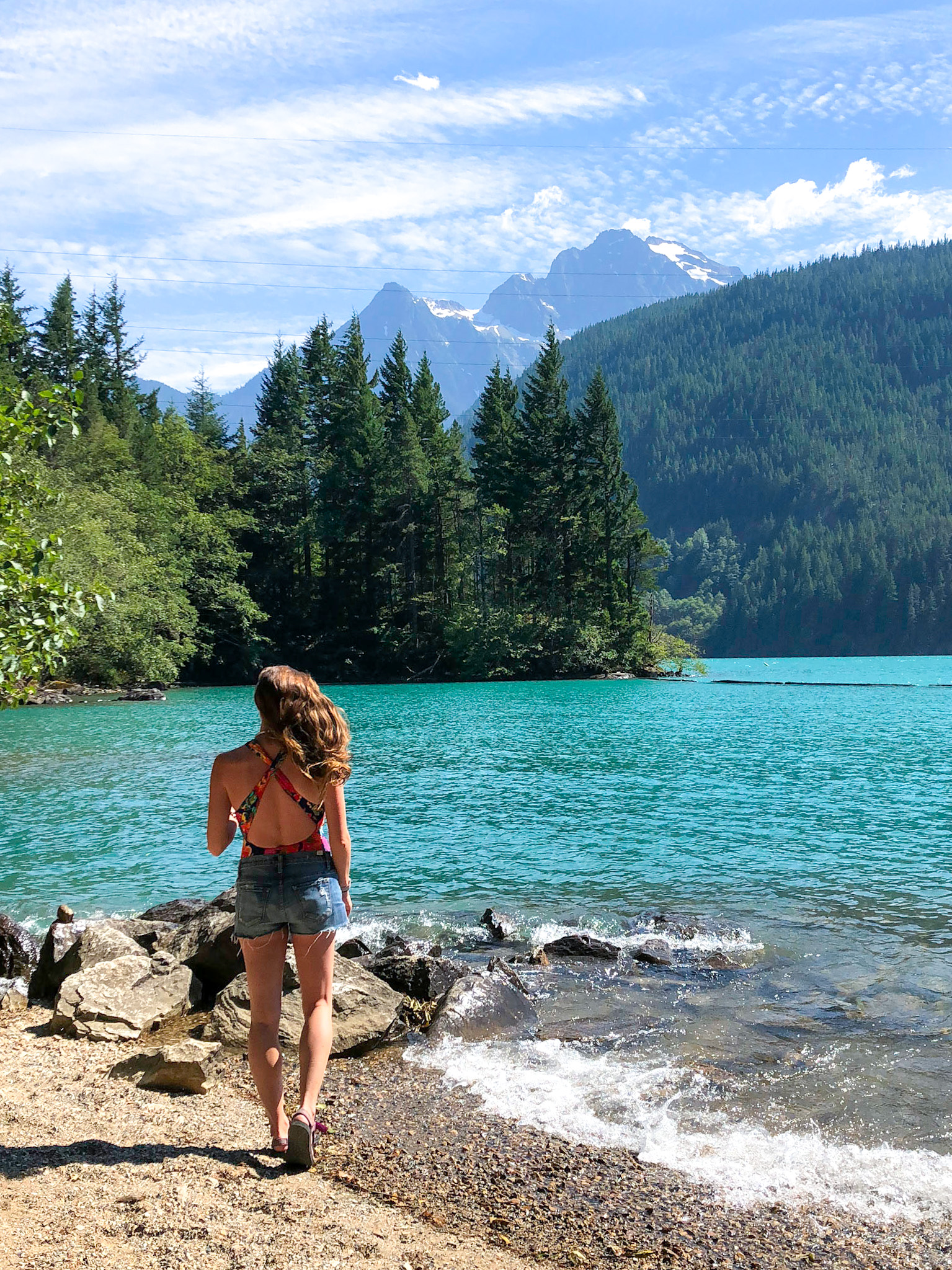 North Cascades National Park makes frequent appearances on "Least Visited National Park" and "Most Underrated National Park" lists – while also somehow being on many "Best National Park" lists like this one. Why, you may wonder? Well, despite its proximity to Seattle it doesn't see nearly the amount of visitation as the other Washington parks, at least in part due to access. Yep, there it is again, more seasonal road closures. Highway 20 or the North Cascades Highway is one of the few maintained roads through the park, and its operational season doesn't begin until sometime in May of each year.
But it is well worth the wait. This park is extraordinary, to put it simply. With the monstrous peaks, blue lakes, and somewhat limited access that leads to more solitude – it is a summer adventurers' paradise.
WHAT TO DO:
North Cascades is a hiker's dream. Try Blue Lake Trail, Maple Pass Loop, or Cascade Pass. Drive up to the Diablo Lake Overlook along Highway 20 and then head down to canoe, kayak, and take a cold plunge in the jaw-dropping (and tooth-chattering) turquoise waters.
WHERE TO STAY:
I like to camp in North Cascades! All campgrounds in the park will be open by the end of May 2023 and I can't imagine waking up anywhere else than in this natural paradise. There are hike-in, drive-in, and boat-in campgrounds, many of which can be reserved on recreation.gov. A great off-the-ground option is Ross Lake Resort.
2 – GLACIER – MONTANA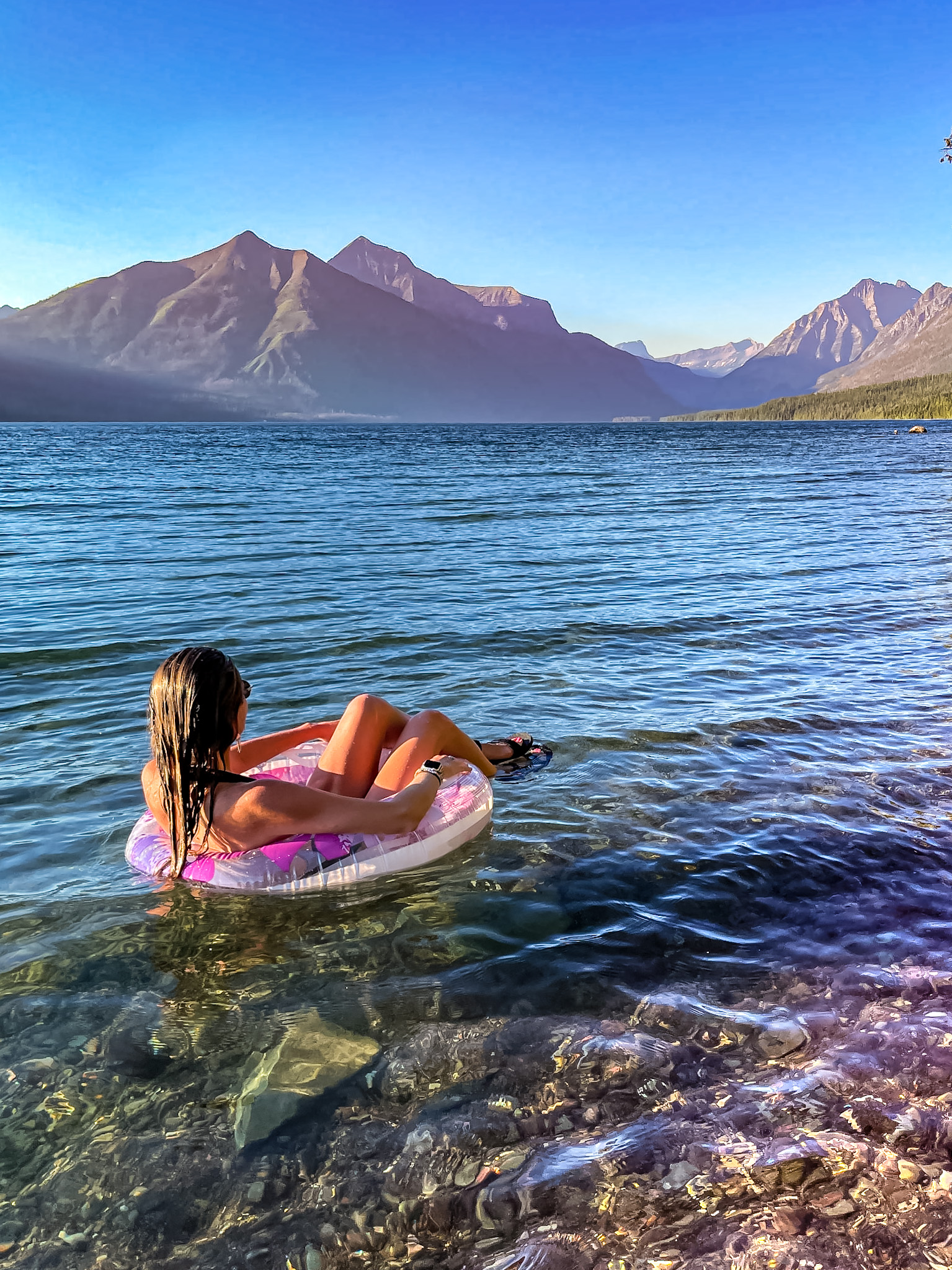 Glacier National Park is, cheesy or overused as it may sound, truly one of those places you have to experience at least once. From the nearly 50-mile Going-To-The-Sun Road to Lake McDonald, St. Mary, Many Glacier, North Fork, and Two Medicine, entering this park is like stepping into a dream. All those platitudes about feeling small, well, whoever came up with them was probably hiking Glacier's Highline Trail.
Why summer? Well, it is the only time to access much of the park. With the breathtaking Going-To-The-Sun Road only partially opened at the end of May and generally not fully open over Logan Pass until early July – summer is where the action is. And while all of the parks is gorgeous, with its remote location and difficulty of traveling to, I wouldn't make a first trip there unless I could see as much as possible (including mountain goats – just keep your distance).
WHAT TO DO:
First and foremost, you'll need a reservation to do much at Glacier this summer between 6 am and 3 pm. A batch of reservations is released four months in advance and another portion 24 hours in advance on recreation.gov. You'll need separate reservations for different entrances of the park. After securing those, I'd spend a day (or more) driving, stopping, and hiking along Going-To-The-Sun Road, take a dip in Lake McDonald, and head out to Many Glacier to hike Grinnell Glacier Trail.
WHERE TO STAY:
Opt to camp within the park or head to one of the iconic Glacier National Park Lodges. I loved my stay at Glacier Park Lodge in East Glacier, with updated rooms it was the first hotel built by the Great Northern Railway. Other iconic options are Many Glacier Hotel and Lake McDonald Lodge.
1 – GRAND TETON – WYOMING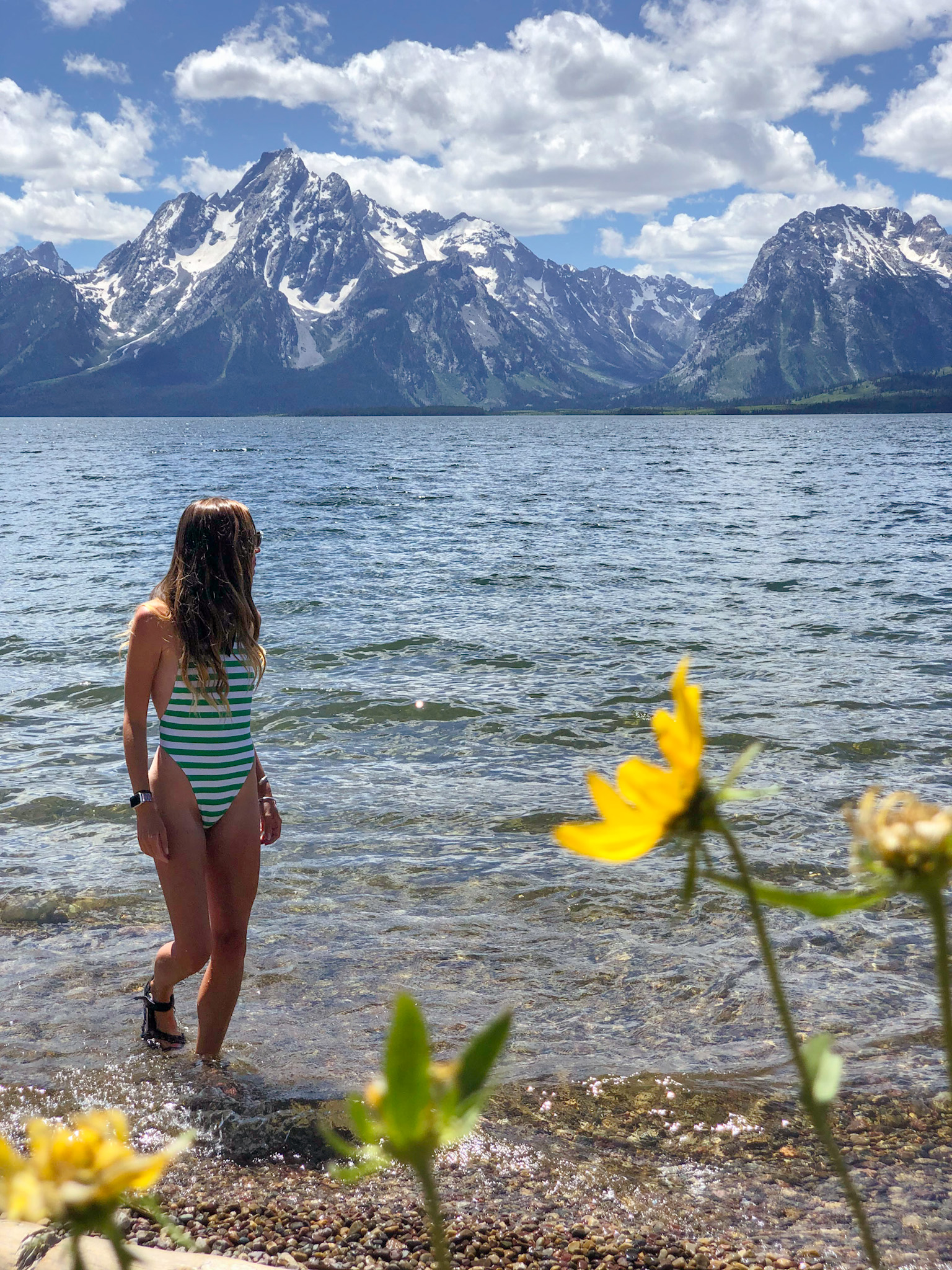 How do you choose a number 1 park when quite nearly your entire life revolves around National Parks? It must be like choosing a favorite child, or so I'm told. But since my first visit to Grant Teton National Park in Wyoming, I knew it would always top the list. Fifty-nine major parks later and nearly a dozen visits to Grand Teton I am only more steadfast in my belief that it is the best park for summer travel, period. With wildflowers, towering jagged peaks, proximity to Jackson, wildlife, and lakes on lakes on lakes – it doesn't get any better than this.
Teton Park Road – the park's main thoroughfare – is closed to cars until May and many lakes are still frozen until the same period. Meaning that summer is the time to get the best bang for your buck. You can swim, hike, SUP, camp and get some pizza and beer here in the spectacular summer months when the temperature averages a perfect 77 degrees.
WHAT TO DO:
What can't you do here? I always spend a good portion of my trips to the park swimming in Jackson Lake, hiking one of the many incredible trails (try Cascade Canyon or Taggart Lake), rafting the Snake River, and of course, enjoying some vino with the sunset at camp or lakeside (try String Lake).
WHERE TO STAY:
I always recommend camping to visitors of Grand Teton, as it's the best way to see the park at all hours and has enough amenities for even a novice. Reservations are required at all park campsites on recreation.gov (I recommend Colter Bay). If camping isn't your speed, Jackson is nearby with a plethora of luxurious hotel options (I recommend Hotel Terra). For the slightly more budget conscious who want a solid floor and a bed frame, head to the other side of Teton Pass and check out AirBnbs in Victor, Driggs, and Tetonia Idaho.