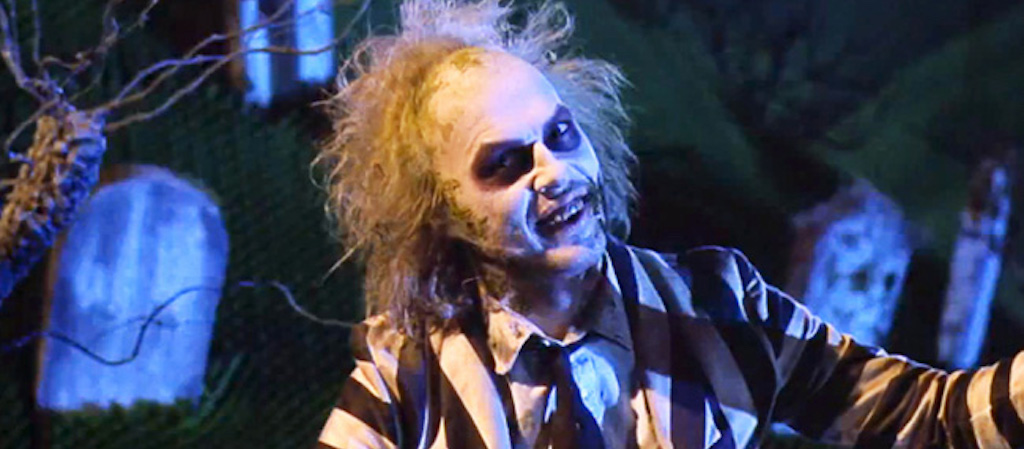 The original Beetlejuice was made long before computers all but took over Hollywood. It's a special effects-heavy movie, but those f/x are all practical: elaborate costumes, over-the-top sets, stop-motion animation, matte paintings, people lip-synching to Harry Belafonte. Can a movie even be made like that in 2023? Sounds like they're trying with the sequel.
In a new interview with Empire (as caught by The Hollywood Reporter), Michael Keaton gushes about not only returning to one of his more iconic roles, but doing so with the same lovingly handmade approach. At the very least it sounds like reuniting with Tim Burton has been a blast.
"Beetlejuice is the most f*ckin' fun you can have working. It's so fun, it's so great. And you know what it is? We're doing it exactly like we did the first movie," Keaton gushed. For example: "There's a woman in the great waiting room for the afterlife literally with a fishing line – I want people to know this because I love it – tugging on the tail of a cat to make it move."
Keaton said he and Burton had been talking about doing the sequel for ages, but with one major caveat: "We both agreed, if it happens, it has to be done as close to the way we made it the first time. Making stuff up, making stuff happen, improvising and riffing, but literally handmade stuff like people creating things with their hands and building something."
Seems like they're pulling it off. He calls the shoot, now in progress, "F*ckin' great. It's the most fun I've had working on a movie in I can't tell you how long."
Mind you, Keaton was talking about Beetlejuice 2 while doing press for The Flash, in which he returns to another role he originated in a Tim Burton picture: the 1989 Batman. That film saw Keaton going from a mostly comic actor to the Dark Knight — a bit of outside-the-box casting that inspired Mark Hamill to try out for the animated version of one of Bruce Wayne's main nemeses, the Joker.