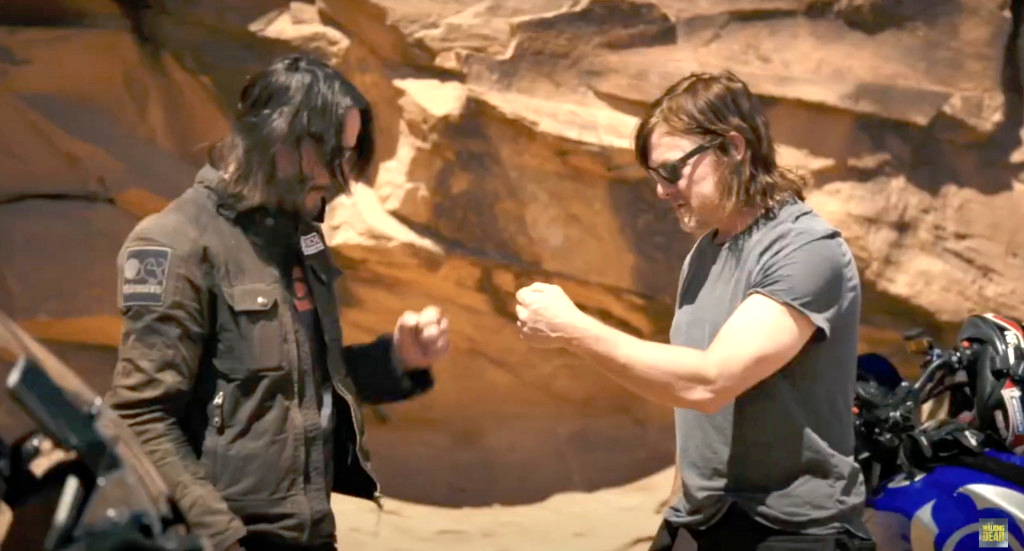 Fall shall soon be here, but September might still make you want to hide inside from all the natural disasters plaguing the world these days. That's highly understandable, and fortunately, TV is streaming up a storm of new and returning shows for you after Justified: City Primeval moseys off into the sunset and while Hulu's Only Murders In The Building continues to unravel the leading trio's latest homicidal mystery.
This month, some crowd favorites return with Daryl Dixon making his already-renewed debut in a The Walking Dead spinoff (also, Keanu Reeves will take a Ride with Norman Reedus). The Boys will introduce the Gen V offshoot for a dose of satiric mayhem, and 50 Cent throws his latest punch with the return of Power Book IV: Force. From there, a John Wick prequel series will paint a portrait of that assassin society's earlier days, and keep your eyes open for The Other Black Girl to f*ck with some preconceptions.
Here are the must see shows for September.
The Wheel of Time: Season 2 (Amazon Prime series streaming 9/1)
Fantasy lit lovers turned out for the first season of this Rosamund Pike-starring series, boosting it to the top three of most-watched Amazon Original series thus far. The sprawling series is based upon Robert Jordan's bestselling novel series that follows a world where only choice women can access magic (man, Elon Musk would be so mad). Pike stars as Moiraine, who hails from the all-powerful Aes Sedai organization. Under her guidance, the prophesied Dragon Reborn is destined to appear and either save humanity or crush it.
Power Book IV: Force: Season 2 (Starz series returning 9/1)
Do you have to watch Power before heading into Book IV? We've got you covered on that front, and long story short, it's a good idea to watch the first Power (with Book II and Book III being optional) to see necessary background context of Tommy Egan. This season picks up with him descending upon Chicago on his way to California. However, he gets deterred by the Windy City's drug game, and you can probably guess that this distracts him for awhile.
The Changeling: Season 1 (Apple TV+ series streaming 9/8)
LaKeith Stanfield heads into the horror realm in this adaptation of Victor LaValle's acclaimed novel. The show promises to be a grown-up fairytale begins in a New York City library and heads into a version of the Big Apple that usually remains closed from human eyes. It's also a parenthood fable, and yes, it truly feels like the scariest horror stories often revolve around kids, whether they happen to be good or evil. Given Stanfield's ability to showcase the surreal in various other projects, one can bet that this quality adds to the spooks in this series.
The Walking Dead: Daryl Dixon: Season 1 (AMC series streaming 9/10 on AMC+)
Daryl, the only one to receive a solo spinoff here, will soon awaken in France without an inkling of how he arrived there and without Dog by his side. Norman Reedus' unwashed hero will soon embark on a new kind of journey, one where he has no motorcycle, but at least a pistol crossbow finally materialized in previews. That weapon of choice might be the only thing that makes sense about this series yet, although I will say that this looks like an unmissable attempt to shake up this franchise with one of its most beloved boos at the helm. We'll get to see Melissa McBride's Carol at some point, too.
Ride with Norman Reedus: Season 6 (AMC series streaming 9/10 on AMC+)
Sunday nights will soon be Daryl nights, and Norman Reedus isn't letting go of his audience after only one hour. Instead, he will ride "through the otherworldy landscapes" of Utah with Keanu Reeves before reuniting with a The Walking Dead co-star at Talladega Superspeedway. If you end up adoring this travel-reality show, be sure to also fire up Colman Domingo's food-reality show, Bottomless Brunch At Colman's. Yum.
Welcome to Wrexham: Season 2 (FX series returning 9/12)
Who said it would never last? Screw 'em. Here comes match two from the Ryan Reynolds and Rob McElhenney series that follows them buying Wrexham A.F.C. football club and not knowing what the hell to do. Will this end up being the ultimate underdog story or a crash course that also transforms a community, or both? The 5th tier Red Dragons are into it, and their new owners are committed while giving the world a new team to root for.
The Morning Show: Season 3 (Apple TV+ series streaming 9/13)
One of Apple TV+'s flagship series is still kicking, and within those confines would be Reese Witherspoon's brash co-anchor (Bradley Jackson) alongside the more mainstream-friendly counterpart portrayed by Jennifer Aniston (as Alex Levy). Billy Crudup will return as the show's Kermit The Frog, and this season, the very future of this network might be in jeopardy due to a tech titan on the scene. Dude, those billionaires cannot resist turning into chaos agents, so expect alliances and truths to morph before the leading ladies' eyes.
The Other Black Girl: Season 1 (Hulu series streaming 9/13)
Seriously, watch this trailer. This is not a fluffy little comedy, as you'll quickly see. The story is based upon Zakiya Dalila Harris' NYT best-selling novel about an editorial assistant is who is overjoyed to no longer be the "only Black girl" at her work place. However, the novelty of newcomer Hazel quickly fades when it becomes apparent that sinister (and possibly supernatural) vibes are going down. Rashida Jones executive produces this story that takes on tokenization and racial identity in America. Girls, watch out!
The Continental: Season 1 (Peacock series streaming 9/22)
This three-part series does not seem likely to feature a Keanu Reeves cameo as suggested years ago. For one thing, well, John Wick 4 ended in a certain way, but additionally, this story takes place in the 1970s, long before Wick's most pivotal pup was even born. As such, this spinoff will focus on the earlier days of the franchise's assassin-welcoming hotel, where Colin Woodell portrays Winston, who's attempting to do his day job and also navigate the hellish underbelly (and this hotel's particular underworld) of the era's New York City. If you're not into the Mel Gibson aspect of this prequel, then perhaps Katie McGrath can still sway you as The Adjudicator.
Gen V: Season 1 (Amazon Prime series streaming 9/29)
As the world waits to find out how The Boys will follow up on "Herogasm," this franchise will take us to the place where Supes are weeded out for their chance to ultimately join The Seven. Introducing Godolkin University, where a Homelander statue will inspire all who undertake the challenge of competing with their fellow hormonal Supes. Expect this series to embrace the raunch factor of the original show with that same patented blend of humor and heart. The series stars Jaz Sinclair as a budding Supe who can "explode his d*ck," as the above teaser promises. There might be some surprise cameos along the way, but definitely plan on seeing Jessie T. Usher's A-Train and Colby Minifie's Ashley, who might very well go insane one day while attempting to control Vought International's outward image despite the collateral damage involved.