Denim Tears Founder Tremaine Emory has officially left his role as creative director at Supreme, citing "systemic racial issues the company has" as his primary reason for departing the brand. The news first broke Tuesday morning after Complex reported that sources had told the publication that Supreme's Fall/Winter 2023 collection would be the last under Emory's creative direction, though at the time a reason for the departure had not been disclosed.
As covered in a subsequent report from Complex, this morning Business of Fashion published an article — based on a copy of Emory's resignation letter they had acquired — stating that Emory's exit revolved around senior management's "inability" to provide "full visibility" on the reasons behind the alleged cancellation of an upcoming collaboration with the visual artist Arthur Jafa, something that brought Emory a great deal of distress and led to his belief that "systematic racism" within the brand was to blame.
A statement provided by Supreme to BoF said that the brand "strongly" disagrees with Emory's characterization of the company. After the reports by both Complex and BoF, Emory took to his Instagram account to clear the air on the specifics behind his departure and share the receipts of his conversations with Supreme's higher-ups, pushing back on brand's statement calling it a "lie to hide the systemic racism that lies deep within Supreme and almost all white Owned corporations."
What Happened?
Emory, who was installed as Supreme's first creative director in February of this year, claims on his personal Instagram that he had resigned weeks ago, writing that he had "fought tooth and nail into the 25th hour with C suite of Supreme to align with them on a statement to the press explaining that I left Supreme because of systemic racial issues the company," citing both the collaboration with Arthur Jafa and the "make up of the design studio that has less than 10% minorities working when the brand is largely based off black culture."
Emory states that he could not "align on a statement" that didn't cite "systemic racism" and says he was asked to tell Complex "a racist incident didn't happen and if they report that we can't put out a statement with you because that will be the story." Something Emory refused to do.
What Sparked The Resignation?
In a subsequent post, Emory shared a screenshot of a conversation he had with Supreme founder James Jebbia, writing "The Tuesday after I resigned James Jebbia pulled up to my crib and we talked about why I resigned." The screenshot appears to show that Jebbia and Emory parted on good terms. Emory writes in the Instagram caption"
James admitted he should have talked to me about canceling images from the Jafa collaboration because one of the few black employees (who ironically has quite Supreme before I did partially because of his treatment due to systemic issues by Supreme… his words not mine) in the design studio didn't think that we should be putting out this collaboration because of the depiction of black men being hung and the freed slave Gordon pictured with his whip lashes on his back. James agreed there should have been discourse about the project with me being that I was the creative director and I'm black.
Fair point, it's hard to see why Supreme would make a decision to cut a collection without speaking with its creative director — though Supreme claims the Arthur Jafa collection has not actually been canceled in its statement to BoF.
Here again, Emory pushes back — claiming that Supreme's statement in the BoF article was a lie intended to hide the systemic racism "that lies deep within Supreme," and that he wanted to "work with Supreme to change these things and instead… told I was racially charged, emotional, and using the wrong forum by bringing up systemic racism in a meeting when I was asked if we should work with a black female artist whilst this Jafa project was secretly shutdown without anyone talking to me."
Writing point blank that "That's why" he resigned from his role. Emory claims that Jebbia agreed with his points and says he's going to "change Supreme… He's gotta stand on what he said to me and the whole C suite and head of design gotta stand on what was said."
What's Next?
Emory's tenure with Supreme may be over, but the designer will continue the work he started with his label Denim Tears, a brand that has made a name for itself with its unique use of storytelling revolving around and highlighting the African diaspora. Emory once referred to Denim Tears as "Supreme for Black people," in a 2020 interview with RSVP Gallery.
We imagine this will have a major effect on Supreme going forward, the brand has been waning in influence since it was acquired by VF Corp in 2020, and losing its first creative director over allegations of systemic racism ingrained in the company culture… is not a good look for the brand. Its recent Spring/Summer 2022 and Fall/Winter 2022 collections, the first headed by Emory, represented a return to form for the brand in the opinion of many fans of the label.
Still, Emory's work with Supreme, as well as his decision to support the yet-unseen Jafa collaboration, isn't without its criticism. Many on Instagram pushed back against Emory's accusations against the label, one fan under the name "Velassic" wrote, "I'm a fan of Tremaine, but I think he should've kept that collab, imagery and story for his own Denim Tears brand that's more centered around those themes, realistically Supreme has no business telling that story and profiting off it."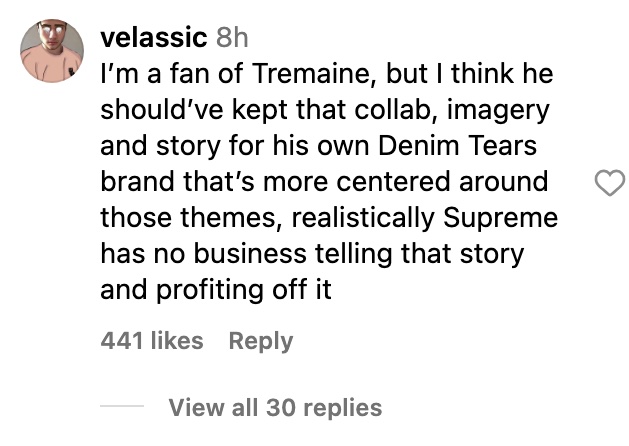 Another, Bbasedjane" wrote, "I'm sorry but you need to sit down and critically examine why you thought it was a good or 'radical' idea to sell images of black bodies being hung and whipped on clothing items that will be mostly worn by white people… racism is readily present in all aspects of this world, especially corporate settings, so I will not deny that you endured hardships during your tenure… that aside, this collaboration sounded like a terrible idea and I'm proud of that other black employee who found the courage to push back on its release."
For now, Emory seems done sharing his side of the story regarding Supreme, in his latest post, he released images from his upcoming Denim Tears release, writing "Anyway back to the program…"
Tremaine Emory's impact and popularity are unlikely to be negatively impacted by his departure — the designer has launched successful collaborations with the likes of Stüssy, Dior, Converse, Asics, Levis, and READYMADE, to name just a few. His skill and acumen aren't up for debate. How Supreme recovers from losing its first creative director, accusations of systemic racism, and its overall faltering cultural relevance remains to be seen.