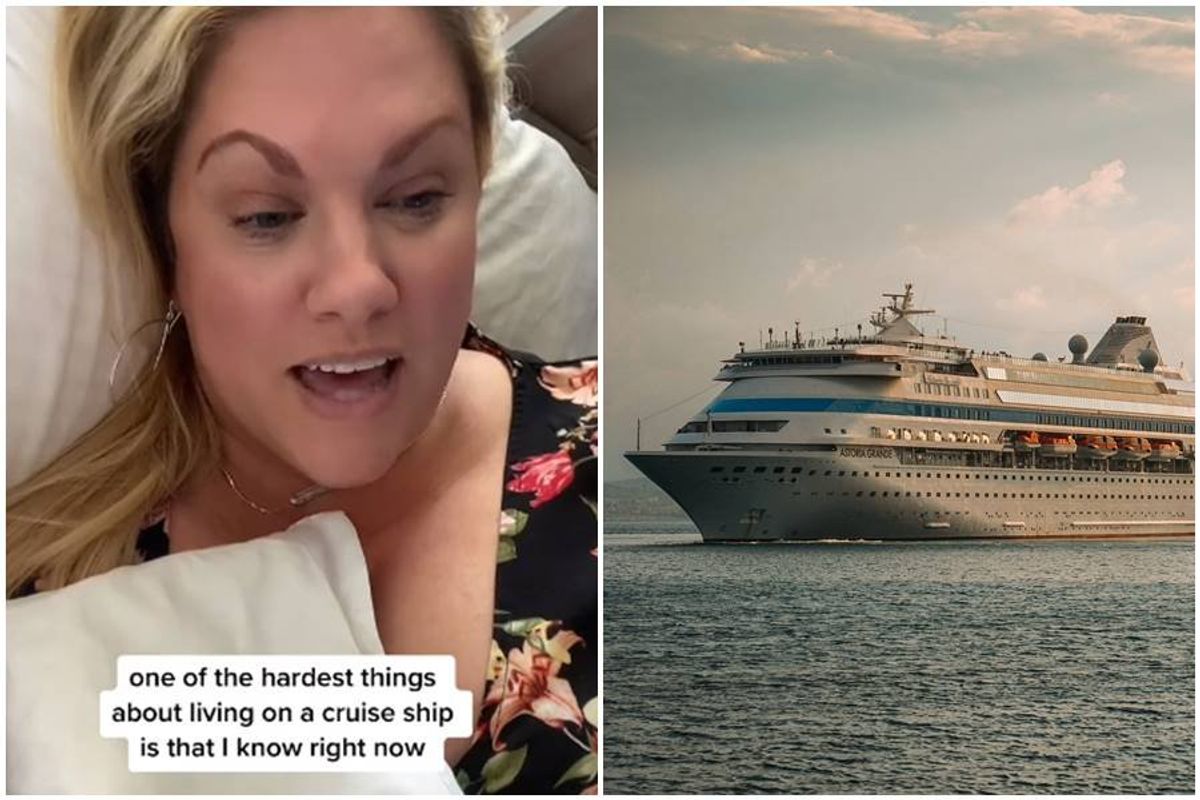 A lot of folks would love to trade lives with Christine Kesteloo. Her husband is the Chief Engineer on a cruise ship, so she gets to live on the boat pretty much for free as the "wife on board." For Christine, life is a lot like living on a permanent vacation.
"I live on a cruise ship for half the year with my husband, and it's often as glamorous as it sounds," she told Insider. "After all, I don't cook, clean, make my bed, do laundry or pay for food."
Living an all-inclusive lifestyle seems like paradise, but it has some drawbacks. Having access to all-you-can-eat food all day long can really have an effect on one's waistline. Kesteloo admits that living on a cruise ship takes a lot of self-discipline because the temptation is always right under her nose.
---
"One of the hardest things about living on a cruise ship is that I know right now, if I just leave my cabin, I can go and have cookies, pizza, a shake, I could have anything I wanted, and I want it, I absolutely want it," she said in a TikTok video that received over 400,000 views.
@dutchworld_americangirl

The hardest part about living on a cruise ship is that I am surrounded by free food all of the time anything I want I just had lunch but it's 2 o'clock in my body tells me it's either cookie time or time for a hamburger. The hardest part is telling myself not to eat. #hardestpart #cruiseship #livingatsea #koningsdam #weliveonacruiseship #cruisefoodie #foodtok #itsaproblem #halcruises #hollandamericaline
"I am laying here. It is 2 pm. I had a salad for lunch, I had some fresh fruit, but that didn't fill me up," she continued. "Right now, all I can think about is eating a burger with some French fries and some mayonnaise."
"And that, folks, is the absolute hardest part about living on a cruise ship," she said. "I am surrounded by food all the time."
She added, "The hardest part is telling myself not to eat."
Kesteloo's trouble is a common problem among people on cruise ships. A study by Admiral Travel Insurance found that over 60% of people who go on a week-long cruise anticipate gaining weight. Seventeen percent of people say they gain 2 to 3 pounds on a cruise, while 14% say they gain 4 to 5 pounds.
Other estimates show that the average cruiser will put on 5 to 10 pounds on a weeklong cruise. Imagine living on a cruise ship for half the year, like Kesteloo. She could quickly put on 100 pounds a year if she's not careful.
"I'd be huge if I lived there. I would feel like I'm on a constant vacation, and who diets on vacation?" Theresa Gramelsapcker-Wilson wrote in the comments.
"This is my main reason why I couldn't do this HHAHAHAHAHAA," Cara Mia added.
"I never thought about those who actually live on a cruise ship. I would be 500 pounds," Lucky Penny2468 said.
Kesteloo's battle with temptation shows that in every life, a little rain must fall. Nobody ever truly has it perfect. Kesteloo seems to be living the perfect life on board a cruise ship, but she still has to fight temptation every moment of the day or make good use of the ship's gym facilities. But, obviously, having access to too much food is far better than having too little.