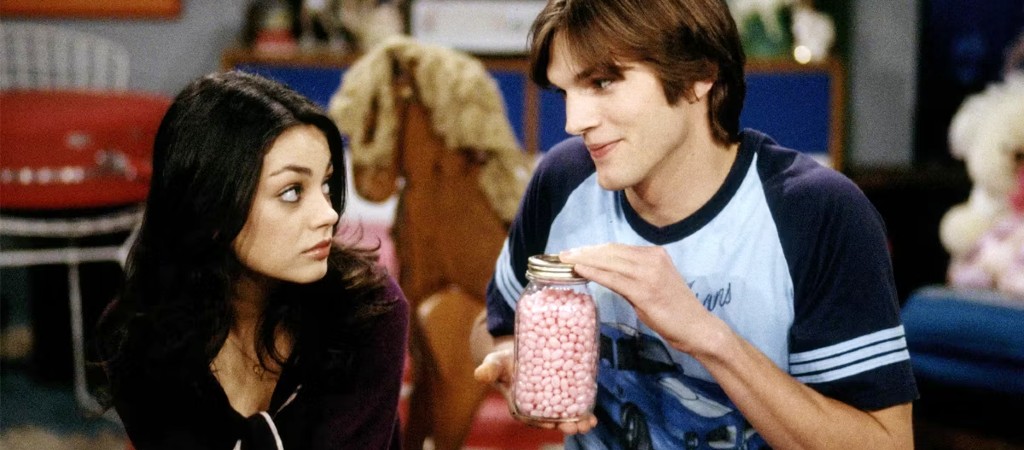 Last week actor Danny Masterson was sentenced to 30 years in prison on two counts of rape by force or fear. Afterwards it emerged that some of his fellow That '70s Show alumni, including Mila Kunis and Ashton Kutcher, had written "letters of support" for their former castmate, in which they called him "exceptional" and an "extraordinarily honest and intentional human being." Many were horrified that they would throw their weight behind someone charged with multiple cases of sexual assault. On Saturday the two went into damage control.
In a video posted on Instagram, Kunis and Kutcher said they were "aware of the pain" the letters had caused people.
"We support victims," Kunis said. "We have done this historically through our work and will continue to do so in the future."
"A couple months ago, Danny's family reached out to us and they asked us to write character letters to represent the person that we knew for 25 years, so that the judge could take that into full consideration, relative to the sentencing," Kutcher explained.
"The letters were not written to question the legitimacy of the judicial system or the validity of the jury's ruling," Kunis continued.
"They were intended for the judge to read and not to undermine the testimony of the victims or re-traumatize them in any way. We would never want to do that, and we are sorry if that has taken place," Kutcher said.
Kunis concluded by saying, "Our hearts go out to every single person who's ever been a victim of sexual assault, sexual abuse or rape."
Their response, however, to some did not mollify the situation. Some criticized what they called the "heavily lawyered language" they deployed.
Ashton Kutcher and Mila Kunis just posted this video, with heavily lawyered language, in response to the reaction to their writing letters on behalf of Danny Masterson.

It's important to note that the letters weren't just character letters you'd write for a friend.

The… pic.twitter.com/DegzlcNXXv

— Yashar Ali (@yashar) September 9, 2023
One of the women Masterson was convicted of raping allegedly called it "insulting and hurtful."
Jane Doe #1 aka Jen B, one of the women Danny Masterson was convicted of raping, just texted me her reaction to Ashton Kutcher and Mila Kunis' video:

"This video was incredibly insulting and hurtful. My hope is that they learn radical accountability and the importance of… https://t.co/2S9IwA6n5k

— Yashar Ali (@yashar) September 9, 2023
Others thought it played like a hostage video.
Some argued that the two only apologized because they got caught for something they didn't know would go public.
What's staggering about this non-apology-oops-we-didn't-know-you'd-see-the-letters video is that the letters give examples of Danny Masterson standing up for women, this after he has been found guilty of 2 counts of rape?! This does NOT support victims.pic.twitter.com/mc4DH1MSwX

— David Challen (@David_Challen) September 10, 2023
Some found it cynical.
Leaning on their "historical" work with sex-trafficking victims is a really gross justification for supporting a rapist. A KNOWN rapist. Their letters were written post-conviction, to get leniency for his sentencing. So it was already proven he was guilty of raping several women. https://t.co/HiylfEmXJB

— Heidi N. Moore (@moorehn) September 9, 2023
And others called them actors.
this scripted video using those acting skills I see. They asked for a letter you had the opportunity to say no. pic.twitter.com/8uF87CYM4w

— Nick (@itsNICKSNIDER) September 9, 2023
Christina Ricci seemed to acknowledge the video in an Instagram post, writing, "Unfortunately I've known lots of 'awesome guys' who were lovely to me but have been proven to be abusers privately. I've also had personal experience with this. Believe victims. It's not easy to come forward. It's not easy to get a conviction."
Christina Ricci seemingly calls out Ashton Kutcher and Mila Kunis following Danny Masterson support letters:

"Unfortunately I've known lots of 'awesome guys' who were lovely to me but have been proven to be abusers privately. I've also had personal experience with this. Believe… pic.twitter.com/3GpKo4P2rp

— Pop Crave (@PopCrave) September 10, 2023
After Masterson's sentencing, Leah Remini, a former Scientologist (as Masterson is) who's become a critic of the religion, said she was "relieved" he was "off the streets."
(Via NBC News)