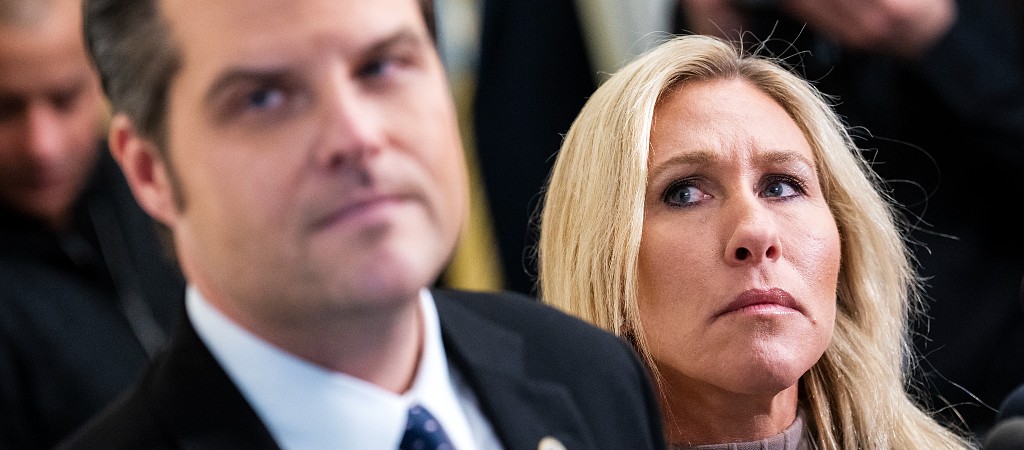 Earlier today, House Speaker Kevin McCarthy (R-CA) announced that he is opening an impeachment inquiry into President Joe Biden over something something Hunter Biden. "This logical next step will give our committees the full power to gather the full facts and answers for the American public," he said. "That's exactly what we want to know: the answers. I believe the president would want to answer these questions and allegations as well."
Nothing is expected from the inquiry, but at least it gave us former friends Rep. Matt Gaetz (R-FL) and Rep. Marjorie Taylor Greene (R-GA) fighting over who wanted to impeach Biden first.
It began, as these things often do, with a tweet (or whatever) from Gaetz. "When @SpeakerMcCarthy makes his announcement in moments, remember that as I pushed him for weeks, @kilmeade said I was: 'Speaking into the wind' on impeachment. Turns out, the wind may be listening!" he wrote, along with a clip from Fox and Friends from earlier this month.
Never one to chill out for even a moment, Taylor Greene had to "well, actually" Gaetz. "Correction my friend," she replied. "I introduced articles of impeachment against Joe Biden for his corrupt business dealings in Ukraine & China while he was Vice President on his very first day in office. You wouldn't cosponsor those and I had to drag you kicking and screaming to get you to cosponsor my articles on the border. Who's really been making the push?"
You know that scene in The Wedding Singer where Adam Sandler is performing the world's most emo song and Jon Lovitz says "he's losing his mind and I'm reaping all the benefits" while watching him from behind a curtain? Of course you do. Well, squabbling Gaetz and MTG are losing their minds; Biden is Lovitz.
Correction my friend.

I introduced articles of impeachment against Joe Biden for his corrupt business dealings in Ukraine & China while he was Vice President on his very first day in office.

You wouldn't cosponsor those and I had to drag you kicking and screaming to get you to… https://t.co/kArIYslAFi

— Rep. Marjorie Taylor Greene (@RepMTG) September 12, 2023
(Via Raw Story)