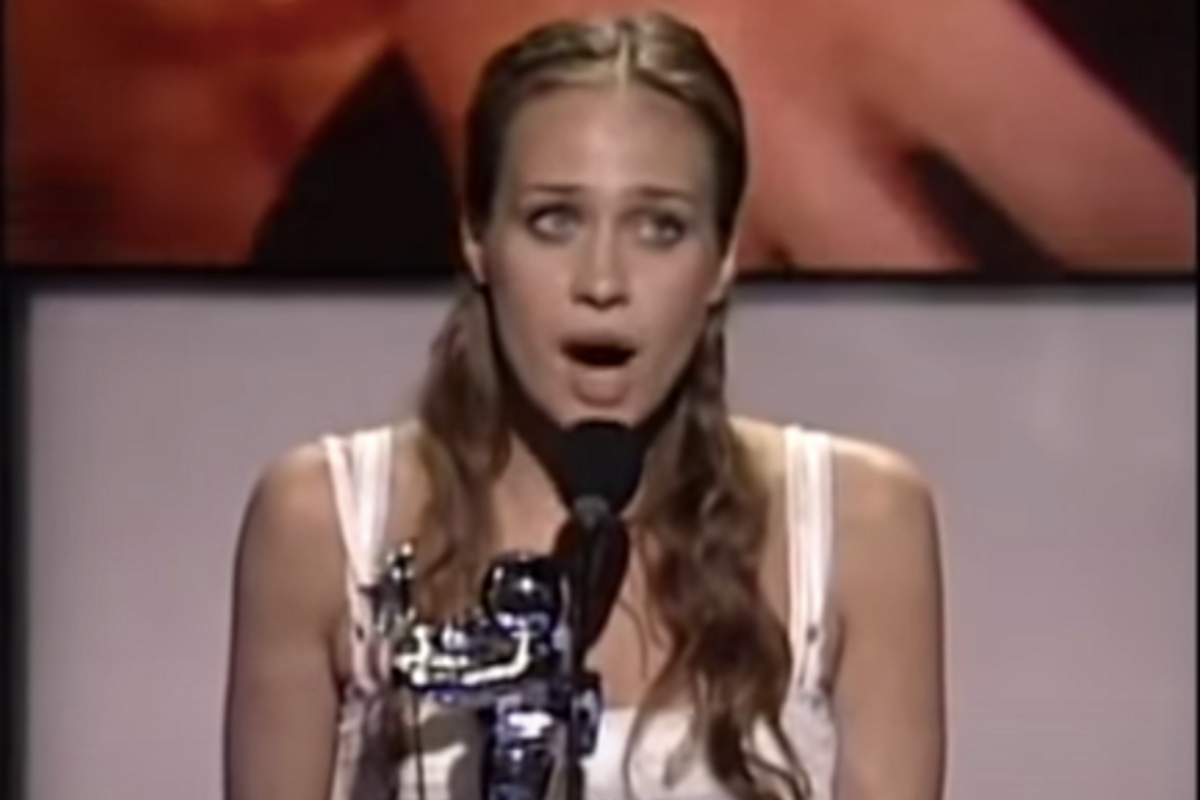 In 1997, singer-songwriter 19-year-old Fiona Apple was a massive breakthrough artist on MTV, having recently scored big hits with "Shadowboxer," "Criminal" and "Sleep to Dream" from her debut album, "Tidal."
However, even though she was still a teenager, she was already suspicious of celebrity culture.
When accepting the award for the single "Sleep to Dream" at the MTV Video Music Awards, she gave an impromptu speech taking dead aim at the music industry. She asked the young people watching to stop emulating the stars they see in music videos and to be themselves.
Her speech was a bold move by a young woman in a room full of celebrities, rock stars and industry people. At the time, it looked like she was committing career suicide in front of the world. Twenty-six years later, it seems even more audacious in a world where the notion of being sellout is a Gen X relic and the entire culture is dominated by influencers.
---
To celebrate Apple's 46th birthday on September 13, people have been sharing the speech on X, formerly known as Twitter.
it's fiona apple's birthday and it's mtv vma. throwback to this iconic speech.

— max richter scale (@max richter scale)
1694561623
Apple began her speech by quoting Maya Angelou: "See, Maya Angelou said that we, as human beings, at our best, can only create opportunities. And I'm gonna use this opportunity the way that I want to use it," she said.
"So, what I want to say is, everybody out there that's watching, everybody that's watching this world? This world is bulls***," Apple continued. "And you shouldn't model your life about what you think that we think is cool and what we're wearing and what we're saying and everything. Go with yourself. Go with yourself…And it's just stupid that I'm in this world, but you're all very cool to me so thank you very much."
The next year, Apple clarified her remarks to Rolling Stone, but she didn't apologize for speaking her mind.
"When I won, I felt like a sellout. I felt that I deserved recognition but that the recognition I was getting was for the wrong reasons," Apple said. "I felt that now, in the blink of an eye, all of those people who didn't give a f**k who I was, or what I thought, were now all at once just humoring, appeasing me, and not because of my talent, but instead because of the fact that somehow, with the help of my record company, and my makeup artist, my stylist and my press, I had successfully created the illusion that I was perfect and pretty and rich, and therefore living a higher quality of life. I'd saved myself from misfit status, but I'd betrayed my own kind by becoming a paper doll in order to be accepted."
Apple's speech at the 1997 VMAs appears to be a roadmap for the rest of her life. Since then, she has gone on to create one great album after another while eschewing the phoniness of celebrity culture. The "Fetch the Bold Cutters" singer even canceled an entire tour in 2013 because her dog was dying. Apple isn't on social media and she seems completely content to spend her time watching court cases and spending time with her dog.