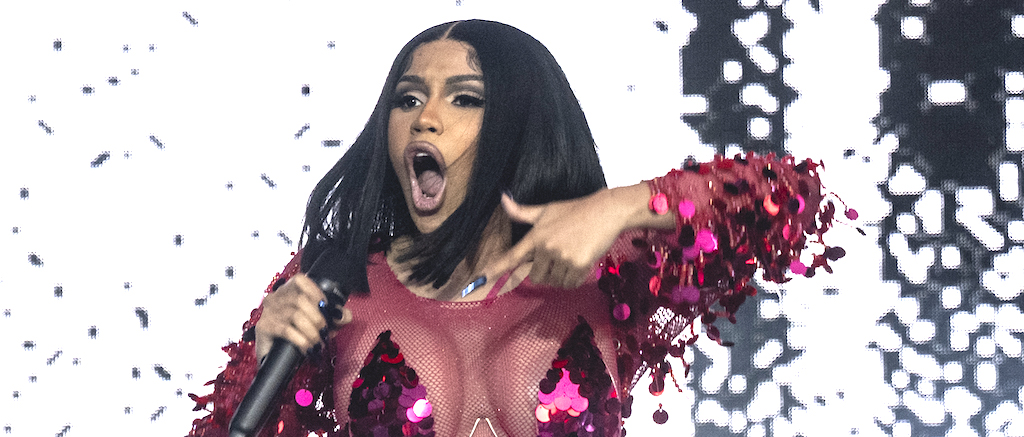 Joe Budden may have finally gotten a plaque for his big hit of the 2000s, "Pump It Up," but it seems he's still better known for his biting criticism. His latest target is Cardi B's new single "Bongos," which features Megan Thee Stallion and a dembow beat that showcases Cardi's Latin roots. However, Budden didn't think much of the song, prompting Cardi to muse on Instagram, "I just feel like he has an issue with me."
On the latest episode of The Joe Budden Podcast, the former rapper said "Bongos" sounds like "a science project" and criticized it for being formulaic (despite the song sounding like little else in hip-hop). "This beat is undeniable because it's already worked," he allowed, but said, "We gonna put two of our biggest women rappers on it, talking they normal s*it, but I don't think this song is gonna work at all."
He then went a step further, declaring, "I hate the song. It's not better than any of the songs like it. 'WAP,' 'Up,' it's not better than Cardi B [features]. This is Cardi getting ready to follow-up her debut album… They not gonna spend the money to keep this rolling into the fourth and first quarter… This sounds like two women who can't make a song." This is a 180-degree reversal from his previous comments about Cardi (although they were consistent with comments about Megan`).
In response, Cardi pointed out her belief that Budden is being hypocritical; while he's always quick to deman other artists' work, he takes offense at any criticism of his own work and business ethics. "It was beyond the critique of 'Bongos,'" she noted. "When Mal and Rory say f*ck sh*t about you, you get so defensive and you want to clear it up. You came at Taxstone because Taxstone said something about you. You expect people to understand you and you expect people to take your side."
Cardi's not the only rapper to have issues with Budden. In 2019 and 2020 he feuded with Logic until apologizing in the wake of Logic's revelations about suicidal thoughts. Last year, Budden said he hated Earl Sweatshirt's new album, to which Earl responded by laughing at him, attributing his vitriol to bitterness that his own music has done … well … horribly. He also apologized to Megan Thee Stallion over making insensitive jokes about her getting shot by Tory Lanez.
And hey, at least none of those rappers were ever accused of violently beating women or sexual harassment of former employees. I'm also willing to bet he's wrong about "Bongos," which was never meant to be "WAP" in the first place.