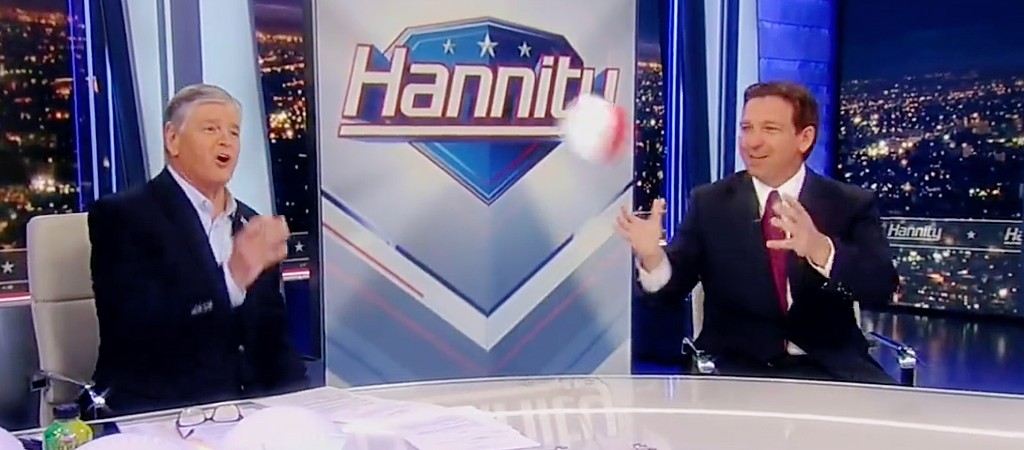 Ron DeSantis stopped by Fox News on Wednesday night where the Florida governor attempted to shake off criticisms that he's a weird dude who doesn't know how to act around other humans. The moment of levity came at the end of his interview with Sean Hannity when DeSantis started lobbing a football into the crowd like people sometimes do.
Oddly, DeSantis came off the most normal looking while Hannity delivered one of the strangest transitions to Tulsi Gabbard. We honestly have no idea what the heck the Fox News host is saying here:
While DeSantis may have looked like a normal, all-American guy who loves him some sportsball, his humanity was not on full display earlier in the interview when he once again trotted out his tough guy act and vowed to leave anyone bringing drugs across the border "stone cold dead."
DeSantis trotted out a similar line while talking to CBS News earlier in the day. The governor promised to deploy the U.S. military to the border, but don't worry, they won't be shooting women with babies. Anyone wearing a backpack, well…
Via Daily Mail:
'If there's a woman with a baby, they're not a cartel member,' DeSantis acknowledged. 'There's not going to be authorization to just shoot somebody like that.'

He added: 'But when somebody's got a backpack on, and they're breaking through the wall, you know that that's hostile intent and you have every right to take action under those circumstances.'
While sanctioning extrajudicial killings sounds pretty bad, the important thing is that Ron DeSantis knows how to throw a football. That's really what elections are all about, are they not?
(Via Aaron Rupar on Twitter)