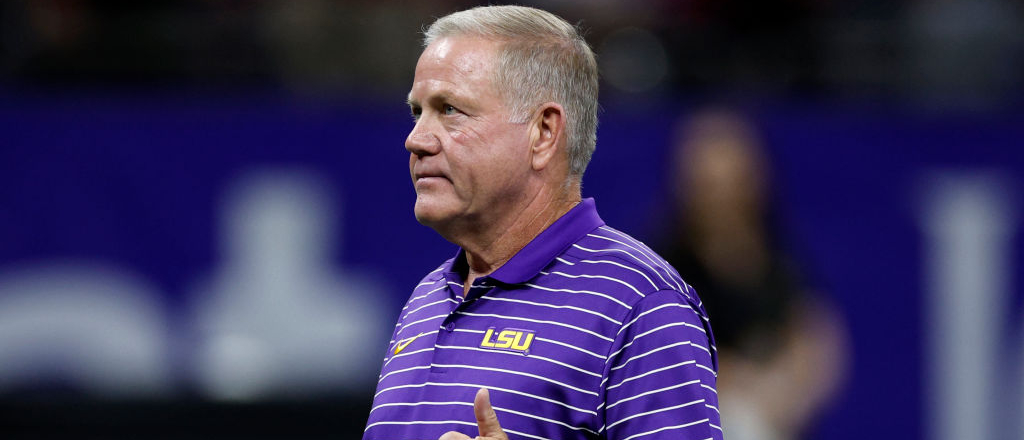 After a pretty spectacular Week 2 in the world of college football, the Week 3 slate looks a bit sleepier on paper. There aren't clear must-watch games in every window, you'll need various streaming services to catch all the top teams in action, and there are no matchups between ranked teams.
However, we know there will be something fairly shocking that happens this weekend, because that's just the nature of college football, but identifying exactly where that will be is a tricky proposition. We'll try our best in this week's watch guide to pinpoint the games that figure to be the most interesting, but I have a feeling this will be an especially important week to be nimble and ready to bounce from game to game based on the scoreboard.
LSU (-9.5) at Mississippi State, 12:00 p.m. ET (ESPN)
The noon window features four ranked teams going on the road, which is always a setup for some shenanigans. These are the easiest games to overlook on the schedule and for the unranked squads, these games are going to be circled on the calendar. We'll start in Starkville where LSU is still trying to get themselves back on track, and if they haven't cleaned up the sloppy mistakes that cost them dearly against Florida State in the opener, they could find themselves with their hands full against the Bulldogs.
Penn State (-14.5) at Illinois, 12:00 p.m. ET (FOX)
Drew Allar's looked the part in Penn State's first two games, but this will be his first road game. Illinois has not impressed to this point in the season and just got torched by Kansas on the road last week, but that's also the perfect recipe for the Nittany Lions to sleepwalk into Champagne and run into a little bit of trouble. We'll find out just how mature this Penn State team is by how this game goes, because it should be a comfortable win but it's in exactly the kind of spot where it's much harder work than it should be.
Georgia Southern (+19.5) at Wisconsin, 12:00 p.m. ET (Big Ten Network)
Wisconsin has not looked particularly good to start the season, beating Buffalo in their opener (but not in particularly impressive fashion) and then losing to Washington State on the road last week. Now they welcome in a Georgia Southern team that's been playing solid ball to open the season, particularly on offense, and the Eagles know how to go get it done on the road against a Big Ten West opponent after beating Nebraska last year. Given how they've played so far this season, the Badgers should be giving the Eagles their full attention and trying to get back on track with a big win, but if the transition remains rocky, this could be one to keep an eye on if the Eagles can keep it close.
Kansas State (-4) at Mizzou, 12:00 p.m. ET (SEC Network)
I can't quite figure out why this line is this short either, but the oddsmakers clearly think the Wildcats will face some troubles against Mizzou. I'm rarely high on the Tigers, so I must admit I could very well be overlooking them, but it's not been a particularly strong start to the season (they squeaked by Middle Tennessee last week) and I wouldn't think the Wildcats would struggle to get up for a road game against an SEC foe. Still, it's possible and we'll keep an eye this one to find out if the folks in Vegas do indeed have the right premonitions about this being a tight one.
Iowa State (-3) at Ohio, 12:00 p.m. ET (ESPNU)
The other ranked road team is FSU at Boston College, but I try not to subject myself to BC football unless absolutely forced. My preferred brand of mediocre college football is played by the fellas from Ames, and they're headed on the road to Athens, Ohio to face a Bobcats team that has some spunk. Kurtis Rourke is a legitimately good quarterback, and if Iowa State's offense gets stuck in the mud as they often do, they might have some trouble with the Bobcats on the road.
South Carolina (+27.5) at Georgia, 3:30 p.m. ET (CBS)
Georgia's cruised through a soft opening schedule, but the offense has taken some time to get going in both games thus far. This is South Carolina's Super Bowl each year, and while I don't feel good about the Gamecocks offensive line having to go up against this Georgia defensive front, I am fascinated to see what Shane Beamer breaks out to try and steal some points off the Dawgs. Spencer Rattler might be in for a long day and this might be one to eject from quickly if Georgia gets rolling, but I just want to see if Carson Beck can finally open it up against Georgia's first SEC opponent or if this is gonna be another game where the Dawgs aren't putting offensive points of the board til the second quarter.
Minnesota (+7.5) at UNC, 3:30 p.m. ET (ESPN)
The 3:30 slate is really pretty rough, but I will once again have eyes on Chapel Hill where the Tar Heels have made life pretty difficult on themselves in the first two weeks but escaped with a 2-0 record. In comes a Minnesota team that will test the Heels' physicality and has a quarterback in Athan Kaliakmanis that could take advantage of any holes in the UNC secondary. Drake Maye will be facing a good defense this week and this will be one NFL fans will want to keep an eye on to see how he manages this game. His throwing ability makes him a top prospect for the 2024 NFL Draft, but I want to see him be a bit more surgical and this will be a good test of his ability to do that, as Minnesota loves to take the ball away.
San Diego State (+24.5) at Oregon State, 3:30 p.m. ET (FS1)
The DJ Uiagalelei hype is back after a strong start to the season from the Beavs, and this week they welcome a San Diego State team that had a miserable time against UCLA a week ago. This is a litmus test for the Oregon State offense, as it's clear the Aztecs are not the defensive team of a few years ago and Oregon State should cruise here. Should is the optimal word, as SDSU would love to muck this game up and make life difficult, but I'm just not sure they still have the juice to pull that game plan off.
Washington (-16.5) at Michigan State, 5:00 p.m. ET (Peacock)
If you have Peacock, then you'll have access to one of the more intriguing games in the midday window. The 5 p.m. kick might be perfect if all the 3:30 games have gotten out of hand, and we'll see how Michael Penix Jr. and the Washington offense travels as they head to East Lansing to face a Michigan State team now under new leadership amid Mel Tucker's sexual harassment investigation. This is a huge game for them as they welcome in a top 10 team, and if they aren't careful, Penix can light up the scoreboard in a hurry and try and further cement his status as an early Heisman contender.
Tennessee (-6) at Florida, 7:00 p.m. ET (ESPN)
The Vols got caught sleepwalking in the first half against Austin Peay, but eventually pulled away for a three score win. This week, they head down to the Swamp for a rivalry game with the Gators that will tell us a good bit about both teams. Billy Napier and Florida desperately need a good showing against the Vols here, and maybe Graham Mertz can put forth a better performance at home than he did in his first primetime start for the Gators at Utah. On the Tennessee side, I want to see if Joe Milton has really taken a step forward as a quarterback late in his college career, or if the Gators can trap him into some overconfident throws into coverage and steal some possessions for Mertz and the offense.
James Madison (+2.5) at Troy, 7:00 p.m. ET (NFL Network)
The best G5 game of the week comes to you from Troy, Alabama, where the Trojans play host a very good James Madison team that's fresh off a comeback win at Virginia. Troy had a rough go of it last week in the Little Apple, and things don't get a whole lot easier having to play the Dukes. JMU meanwhile can't allow overconfidence to settle in after a comeback win against a bad ACC team, and I think this one could be pretty fun.
Pitt (+2.5) at West Virginia, 7:30 p.m. ET (ABC)
The evening window isn't a whole lot better than the rest, but any time we get to watch the Backyard Brawl it's fun. Even in a year where neither team seems to be particularly great, this is a very fun rivalry game and it's especially important to Neal Brown and West Virginia, as he's on the hot seat and a rivalry win would be his best chance at a run to extend his tenure. Pitt, meanwhile, needs a bounceback after losing at home to Cincinnati last week, and will look to what Penn State did to this Mountaineers offense and try to replicate that effort.
Syracuse (-2.5) at Purdue, 7:30 p.m. ET (NBC)
It's pretty wild seeing Syracuse as a road favorite against a Big Ten team, even if that Big Ten team is Purdue. This could turn into an up and down track meet, not unlike the Boilermakers opener with Fresno State, and probably starts as a second screen game but could get upgraded if it gets as fun as it has potential to be.
BYU (+7.5) at Arkansas, 7:30 p.m. ET (ESPN2)
Arkansas has one of my favorite players in all of college football in quarterback KJ Jefferson. He's gigantic and hard to tackle when he runs and has a cannon for an arm — albeit not always the most accurate one. This is my favorite college QB archetype. BYU has former USC and Pitt quarterback Kedon Slovis slinging it around now and I think they have a chance to make this a game, but we're gonna learn just how good the Cougars defense is after playing a Sam Houston team that is completely disinterested by the concept of offense and Southern Utah to open the season.
Georgia Tech (+17.5) at Ole Miss, 7:30 p.m. ET (SEC Network)
This just feels like a game that could get weird. It also could go very wrong for the Bees and they might be down three scores with haste. Just keep an eye on it and if it's a one score game in the second half, flip on over cause some dumb stuff is bound to happen from one or both teams.
TCU (-7.5) at Houston, 8:00 p.m. ET (FOX)
Two teams that have not gotten off to the start to this season they wanted, and that could mean a very weird, oddly tense game. I would not be surprised by just about any outcome here and the potential for chaos is pretty good. A very nice second/third screen option with the possibility it deserves your full attention by the time it's late in the fourth.
Colorado State (+23.5) at Colorado, 10:00 p.m. ET (ESPN)
We got coach beef in the great state of Colorado, and in case folks weren't already locked in on every Buffs game after a 2-0 start to the Coach Prime era, Jay Norvell talkin' bout respect has only fired things up for this in-state rivalry. The Buffaloes very much might try to run this thing up, but this is also the Super Bowl for the Rams. The clear frontrunner for your attention in the night slate, although it could get over in a hurry.
Fresno State (-3) at Arizona State, 10:30 p.m. ET (FS1)
If that is indeed the case and you need some late night viewing, I'd pop over to FS1 for Fresno State-Arizona State. The Bulldogs already picked off one P5 road win at Purdue in the opener and they'll have full belief they can do it again here. Jaden Rashada has moments of brilliance for the Sun Devils and there are points to be had against Fresno. The real question is whether they can limit the mistakes to avoid a second home loss in as many weeks.