Hello, fellow sun seekers, heat lizards, and soleil savants! I trust this finds you in what can be a difficult time. The days, while warm, don't offer the same oppressive and relentless dosage of UV, or people who you used to trust are cheerfully advising you to "layer up." And that permanent sheen of sweat in a layer over your body? Gone.
While it's true, summer does last until September 21 (and you should be telling it to everyone you meet), it's also true that our watch is ending. Like the brevity of the season, so too is the offseason, and the impending reality of training camp start dates have made it into the phone calendars of all NBA athletes except James Harden, so summer vacations are officially drawing to a close.
A balm to take the sting (aw, remember sun burns?) out of our new reality of "autumn" is the annual awarding of the NBA Summer Vacation Watch MVP. This award is given to the person who showed utmost dedication in their pursuit of offseason leisure, who didn't just take the one requisite trip to Cancun but indeed, leaned into summer as a lifestyle. It is, in the NBA and really all of pro sports, the most prestigious award there is. So please, keep your shorts on for one last ride to enjoy these last few offerings, and the naming of NBA SVW MVP.
Russell Westbrook
A cute jaunt here for their anniversary, Westbrook and his wife, Nina Earl, celebrated in the city of love. The Arc de Triomphe didn't know what hit it.
Rating: The real Triomphe is always love!!
Jimmy Butler
Butler has spent, I'd say, the entire last quarter or his summer glued to the courts at the Billie Jean King National Tennis Center, taking in the U.S. Open. There, we've seen him act as an honorary ball boy (I guess not even honorary, since true to form, he went through some training), get a point on Carlos Alcaraz, and endearingly declare the tennis stars of today his friends, whether they knew him or not.
Jimmy Butler wants to see Coco Gauff win every match she plays #USOpen pic.twitter.com/kvOPpf9lcv

— espnW (@espnW) August 30, 2023
Rating: You're not going to find Butler reclined on a beach for any long stretch of time, so paying avid attention while sitting in the stands, sometimes with a really big hat on, is a pretty good stretch of leisure for him.
Devin Booker
As we know from earlier entries, Booker took his passion for rustic ass trips on the road this summer, most notably to the Swiss Alps. He has since returned and returned hard to his first love: swimming holes and piney creeks. Here he was, getting out of a rowboat under cerulean skies.
Rating: You know what they say, you can take a man to the Alps but you can't make him want to stop ATVing around Colorado or wherever.
Jarrett Allen
Extremely rare publicly shared vacation alert! Jarrett Allen, sweet robotics genius on this earth and the person most likely to have the same smiling attitude whether he is dunker or dunkee, went to Great Sand Dunes National Park in Colorado. He camped out, did some dune surfing, made something (beans???) on a camp stove, and took some beautiful photos on his film camera. This is my favorite trip of the summer and I am incredibly biased.
Rating: Is there anything more equitable on this earth than how public campsites everywhere will give you the bare minimum? A picnic bench, a fire pit, and a big rock or tree or some other natural landmark if you're lucky.
Kyle Kuzma
Kuz has taken quite a few summer romps and his most recent was to Paris. While he was probably there to do, like, a luxury watch collaboration, he also got some currywurst and took in some football, the pastimes of the people.
Rating: The double peace sign is also the summer vacation pose of the people.
Pascal Siakam
Pascal Siakam's world summer vacation tour continues and like the famous quote, does not go gentle into the regular season. Siakam landed in Rome, toured some gorgeous antiquities, ate some gelato, then popped over to the Vatican to stroll around cavernous halls filled with their own, slightly more religious antiquities. Then, he made a short le saut over to Paris where he literally put his feet up and had some croissants, took a nice stroll, a boat ride, then had a crepe with his initial dusted on it in icing sugar.
Rating: I hope Toronto's team chef's icing sugar stenciling is on point.
Rudy Gobert
Gobert was in Okinawa and Manila for the FIBA World Cup, but en route (and probably after, considering France's rapide out) did some touring and eating around Tokyo, and then the Philippines. I know Gobert was coming back from that whole "rubbing his microparticles all over everyone's mics and tape recorders" thing, but a man like that shouldn't be allowed to have a monkey just hang out on his shoulder.
Rating: Outbreak really affected me as a child.
Myles Turner
Turner has taken some delightful trips this summer, both close to home and abroad, and they continued with this pilgrimage to the giant LL Bean boot in Freeport, Maine.
Rating: Not the reminder I wanted or needed that those very boots are sitting in the bottom of my winter clothes storage trunk, Myles!!!
Paul Millsap
Have to say, this was a relief. Millsap's not such a huge poster, but when he is, is it ever a treat. Especially if we're talkin' summer. Here, he takes us on not two summer trips, but two complete summer meditations. First, fishing, and some wise words about how waiting for fish can be like waiting for dreams to come true (Paul George's ears are ringing). Then – and my personal fav – a reflection on hammocks. To be fair, judging by the palm fronds this is from a totally different trip, but Millsap really spent some time contemplating what hammocks and life is all about. I found myself in a hammock shortly after this and can say, the gentle swinging found therein will never be the same again.
Rating: Protect Paul Millsap at all costs.
Gary Trent Jr.
A late season rip around on a speedy yacht and subsequent jet ski but we love it folks, and we'll take it, because this dispatch was feeling a little thin.
Rating: Where does the drop for Supreme life jackets happen? On land or in international waters?
Spencer Dinwiddie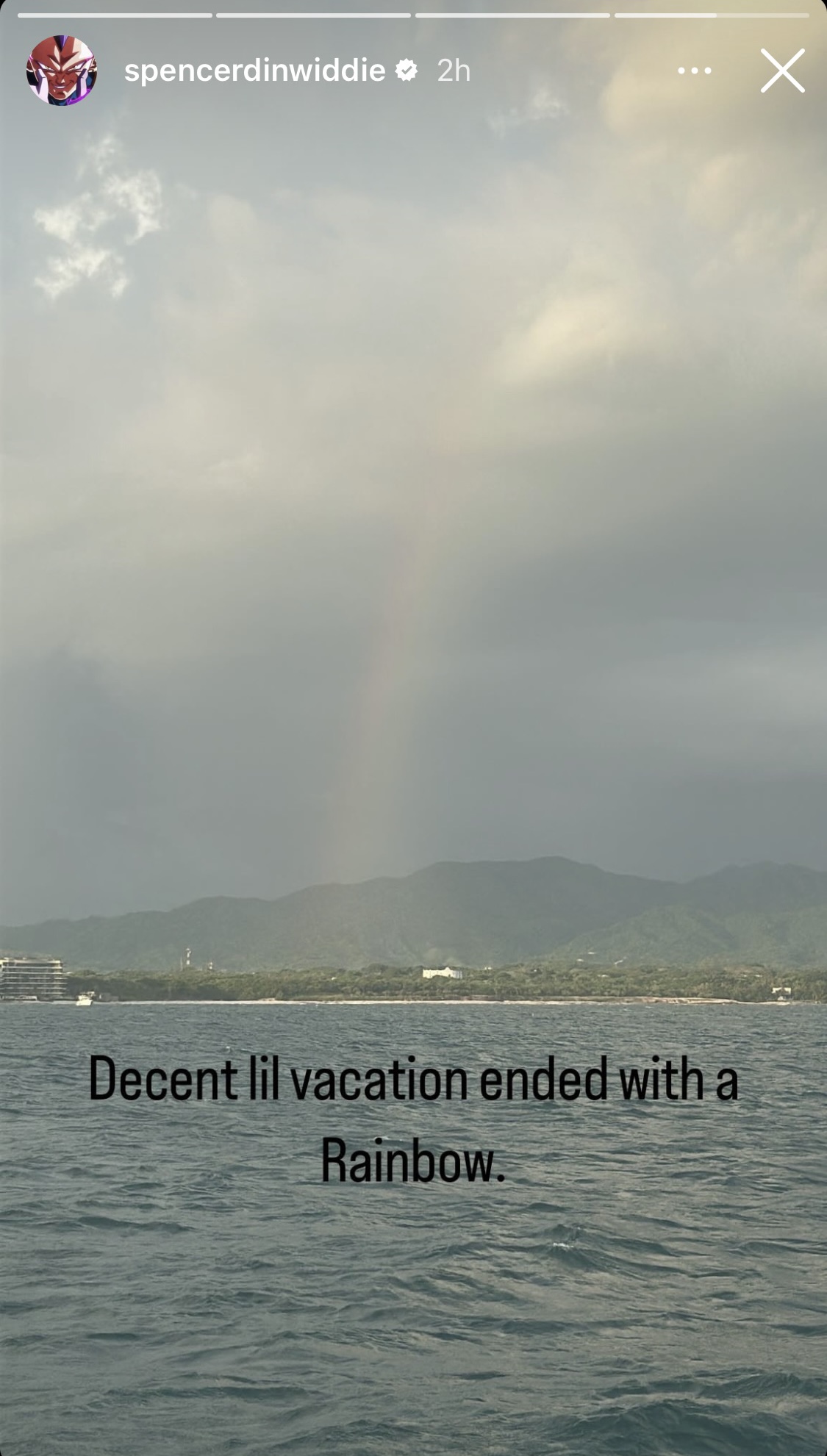 A real mystery trip from Dinwiddie which, if anyone knows that guy who figures out where people are from blurry photos out the window, could they get him on this one? Anyway, I'm glad he had such a nice time.
Rating: Or "Decent," according to Dinwiddie. My bad.
Jusuf Nurkic
Nurk alert! Nurkic hung out on the picturesque (man made, for my geo-heads) Lake Perućac in Bosnia. There he either did some hiking with friends where no one was really appropriately dressed, or there's a nice place where they're all chilling just out of frame.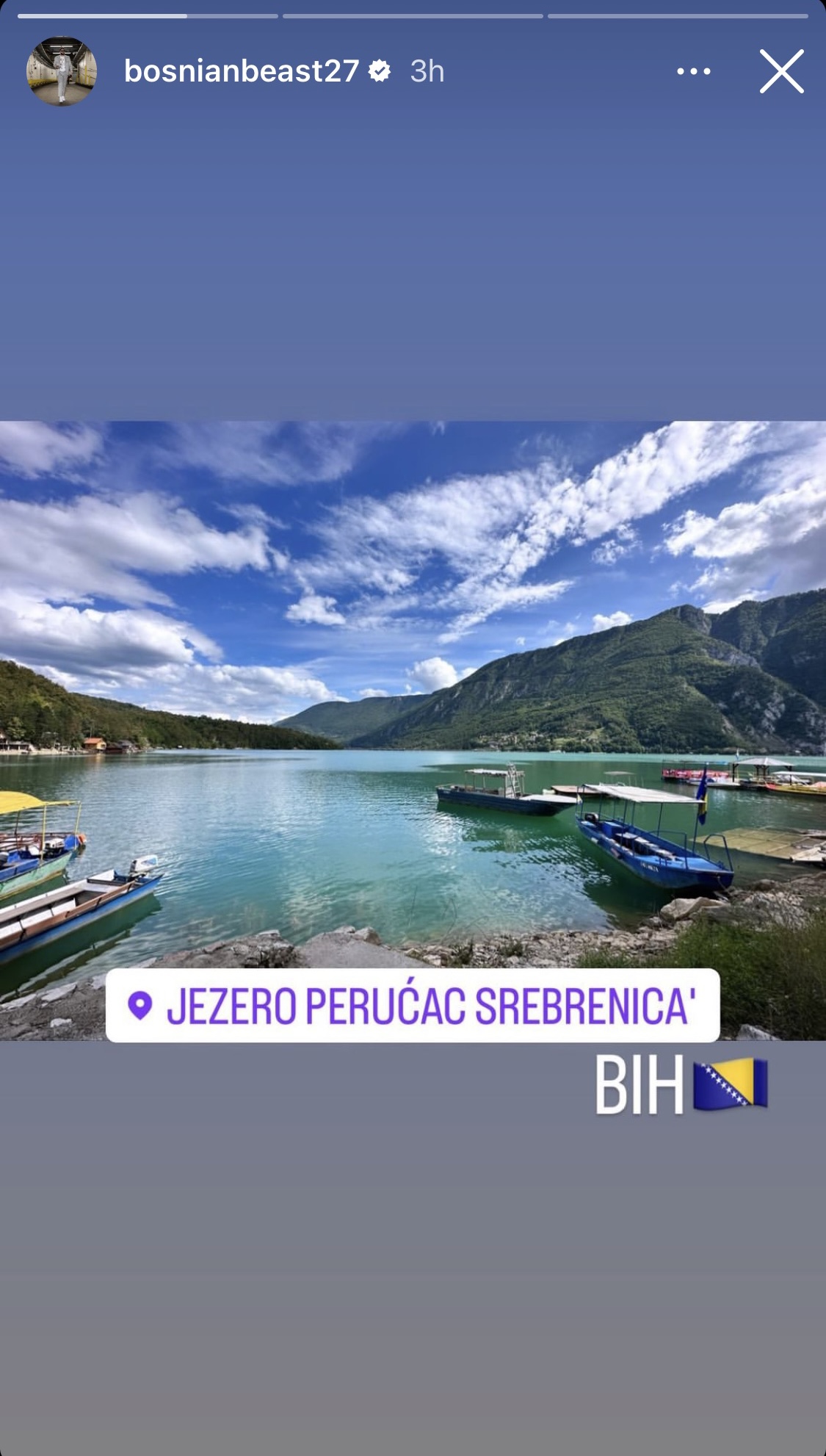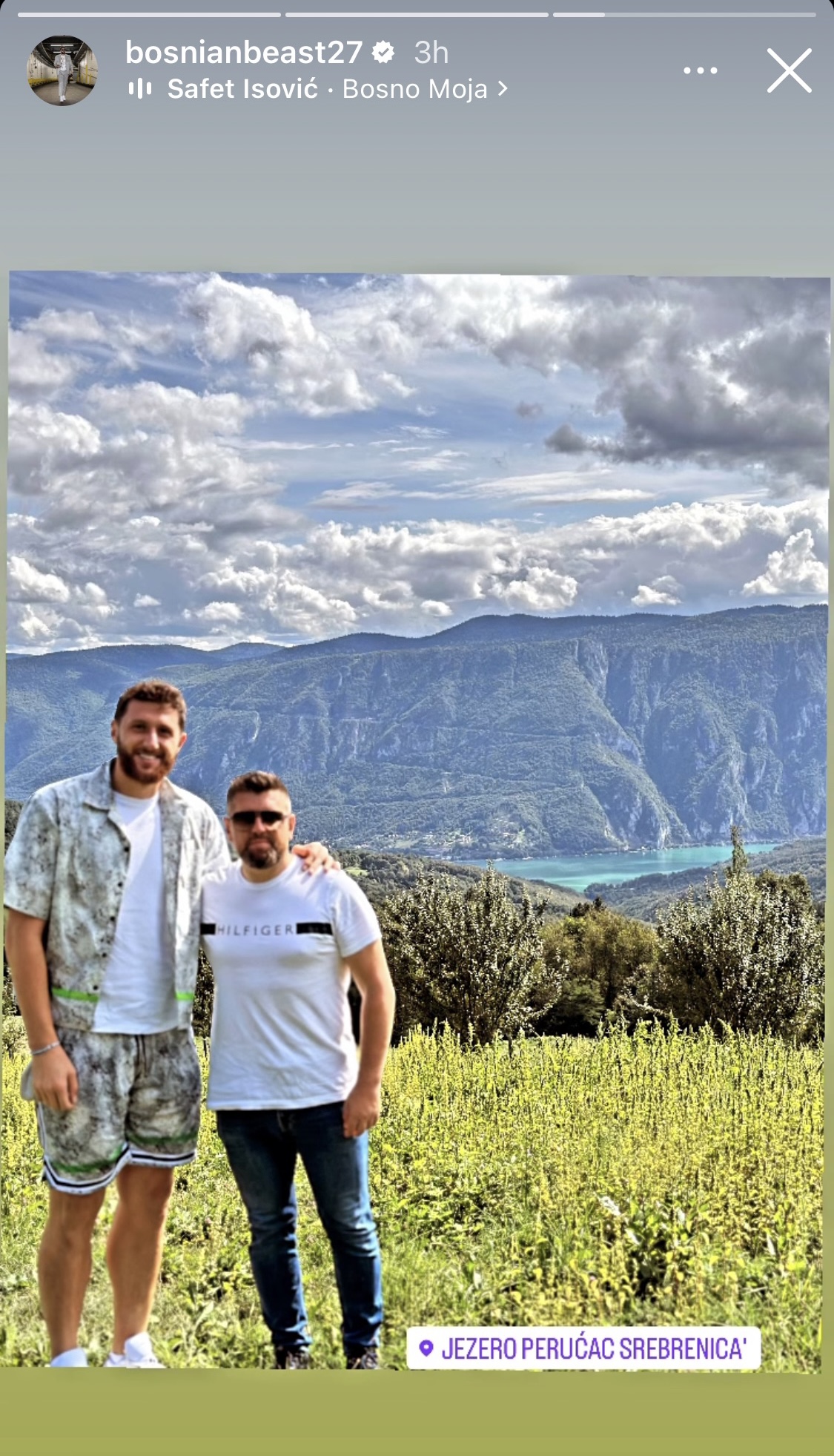 Rating: My vote is on the latter.
Chris Boucher
Boucher with the late-summer Saint Lucia rip!
Rating: Noice.
Gradey Dick
Doubling up on Raptors here, but come for his introduction to Toronto's Caribana parade and stay for him holding a fish like fire arm.
Rating: He probably gently put it back in the water, yes?
NBA SVW MVP: Pascal Siakam
Congratulations to Spicy P on having the most sustained, slow burn summer of them all! This might be the first time this award has gone to someone still on vacation, who may in fact never have returned from one vacation or another all summer, who instead chose to treat "vacation" as a steady state, a new reality. Honestly the best thing to do when your employer isn't really giving you the answers you want is to slap on your OOO and take all the trips you've been putting off with the vacation days you've been storing up.