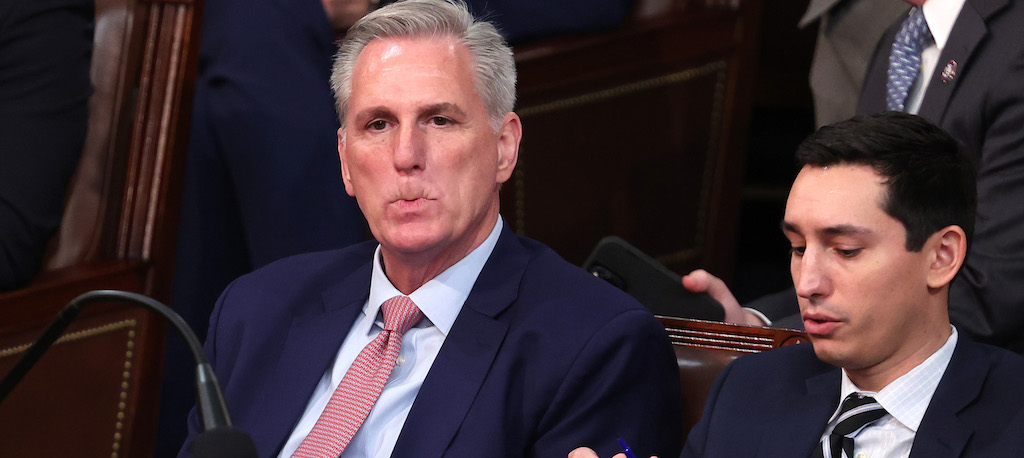 It's been said that politicians are really failed theater kids. Rarely has that felt more applicable than with today's GOP-led House. Since Republicans took over in January, chaos has reigned, thanks to MAGA brats like Matt Gaetz, who kicked off things off by almost singlehandedly dragging out Kevin McCarthy's becoming Speaker of the House. Gaetz even nearly got his block knocked off! Recently Gaetz been threatening to get him booted from the gig, which he might have almost done the other day, if a motion discovered in a bathroom is to be believed.
As caught by The Daily Beast, on Tuesday journalist Matt Laslo stumbled upon a curious document on the baby changing table in a restroom located under the House floor. It was a draft resolution from Gaetz himself calling for McCarthy's ouster unless he agrees to "immediate, total compliance" with his demands.
The motion is dated Sept. 15, so that obviously never happened. But that is the day after McCarthy blew up on Gaetz, daring him to "file the f*cking motion."
Did one of Gaetz's underlings accidentally leave it in the bathroom, hoping someone would find it? Did the potential future gubernatorial candidate do it himself, in a dramatic attempt to spook McCarthy? Whatever the case, it's yet another reminder that today's House Republicans are a creatively weird mess.
(Via The Daily Beast)