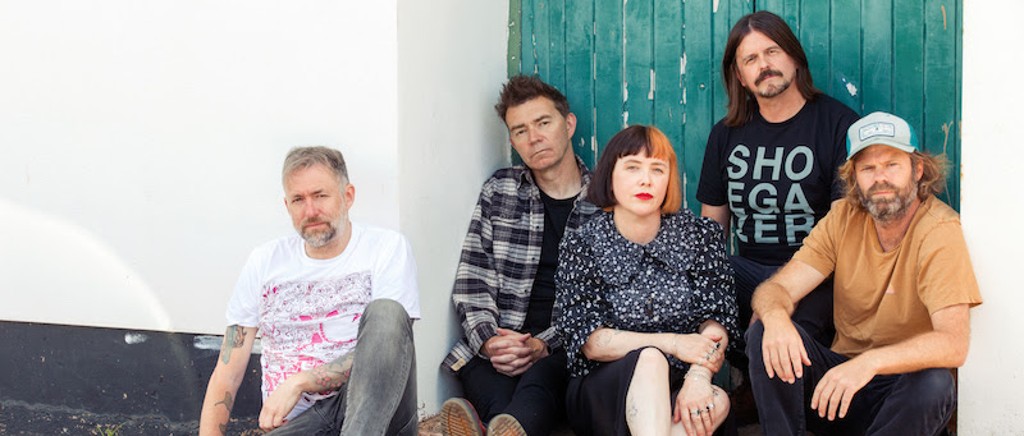 Adele isn't the only British act looking to dominate the US performance market. The "Skin In The Game" musicians Slowdive's massive world tour kicked off yesterday (September 23). In celebration of their new album, Everything Is Alive, for the next few weeks, Slowdive will travel nationwide for their 2023 US Tour wing.
So, who are the opening acts for the tour? Continue below for more information.
Who Is Opening Slowdive's 2023 US Tour?
Drab Majesty
Drab Majesty is a Los Angeles-based music collective. Founded by Andrew Clinco (of Marriages) in 2011, the group blends dream pop and gothic rock for an irresistible darkwave offering. Under the character Deb Demure, alongside Keyboardist and vocalist Mona D, the duo released their second album, The Demonstration, in 2017, which earned them spots on tour with Cold Cave and King Dude. Fast forward to June of this year, the members joined forces with Slowdive's Rachel Goswell on their track "Vanity" from their 4-track EP An Object in Motion, released on Friday, September 22.
Sun Colony
Also based out of Los Angeles, California, Sun Colony has been actively working in the indie rock scene since the release of their self-titled EP in 2017. The four-piece band (vocalist, guitarist, and keyboardist Tommy Graf, guitarist and vocalist Derek Mabra, bassist Brandon Sciarra, and drummer Sam Ribejro) is best known for their tracks "These Minds," "Satellite," and "I Think I Remember." The band describes their sounds as "a blend of Los Angeles sparkle and London gloom," which is tailor-fit to their Echo & The Bunnymen, Wire, and Primal Scream expressed musical influences.
Slowdive's 2023 US Tour Dates
Here are the dates for their 2023 US Tour:
09/25 — Boston, MA @ Citizens House of Blues Boston %
09/27 — New York, NY @ Webster Hall %
09/28 — New York, NY @ Webster Hall %
09/29 — Philadelphia, PA @ Union Transfer %
09/30 — Washington, DC @ 9:30 Club %
10/02 — Cleveland, OH @ The Roxy @ Mahall's %
10/03 — Chicago, IL @ Riviera Theatre %
10/04 — St. Paul, MN @ Palace Theatre %
10/06 — Denver, CO @ Cervantes' Masterpiece Ballroom %
10/07 — Salt Lake City, UT @ The Union %
10/09 — Portland, OR @ Crystal Ballroom %
10/10 — Seattle, WA @ Showbox SoDo %
10/12 — San Francisco, CA @ The Warfield %
10/14 — Los Angeles, CA @ The Bellwether %
10/15 — Los Angeles, CA @ The Bellwether %*
10/16 — San Francisco, CA @ The Warfield %
% with Drab Majesty, * with Sun Colony
Everything Is Alive is out now via Dead Oceans. Find more information here.