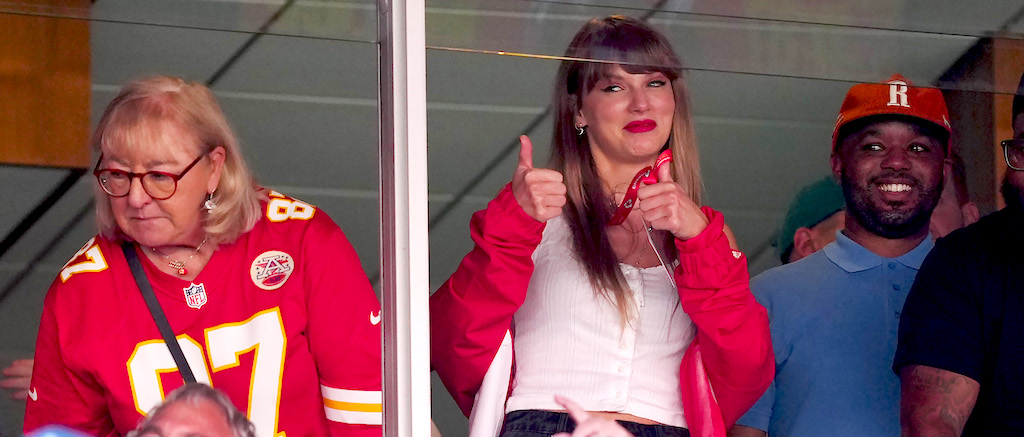 The Kansas City Chiefs embarrassed the Chicago Bears, 41-10, at Arrowhead Stadium in Kansas City, Missouri on Sunday, September 24. Nobody cares, because Taylor Swift was in attendance to support Chiefs tight end Travis Kelce, whom she might or might not be dating but is at least casually seeing.
Swift had already visited Arrowhead on July 7 and 8 for The Eras Tour — celebrating the release of Speak Now (Taylor's Version) during her July 7 show — and Kelce shared he felt "butthurt" about failing to deliver his phone number to Swift via friendship bracelet. Well, somehow, she got the message, and here we are. (God help us all.)
Kelce and Swift were seen leaving Arrowhead together in a video from Jarrett Payton, which was followed by several blurry photos of them in Kelce's convertible.
According to Entertainment Tonight, Kelce and Swift spent the rest of the night at Prime Social Rooftop in Kansas City's Country Club Plaza.
"Travis bought out the restaurant for his family and team," an unnamed eyewitness told ET. "Taylor arrived, wearing a denim dress, and was seen snacking, having some cocktails and dancing alongside Travis. The two were very affectionate with one another but kept things fun and lighthearted. Travis' teammates also showed up to the after-party, as well as his mom and dad, Donna and Ed. The party lasted until 2 a.m."
Madeline Hill, a journalist and self-described sports gossip enthusiast, also interviewed Ethan Lestrud for her Impersonal Foul newsletter. Lestrud, who posted a TikTok about the ordeal, confirmed that he was at Prime Social for a friend's 22nd birthday party. It was a prescheduled reservation, but Prime Social staff informed his party that the last call for food and drink would be 7:45 p.m.
"As we were upstairs, that's when we found out Taylor was coming from some of the staff," Lestrud told Hill. "Then, we went to the restaurant downstairs, and that's when we found out it was Taylor who paid [our bill]."
Last week, Kelce joined ESPN's The Pat McAfee Show to finally comment on his rumored romance with the most famous pop star on the planet.
We GOTTA ask about you and Taylor Swift..

"I told her that I've seen her rock a stage in Arrowhead and she might have to come see me rock the stage at Arrowhead..

We'll see what happens in the near future"

LET'S GOOOOO @tkelce #PMSLive pic.twitter.com/dYEyxvYfLw

— Pat McAfee (@PatMcAfeeShow) September 21, 2023
"I threw it out there," the two-time Super Bowl champion said. "I threw the ball in her court, and you know, I told her, 'I've seen you rock the stage in Arrowhead, you might have to come see me rock the stage at Arrowhead, and see which one's a little more lit,' so we'll see what happens in the near future."
Swifties were already enthralled by Swift's New Y0rk dinner date with Sophie Turner before Kelce (reportedly) took her to Prime Social. Worlds will continue to collide when the Chiefs play the New York Jets at MetLife Stadium in East Rutherford, New Jersey — another venue Swift is very familiar with — for Sunday Night Football on Sunday, October 1.