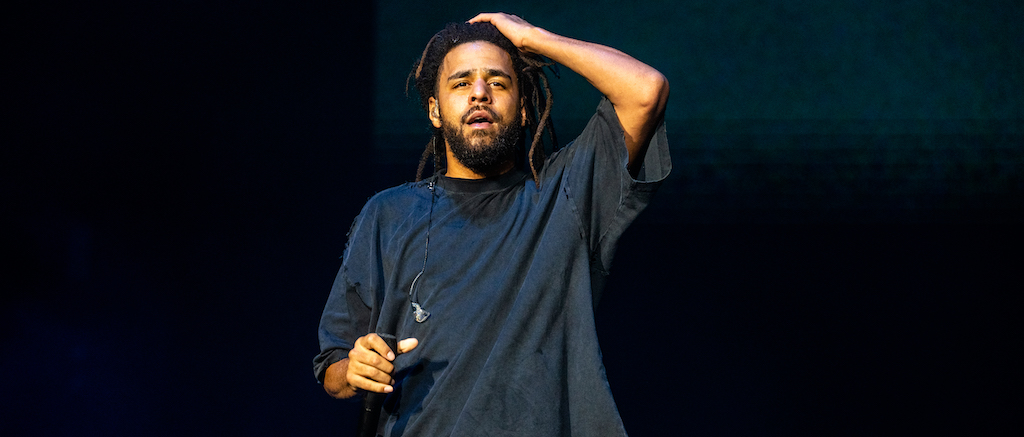 J. Cole wasn't on the marquee for the iHeartRadio Music Festival 2023 at T-Mobile Arena in Las Vegas over the weekend, but he surprised fans during Lil Durk's set for a performance of "All My Life." He also made Danielle Fishel's day backstage.
Fishel is best known for her iconic role of Topanga Lawrence on Boy Meets World from 1993 to 2000, and she attended the festival with Rider Strong and Will Friedle, her former Boy Meets World castmates and current Pod Meets World co-hosts.
A video circulated by a J. Cole fan account on an X (formerly known as Twitter) shows Fishel beside herself as she approaches Cole in a hallway in the bowels of T-Mobile Arena. "I have to say hi to you," she says. "I went and saw your show in LA. […] Unbelievable! I'm such a big fan." Cole kindly responds, "Me, too. Likewise."
Separately, Fishel posted an Instagram reel recapping her whole weekend — set to Harry Styles' "Golden" instead of a Cole song, but whatever — that involved posing on the red carpet with Friedle and Strong, dancing with Lance Bass, hugging J. Cole, and snapping photos with Miguel and Kane Brown.
"Vegas for the #iheartmusicfestival2023 was AMAZING," Fishel captioned an Instagram reel. "I spent time with a few #bffs forever (@rider_strong, #willfriedle, @lancebass and @michaelturchinart), met a few ICONS (@realcoleworld, @thegr8khalid, @kanebrown), and danced to the one and only @officialtlc. Meeting @liltunechi is still on my bucket list but I had the best time. Thank you to @alzonamediagroup and @_tonyshane for filming these special moments for us."