Your typical big brand nationwide restaurant chain has about two or three margaritas on the menu. Four tops. But not Chili's. Chili's is a different beast altogether. Currently the restaurant has over ten permanent margaritas on the menu (and they're available both in-restaurant and to-go).
That's a lot of margs. You could even argue that it's too many (could you though? Could you really?).
If you're rolling up to Chili's, you'd better be coming with an insatiable thirst for tequila because even if you're a hardcore drinker, there is no way you can try the entire margarita menu in one sitting. I mean you could but you'd probably die a horrible death from alcohol poisoning. And trust me my friend… you don't want to die in a Chili's.
So we're here to help you choose the right margarita for you. Over the past few weeks I've been on a quest to try every single permanent margarita on the Chili's menu in an effort to rank them from most inessential to the most delicious. This way you know exactly what you order when you're rolling through.
Aside from the 11 core margaritas, Chili's also has a seasonal margarita that they rotate in and out. Currently it's the September Sunrise (tequila pineapple and grenadine), and before that it was the Sangrita (Sangria with a tequila twist). Both drinks are delicious but because there is a high chance you'll be coming to this ranking at a random time of the year, I decided not to rank these. I will say this though — in my experience the seasonal margarita is always worth a try!
Let's drink!
11. Chili's House Frozen Mar-Go-Rita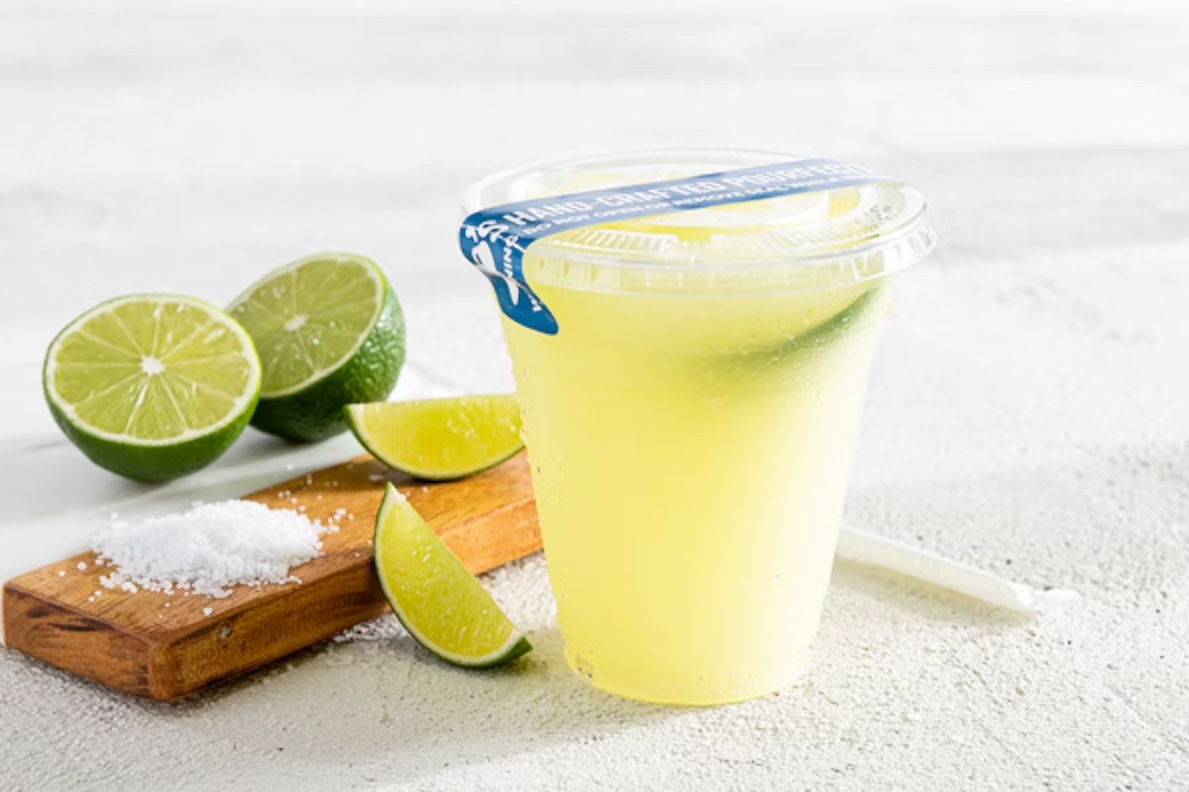 Build: Tequila, Triple Sec, Ice, Margarita Mix
Tasting Notes & Thoughts
Candy sweet with a salty lime finish. Very little tequila flavor, but the ice slush is smooth and a treat to drink.
If you're a fan of frozen margaritas, I'm sorry but it's Chili's weakest, both in flavor and in alcohol strength. I couldn't get a straight answer about what type of tequila is used here, at one Chili's I was told it was El Toro, another told me it was El Jimador but at the end of the day, it doesn't really matter.
This is a drink for people who don't really care about tequila. They just want something sweet to drink that'll give a buzz. In addition to the classic flavor you can order this mango, strawberry or wild berry. Pick your poison but I can only speak for the classic.
The Bottom Line:
Sweet and people pleasing, unless you're a tequila snob.
10. Tiki Beach Party Rita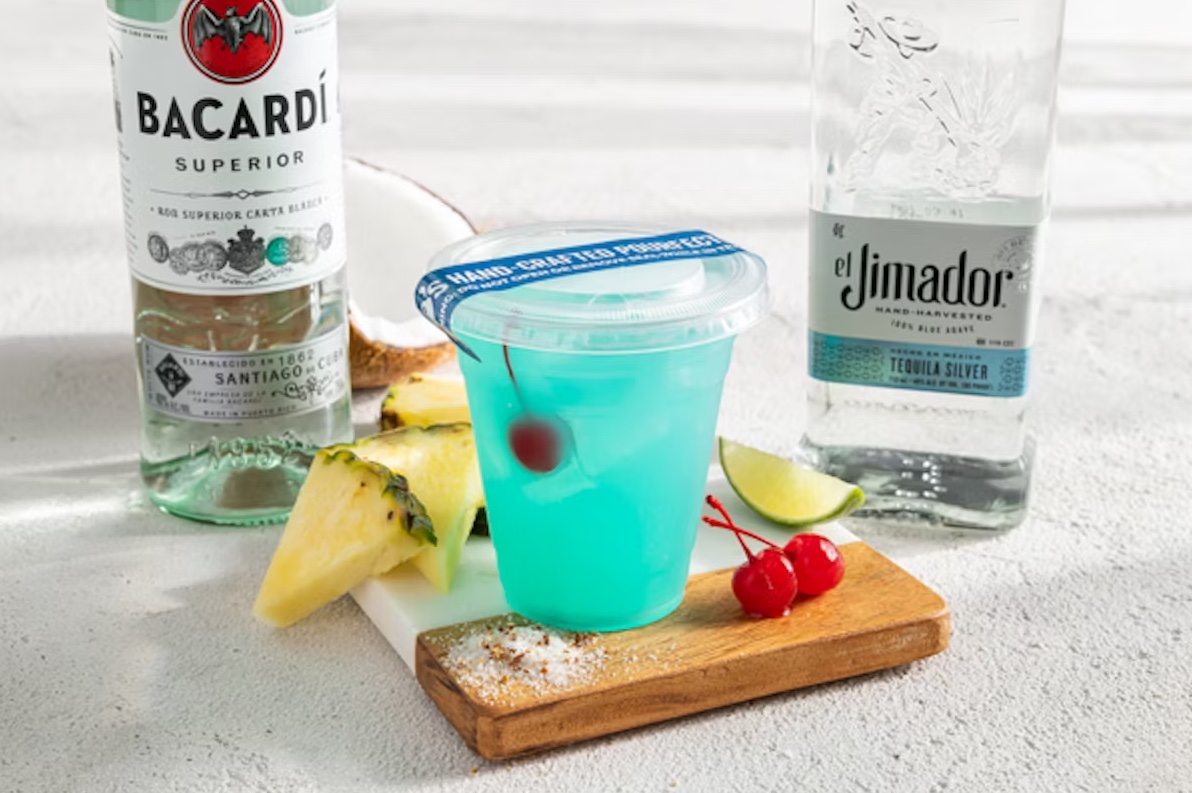 Build: Bacardi Silver Rum, Jimador Silver Tequila, Blue Curacao, Coconut and Pineapple
Tasting Notes & Thoughts
Heavy notes of vanilla and orange with a hint of tart lime citrus, and faint echoes of piña colada, without the emphasis on cream. You get the slightest hint of tequila's bright bite on the backend, but it's muted by the sweetness.
This wouldn't be my first choice — or frankly, my second, third, or fourth — but the intense sweetness and tropical vibes of this drink are addicting. But the tequila is definitely an afterthought here, don't let that 'Rita' added to the name fool you.
The Bottom Line:
Good but more of a rum focused tropical drink than something that should be in the margarita family.
9. Chili's House Mar-Go-Rita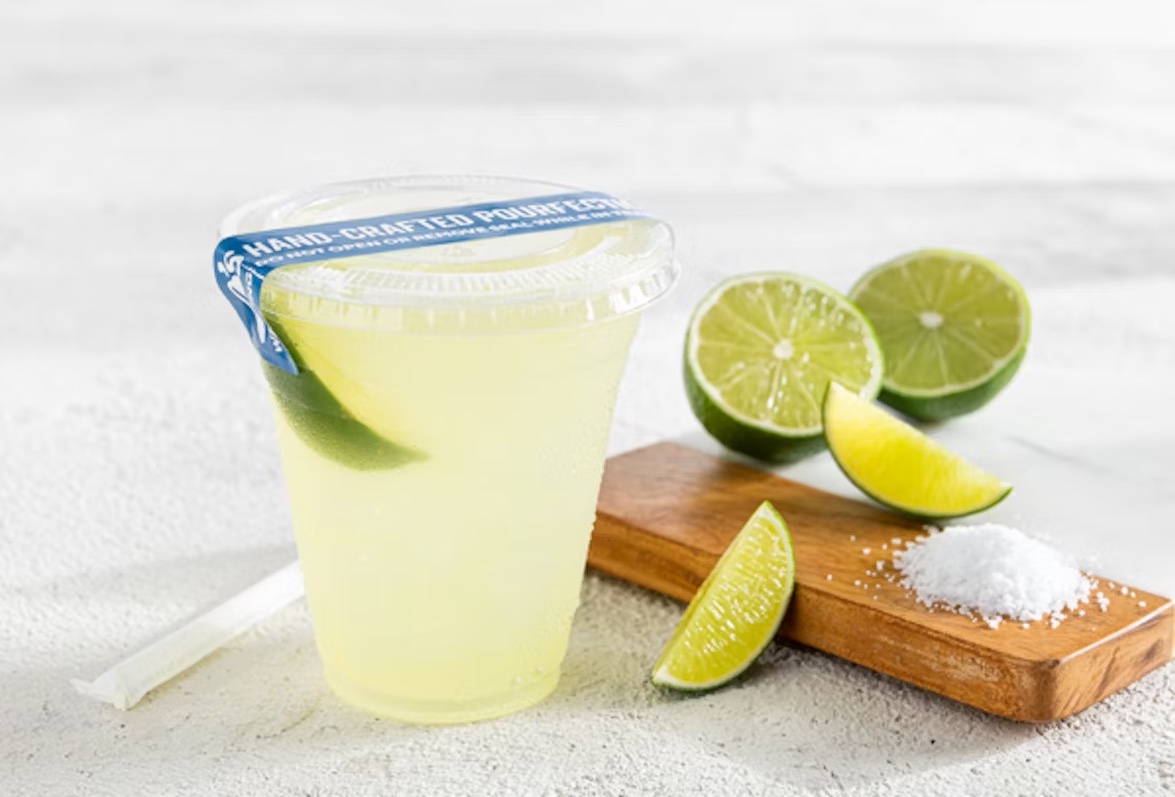 Build: Tequila, Triple Sec, Margarita Mix
Tasting Notes & Thoughts
Very candy sweet and sugary with a zesty artificial lime flavor and hint of salt on the backend. It's your standard restaurant margarita, nothing special, gets the job done. If you're going to order this I highly suggest you elevate it by choosing one of Chili's better tequila brands like Casamigos or Patrón.
Like the frozen version this is available in classic, mango, strawberry, or wild berry. Again, I can only speak to the classic, which was nothing special.
The Bottom Line:
Your standard restaurant margarita. Sweet, weak, and nothing special.
8. Grand Coconut Margarita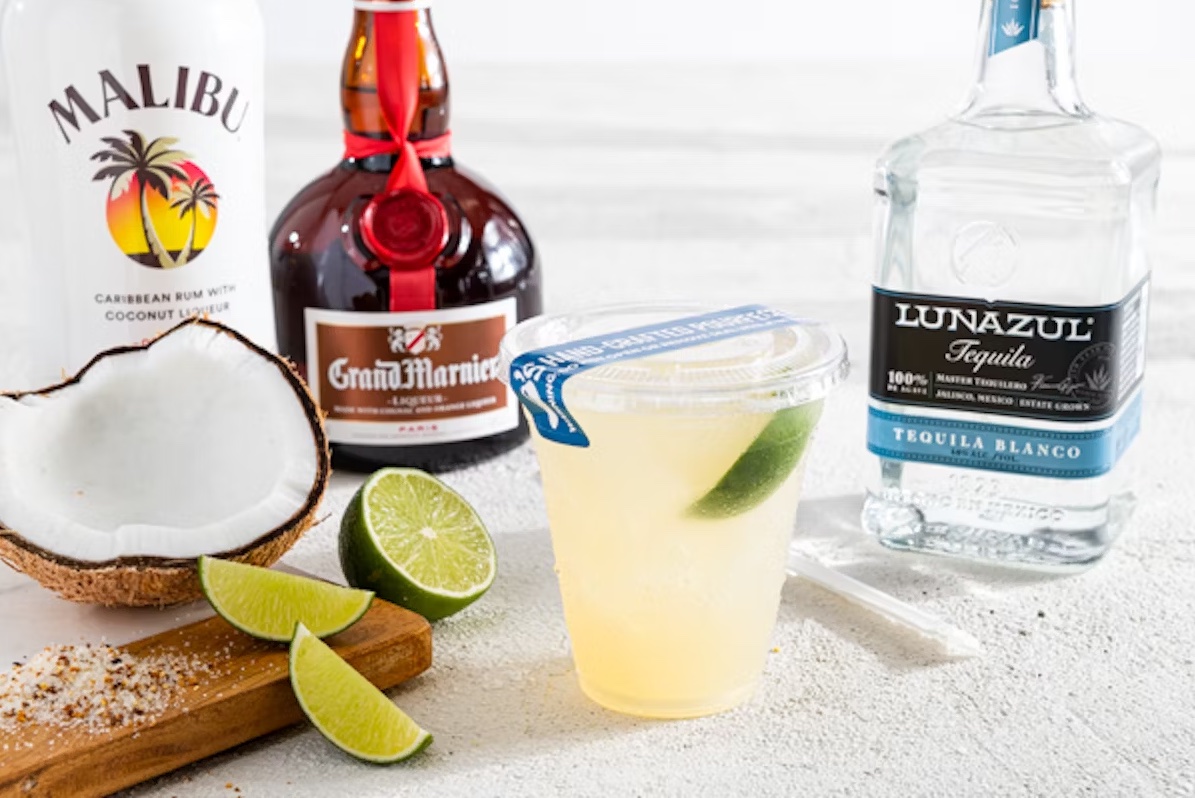 Build: Lunazul Blanco Tequila, Malibu Coconut Rum and Grand Marnier with Coconut, Margarita Mix
Tasting Notes & Thoughts
Rich vanilla, oak and brandy flavors paired with creamy coconut, some lime zest, and a bright vegetal agave finish with some black pepper spice. I like this much better than the Tiki Beach Party Rita.
Apart from the sweet tropical flavors, this drink really packs a punch and feels more deserving of the "margarita" name.
The Bottom Line:
Tropical and sweet, but heavy on the alcohol with a noticeable (but pleasing) bitterness on the backend.
7. Patrón Margarita
Build: Patrón Silver, Citrónage, Margarita Mix
Tasting Notes & Thoughts
Bright and vegetal with smooth vanilla notes, soft orange flavors, and a sweet artificial lime flavor. Incredibly easy to drink but I feel like this option is a bit of a trap for tequila novices.
The use of Patrón and Citrónage would have you believe that this is a premium margarita, but all the nuance of that alcohol is drowned out by the sweetness and artificiality of the high fructose corn syrup infused margarita mix.
The Bottom Line:
Don't let the Patrón and Citrónage fool you, those more premium alcohols are ruined by the sweetness of the margarita mix. If you want an elevated margarita from Chili's look elsewhere on the menu.
6. Skinny 'Rita
Build: Teremana Blanco Tequila, Fresh Sour, Splash of Soda
Tasting Notes & Thoughts
Mellow cooked agave flavors peak out of a heavy dose of sweet and tart citrus with a pleasing spicy pepper-backed finish. The splash of soda helps to reign in the tartness and keep the drink from coming across as too intensely sweet.
I have to admit I was a bit disappointed by what this drink could've been. Generally a "Skinny 'Rita" is made with actual lime juice instead of margarita mix, putting it more in line with a real margarita. This one isn't, it's made using fresh sour instead, which has lime juice in it, but is a lot sweeter than the real thing.
Still, it's a significant step up from the margarita mix-based margs on the menu.
The Bottom Line:
Similar to Chili's House Margarita, with more of an emphasis on the tequila. Still incredibly sweet though.
5. Presidente Margarita
Build: Lunazul Reposado Tequila, Citrónage Extra Fine Orange Liqueur and E&J Brandy, Margarita Mix
Tasting Notes & Thoughts
Hints of vanilla and roasted agave hover over a sweet orange base with some woody oak notes, some floral qualities, zesty citrus, and a sweet artificial lime finish.
There is a lot going on with the Presidente Margarita, which is probably why it's one of Chili's bestsellers. Of all of Chili's margarita mix-based cocktails, this one is by far the best thanks to the combination of tequila and brandy. It's sweet, but not totally drowned out by it to the point of tasting like candy.
The Bottom Line:
It has a strong alcohol flavor that is nicely balanced with some artificial sweetness.
4. El Niño Margarita
Build: Espolon Reposado Tequila, Gran Gala & Citrónage
Tasting Notes & Thoughts
Sweet vanilla, tropical pineapple, and roasted agave with layers of sweet orange, citrus tart, and a gentle kiss of amaretto on the backend.
I like this one a lot but it's going to be divisive and entirely depends on how much you like orange flavors in your margarita. It doesn't have that same tart bite as a lime-based margarita, but it's sweet and inviting without tasting like straight up candy.
The Bottom Line:
A bright sweet orange dominated margarita with an almond finish and a lot of bright agave representation.
3. Patrón Blackberry Margarita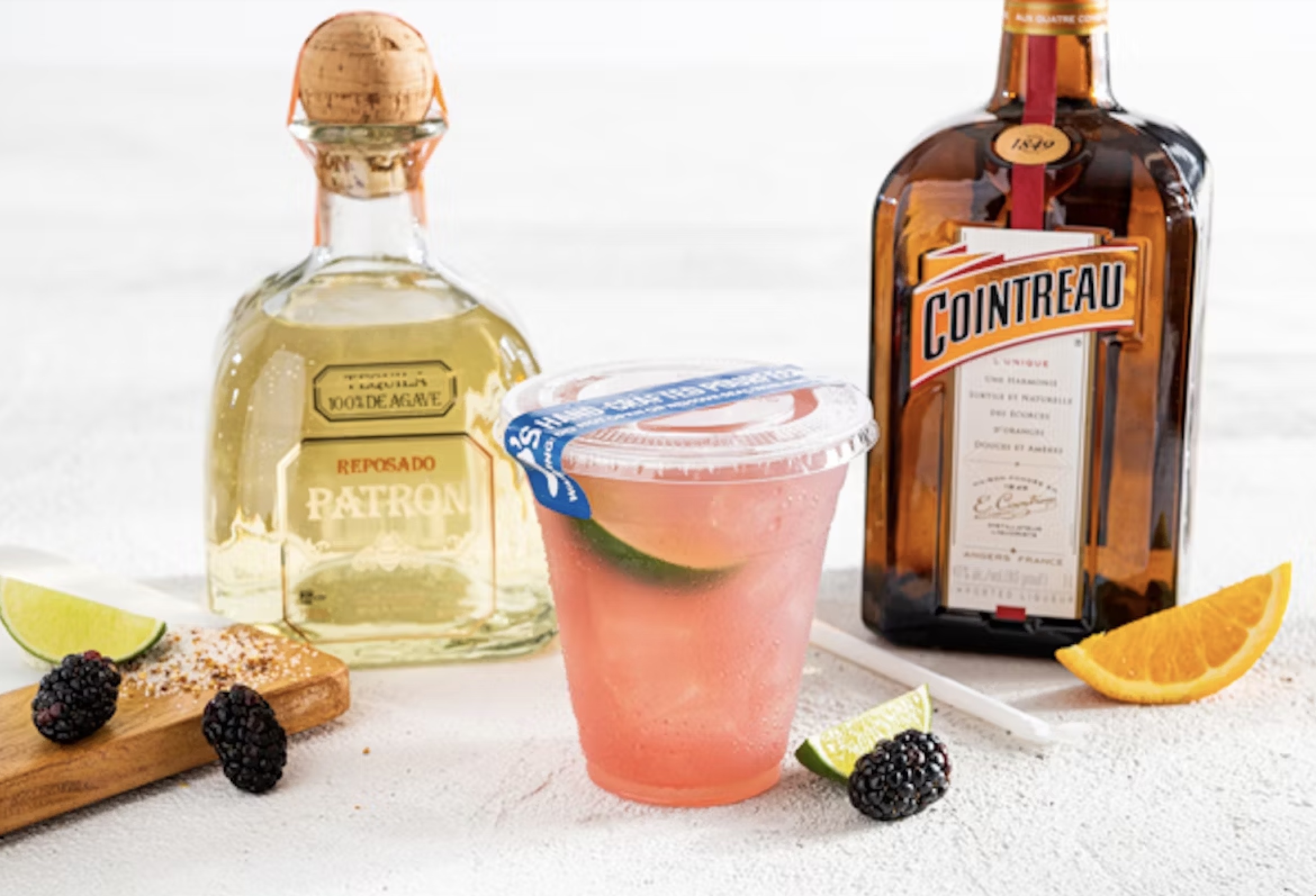 Build: Patrón Reposado Tequila, Cointreau, Shaken with Blackberry
Tasting Notes & Thoughts
Sweet honey, vanilla, and roasted agave with a hint of oakiness, strong citrus flavors, and a juicy tart finish.
This drink is both delicious and incredibly appetizing to look at. The blackberry representation is very faint, despite its beautiful color, but it's present enough for you to taste it. I don't have any complaints about this drink, the only thing that could make it better is some actual lime juice, so squeeze the wedge garnish into your drink and give it a gentle stir.
The Bottom Line:
One of Chili's best margaritas. Fruity, with a vanilla and honey forward tequila and some high quality orange liqueur. This will be someone's favorite, it's just not mine.
2. Henny 'Rita
Build: Premium Hennesy VS Cognac, Teremana Blanco Tequila, Fresh Sour
Tasting Notes & Thoughts
Spicy cinnamon with a mix of rich vanilla and chocolate and some delicate floral notes followed by tart lime, green grass and a bright pepper-forward finish.
This drink begins with the Hennessy notes dominating before the tequila takes over for its bright finish. The drink is garnished with a lime and orange wedge, both of which I suggest you squeeze into the drink for a bit more natural sweetness.
I was incredibly close to giving this one the top spot, but I think I like my number one choice just a bit more.
The Bottom Line:
Strong yet mellow and rich with the right amount of sweetness to balance it out. One of Chili's finest.
1. Casamigos Margarita
Build: Casamigos Reposado Tequila, Cointreau, Fresh Sour
Tasting Notes & Thoughts
Roasted agave, cocoa, pineapple and mango with sweet citrus and bright lime with a gently spicy finish.
Straight up, the Casamigos Margarita isn't the most exciting drink on Chili's menu, it's not a fun spin on a classic margarita, it's just… a classic margarita. But nothing really beats that, does it? A great-yet-classic margarita is the best kind of margarita.
My ideal margarita is simple: good tequila (which Casamigos is), a solid orange liqueur (which Cointreau is), and the juice of one lime (which "fresh sour" is not quite but is kinda close). If I'm making drinks for friends who expect something a bit sweeter, I might add a bit of agave syrup for some added sweetness.
The Casamigos Margarita is the closest thing Chili's makes to a real traditional margarita and since its using fresh sour in place of real lime juice, it strikes a nice balance between the flavors of alcohol and people-pleasing tart sweetness.
You can't go wrong with this drink.
The Bottom Line:
Is it exciting? No, but it's a drink that puts premium ingredients at the forefront, actually tastes like tequila, and isn't sickly sweet like most restaurant margaritas are. There is enough here to please both seasoned tequila drinkers and a more casual fan of margaritas alike.
This is where your round of drinks at Chili's should begin. Start with the Casamigos Margarita, hit the Henny 'Rita immediately after, and BOOM — you've got yourself a good night ahead of you.