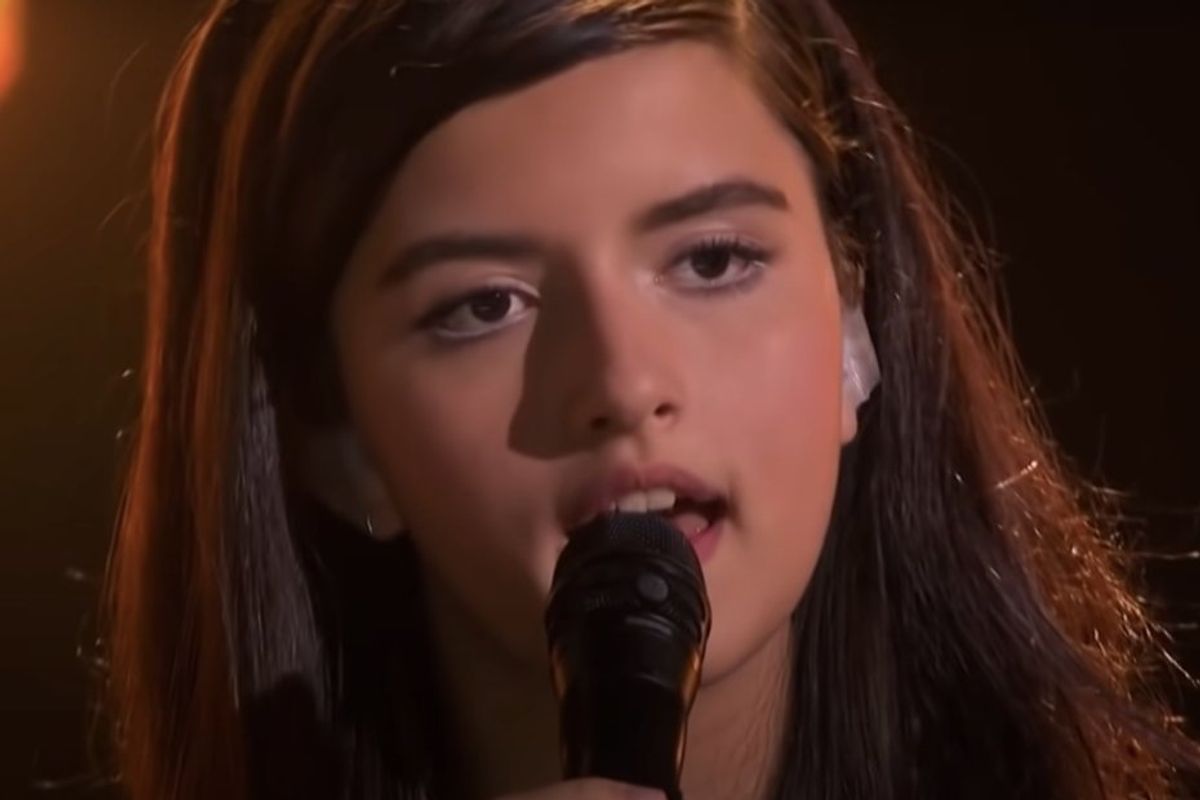 At Upworthy, we've shared a lot of memorable "America's Got Talent" auditions, from physics-defying dance performances to jaw-dropping magic acts to heart-wrenching singer-songwriter stories. Now we're adding Angelina Jordan's "AGT: The Champions" audition to the list because wow.
Jordan came to "AGT: The Champions" in 2020 as the winner of Norway's Got Talent, which she won in 2014 at the mere age of 7 with her impressive ability to seemingly channel Billie Holiday. For the 2020 audition, she sang Queen's "Bohemian Rhapsody," but a version that no one had ever heard before.
With just her Amy Winehouse-ish voice, a guitar and a piano, Jordan brought the fan-favorite Queen anthem down to a smooth, melancholy ballad that's simply riveting to listen to.
---
Especially considering that Jordan was only 13 years old when she did this.
Watch:
What this video doesn't show is Heidi Klum hitting the Golden Buzzer faster than you can say, "Nothing really matters to me." The judges were blown away by Jordan's performance, as were the people in the comments.
"That's a ONE in A BILLION voice right there. Just amazing," wrote one commenter.
"I am typically not a fan of songs being redone particular to such a magnitude," shared another. "They almost always fall short of the original. But to completely rearrange a song in the manner that she has, from a legend, and then make you forget about how the original even sounded because her rendition is so good is utterly amazing."
"As Freddie once said, 'Do whatever you want with my music as long as you don't make it boring.' I think he'd really like this," shared another.
Though Queen's lead vocalist Freddie Mercury is no longer with us, the band did offer words of praise for Jordan's performance, retweeting her audition video with the comment, "Wow! What a rendition of #BohemianRhapsody."
"Bohemian Rhapsody" is such an iconic song, it's hard for anyone to do a cover of it justice. But 13-year-old Angelina Jordan managed it masterfully.
Jordan would move on to the Top 10 in "AGT: The Champions," and though she didn't take home the top prize, she did impress the audience with another classic rock tune, Elton John's "Goodbye Yellow Brick Road." You can enjoy that performance below, and you can follow Angelina Jordan—who is now 17 and still singing her heart out—on YouTube and TikTok.
Become Angelina's patron at Patreon! https://www.patreon.com/angelinajordanThis performance on Angelina Jordan's TikTok – https://www.tiktok.com/@angelinajor…