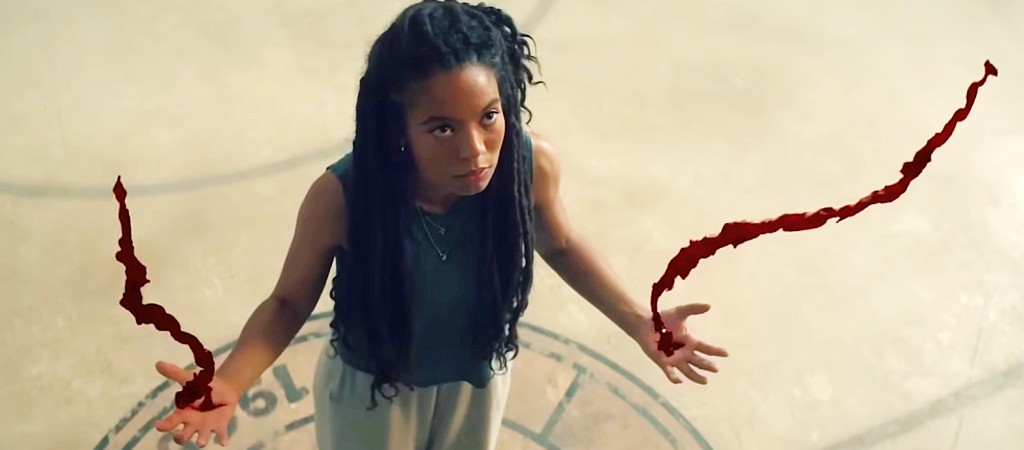 Every single week, our TV and film experts will list the most important ten streaming selections for you to pop into your queues. We're not strictly operating upon reviews or accrued streaming clicks (although yes, we've scoured the streaming site charts) but, instead, upon those selections that are really worth noticing amid the churning sea of content. There's a lot out there, after all, and your time is valuable.
TIE: 10. Bottoms (MGM film streaming on Amazon Prime)
If you like PEN15's cringe comedy, then you'll adore this movie that will contribute to the Ayo Edebiri Supremacy that is inevitable. The Bear star appears alongside frequent supporting player Rachel Sennott, and together, their queer characters make a hellaciously awkward team as they launch a "Fight Club" of sorts, only in a quest to lose their respective virginities. One of the better parts of this movie is how the tables turn to make the pair multi-faceted and about much more than their sexual orientation, but the heterosexual characters end up falling into classic archetypes, almost as if they are stereotyped. This film is a conversation starter, so get on it.
TIE: 10. Blue Beetle (WBD film streaming on VOD and Amazon Prime)
Cobra Kai star Xolo Maridueña gave WBD a Latino superhero, Jamie Reyes, in a really fun movie that ended up being collateral box-office damage in the demise of the pre-James Gunn DCU transition. Reyes will be part of that universe going forward, so it's worth catching up on this film, even if you want to wait for it to hit Max, because it deserves many more eyeballs than it received. Yet understandably, people were perhaps feeling exhausted by DC-focused superhero movies after Shazam! Fury Of The Gods and The Flash crashed and burned.
Netflix doesn't greenlight second seasons like candy anymore, but this crowd pleaser earned the privilege. Fans of Monkey D. Luffy are thrilled with this adaptation of a a beloved anime/manga. Season 2 of the hopeful pirate king's adventures can't arrive too fast, and while viewers settle in for the wait, they can hop on the Japanese dub for a bonus from the voice cast of the anime series. This is a wonderful treat for anime fans after some live-action misses like Cowboy Bebop and Death Note.
8. Barbie (Warner Bros. movie on VOD and Amazon Prime)
This film will undoubtedly climb the charts again once it's streaming as part of the Max library, but for now, you can enjoy all the Kens and one Allan in your living room for rent or purchase. This film will likely launch a buffet of subpar imitators at the box office because Hollywood can't help itself, but for now, enjoy that this magic came together by the combined powers of Greta Gerwig, Margot Robbie, and Ryan Gosling. Oh, and don't forget about Michael Cera as Allan, which is arguably his finest role. Too much? I don't think so.
This three-part series needs 100% more Keanu Reeves as John Wick, but people are still enjoying this story that takes the assassin-welcoming hotel back to 1970s New York City. That era's Winston is portrayed by Colin Woodell here, and observing how he was then as opposed to in the movies is part of the charm of this special-event series. Granted, Mel Gibson isn't the biggest selling point, but the casting does make sense once you dive in and watch. Katie McGrath completists should also make time to see her as The Adjudicator.
This series might feel even more satisfying to fantasy lit fans than Lord Of The Rings: The Rings Of Power does. Rosamund Pike dives into more morally grey territory than usual to portray the magic-wielding Moraine of the Aes Sedai organization in support of the prophesied Dragon. This series is closing in on a second-season finale, and then, there will be a dearth of fantasy on streaming TV for a bit. However, there's no time like always to go rewatch The Sandman.
5. Gran Turismo (Sony Pictures film available on VOD and Amazon Prime)
Archie Madekwe (See) and David Harbour (Stranger Things) star in this racing film directed by Neill Blomkamp (District 9) that takes more than mere inspiration from the same-named racing simulation video game. This also happens to be a biographical film about Jann Mardenborough's transition from being a sim racer to a full-on professional race-car driver. Come for the high adrenaline and stay for former Spice Girl Geri Halliwell.
The final season is upon us, and still, Gillian Anderson remains a long way from both The X-Files and The Crown. She portrays a sex therapist who also happens to mortify her own son, Otis (Asa Butterfield), with her profession. Still, he manages to funnel that energy into a useful purpose as he navigates his own coming-of-age journey under more scrutiny than most.
3. The Walking Dead: Daryl Dixon (AMC series streaming on AMC+)
Norman Reedus' most famous character is carrying the hell out of this only "solo" spinoff in AMC's zombie franchise. Still, there are a handful of other characters to really warm up to, and that includes his traveling companions, Laurent and Isabelle. Speaking of which, Daryl finally learned last week that Isabelle had a completely different life than before she became a nun, and his reaction was *chef's kiss.* We are fortunate enough to know that a second season is coming, so it's safe to assume that Daryl will not make his way back to The Commonwealth anytime soon, but that's alright. He's got a lot going on in France, and the change of scenery is a welcome one for more reasons than one, including seeing Paris at the beginning of the apocalypse. (I have a feeling that Emily Cooper would not have fared well.)
2. No One Will Save You (20th Century Studios film streaming on Hulu)
Kaitlyn Dever's Justified fanbase (Team Loretta) has been thrilled to see her career take underrated flight in Dopesick, Unbelievable, and Booksmart. Here, she's truly made her way into the living rooms of the masses in a movie that would have done incredibly well in theaters, especially heading into October. Nearly no dialogue will be heard in this film, which only adds to the suspense of this story that delivers home-invasion horror with an extraterrestrial twist.
Come for the dong jokes, and stay for the dong jokes. This spinoff makes The Boys proud with a whole new roster of prospective The Seven members. Many of them harbor Supe powers that are highly individualized and inform us about the traumas that they have experienced in life. In short order, you will become attached to one more of these characters and want to fiercely guard them, even as they would be the ones capable of physically protecting you. This series seemingly pulls off the impossible by managing to be as appealing as The Boys even without the presence of its most shining and degraded beacon, Homelander. This franchise shows no signs of fatigue, thank goodness.