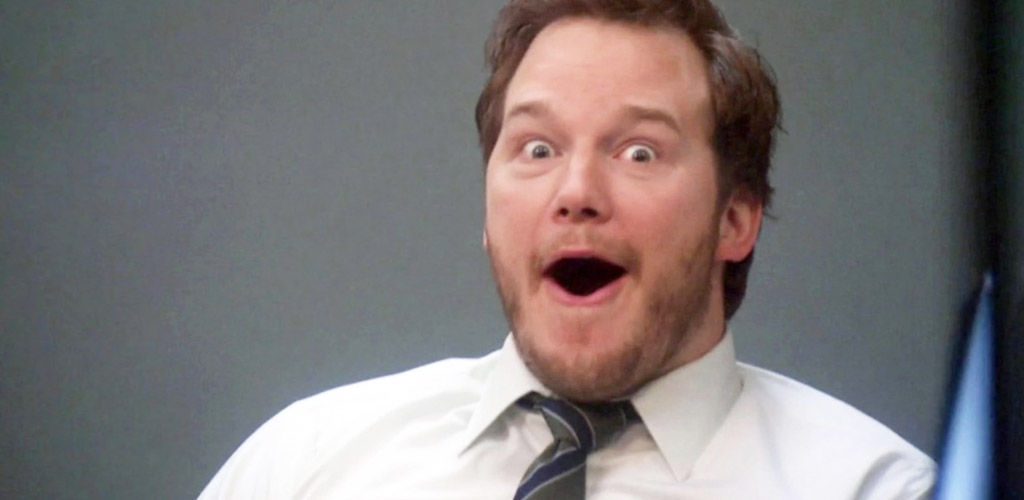 There are two main phases to Chris Pratt's career. There's the seven seasons he spent playing lovably schlubby Andy Dwyer on Parks and Recreation. Then there's when he got ripped to play heroes in the MCU, in the Jurassic World films, and so on. Actually there's some overlap between these two epochs. Parks and Rec ran until 2015, while people first noticed how shredded Pratt had gotten in 2012. In fact Jacked Pratt got him into some trouble when he was still playing Doughy Pratt.
In an old Rolling Stone interview that's recently resurfaced (as caught by Insider), Parks and Rec cocreator Michael Schur revealed that after Pratt got a six pack, they had to do some rewriting for one of the final season's episodes. (Though they decided to simply not address his body change at all.)
"There's a scene that we wrote for the premiere where it called for him to take his shirt off. We realized we couldn't do it — [he'd] look ridiculous," Schur said. "Andy is not a guy who has a perfectly constructed human form with ripped abs and gigantic biceps."
Again, this isn't new news. Said interview is from 2015. But the tidbit has resurfaced in the new book MCU: The Reign of Marvel Studios, which chronicles the storied rise of the comic book line's film wing.
It's worth noting that Pratt first got ripped not for Guardians of the Galaxy, the movie he almost gave up on, but for Zero Dark Thirty, in which he played the Navy SEAL who takes out Osama bin Laden. That came out in 2012, with some three seasons left of Parks and Rec. Surely it's fun to go back and watch the show and see if you can spot Andy Dwyer, midway through, looking like an Adonis under his baggy clothes.
(Via Insider)