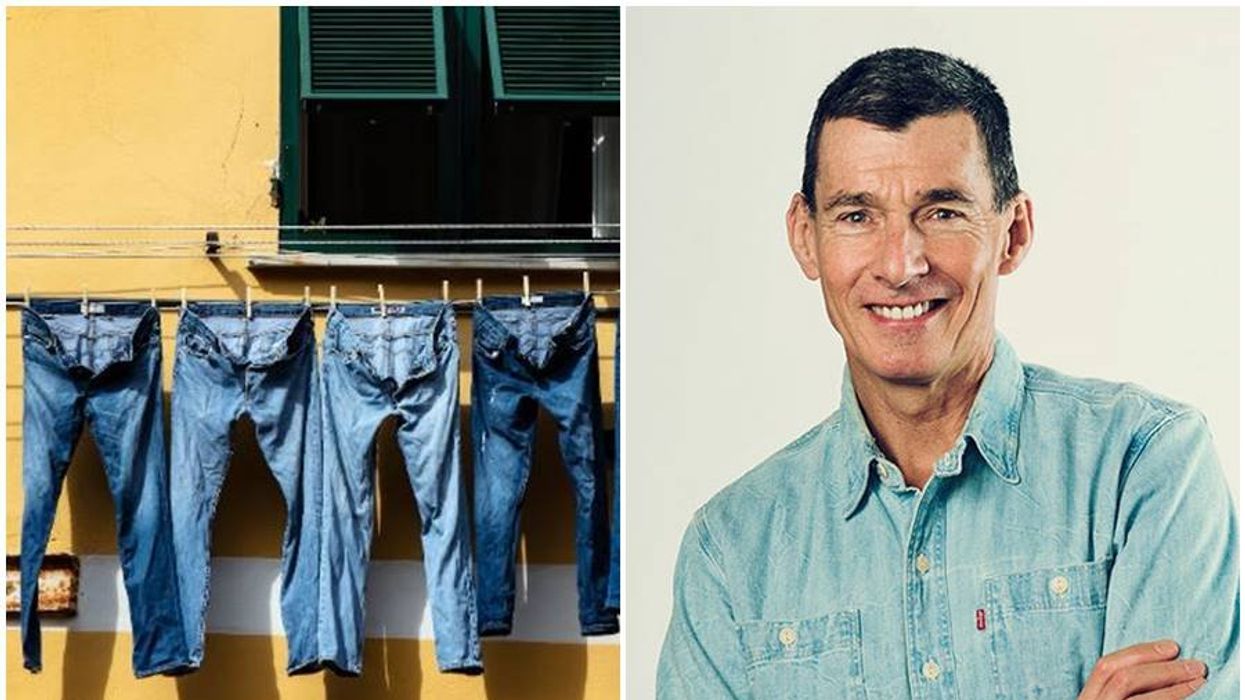 Social media has become a fertile breeding ground for conversations about hygiene. Whether it's celebrities bragging about how little their family bathes or battles over how often people should wash their sheets or bras.
One of the debates that gets the most diverse responses is how often people wash their denim jeans.
Denim atelier Benjamin Talley Smith tells Today that jeans should be washed "as little as possible, if at all." Laundry expert Patric Richardson adds they should be cleaned "after nine or 10 wearings, like to me, that is the ideal." At that point, they probably have stains and are "a little sweaty by that point, so you need to wash 'em," Richardson says.
Still, some people wash and dry them after every wear while others will hand wash and never hang dry. With all these significant differences of opinion, there must be a correct answer somewhere, right?
---
The CEO of Levi Strauss, Charles Bergh, has stepped up to set the record straight on when and how to wash your jeans. He caused a stir in 2014 when he said he only washes his jeans once a year, but it was for environmental reasons more than hygiene.
Reading: The Dirty Jeans Manifesto http://t.co/nAQbdbdpn2

— Gavin Heaton (@Gavin Heaton)
1405392206
He later clarified his thoughts in a blog post, "The Dirty Jean Manifesto" he posted to LinkedIn.
"I made this provocative statement because I believe strongly in what our brands stand for: quality, durability and lasting products made sustainably. I also said it because I believe we don't need to wash jeans as often as most people think we do," Bergh wrote.
"We learned that an average pair of jeans consumes roughly 3,500 liters of water — and that is after only two years of use, washing the jeans once a week," Bergh wrote. "Nearly half of the total water consumption, or 1,600 liters, is the consumer throwing the jeans in the washing machine. That's equivalent to 6,700 glasses of drinking water!"
To add to the problem, denim jeans are often manufactured in places where water is scarce, such as India, Pakistan, Mexico, China and parts of California.
Bergh recently spoke with CNBC's Christine Tan and clarified his thoughts on jean cleanliness.
"True denim heads, people that really love their denim, will tell you to never put your denim into a washing machine. So that's what I do," Bergh explained. "If I drop some curry on my jeans, I'm gonna clean it. But I'll spot-clean it. And if they get really gross you know, if I've been out sweating or something and they get really gross, I'll wash them in the shower."
However, when Bergh washes his jeans in the shower, he does it while wearing them and washing them with soap. The image that the scene conjures is of a cowboy bathing in a cartoon, clothes on and all.
There are a lot of different opinions on how often one should wash and dry their jeans and many of them boil down to personal preference. But the debate on the topic has brought up one very big point we should all consider: when choosing how often we wash our jeans, a big part of the decision should be considering the amount of water we use.